In This Review
What is Berocca?
Berocca is considered as a vitamin-mineral supplement that is known to work in supporting physical energy and mental sharpness.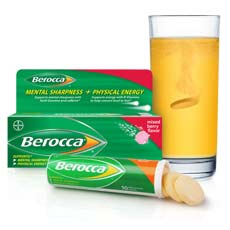 It works by getting you at your best, thus resulting in an overall improvement of both physical and mental ability.
Who is the Manufacturer of Berocca?
The manufacturer of Berocca is the renowned Bayer Company. It is an international company which has produced a wide range of products, ranging from household items as well as to supplements which can help improve the overall well-being of users.
Berocca claims supporting health. It works by targeting both physical and mental energy. The product's official website claims that it has been particularly designed to allow you to achieve your ultimate best, thus the use of enticing phrases such as 'Be Sharp', as well as 'You want it all'.
This only implies that you can expect to improve your overall performance by taking Berocca.
How Does Berocca Work?
Berocca is a host of natural and tested ingredients. It comes with a long list of nutrients and vitamins.
As a matter of fact, this product can pass as multivitamins due to the presence of several active ingredients that serve as energy boosters with added benefits.
Berocca Ingredients – Are they Safe & Effective?
Here are some of the active ingredients of Berocca:
Vitamin B Complex – According to the MDPI — Nutrients, it has a combination of B12, B6, B2, B1, niacin, biotin, folic acid and pantothenic acid. They promote energy release and improve mental performance.
Vitamin C – According to the Orthopaedic Journal of Sports Medicine, it promotes the formation of collagen and improves overall body health.
Advertisement
*All individuals are unique. Your results can and will vary.
Magnesium – It helps to balance the body minerals.
Zinc – It supports various biological functions and boosts the immunity.
What are the Advantages of Berocca?
It might improve the body energy levels.
It might improve mental performance.
It is flavored, making it taste nice and comfortable to swallow.
It supplements the body with minerals and vitamins.
What are the Disadvantages of Berocca?
It is not ideal for use by children under the age of 18 years.
There are so many mixed reviews from different users
It is not suitable for people with underlying medical condition
Berocca Alternatives
Berocca Questions and Answers
Q: Dosage and Directions to Use Berocca
A: Use the product as per the instructions mentioned by the manufacturer on the official website or on the bottle. You just wait and see until the entire tablet dissolves.
Once you notice that the dust settles, you can simply chug it down and just wait. You will certainly see that the taste is just god, which is pretty close to a mimosa or bubbly lemonade. Its flavor is one of the reasons why a lot prefer this product.
Q: Can you take more than one Berocca a day as I work the twilight shift at work it comes to a sorting time off the night and starts feeling really tired but still have 3 hours to go before I finish work.
A: The recommended daily intake for Berocca Performance and Berocca Focus is a maximum of one tablet per day, and maximum of two tablets per day for Berocca Boost. Berocca is suitable and suggested for daily use.
Q: How long will it take to show the result?
A: The results may vary from one person to another. While other people see the effects in just a few week's time, others also experience long-term waiting for the results to come out.
Q: What are the Berocca Interactions
A: There are no expected interactions when using Berocca. It only uses natural ingredients that work with the purpose of enhancing overall performance.
Q: Who can take Berocca?
A: Over the counter, Berocca which is available without any prescription is recommended even for children who are aged 12 years and older. On the other hand, Berocca that is available from retailers is only recommended for adults 18 years old and above.
Q: Is it advisable to take Berocca during breakfast and take immunopro and dulo neurobion every lunchtime? If yes, what is the side effect?
A: Berocca Performance has been around since 1998 in many countries as a food supplement or OTC. Bayer does continuous safety monitoring and no major safety issues have been reported. However, minor side effects reported include gastrointestinal disorders, immune system disorders, nervous system disorders, renal/kidney, and urinary disorders. If you need more information, please consult your doctor.
Berocca Review – Final Verdict
Berroca is a formula that will supplement the body with minerals and vitamins that are essential for proper functioning. Its use might boost body energy levels and improve mental performance. It may also provide nutrients that might help to improve overall wellness.
However, the results differ from one person to the other and you should look for other energy drinks in the market, which can deliver similar results to all.
Advertisement
*All individuals are unique. Your results can and will vary.
'Berocca' can be purchased through their Official WebSite.
More than ever people of all ages are struggling with memory problems. People are unable to disconnect from their work, while students are under immense pressure to perform. Brains are overloaded with information that must be remembered. A quality memory enhancement product might contain clinically proven ingredients that will help to enhance not only memory, but also focus and night concentration. Memory products might help to optimize overall mental health and brain function.
Below you'll find some of the most effective memory products on the market today, in our opinion.
Our Top Memory Supplements
Verdict on Claimed Benefits: Below is our summary of the available evidence for the claimed benefits of below mentioned brain health supplements and nootropic based on the available research: