In This Review
Introduction
Addall XR is an excellent brain-boosting supplement that can improve your brain power by increasing your concentration, strengthening your memory, and boosting your energy.
While maintaining a nutritious diet and a regular exercise regime can tremendously help in improving brain health, there is another option: supplements like Addall XR.If you're wondering what this supplement is, here is Addall XR information to help you understand its benefits and how it works.
Addall XR, also known as AddFocus XR, is a supplements for brain function that comes in capsule form. It can help you focus, improve your memory, and boost your energy.The main objective behind Addall XR was to create a brain enhancing supplement free from the common harmful side effects of prescription drugs. The manufacturing company wanted to develop a solution for people struggling with diminishing memory and concentration without compromising on health.
How Does It Rate?
Overall Rating: 3.8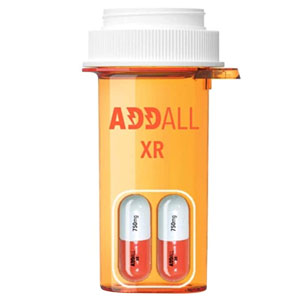 Addall XR
Brand Highlights
Addall XR contains science-backed, effective ingredients.
Helps increase focus and concentration.
Key Ingredients
Thiamine
Riboflavin
Vitamin B6
Bacopa monnieri
GABA or gamma-aminobutyric acid
Caffeine
Pros
Contains science-backed, effective ingredients
Comes in convenient two-packet packaging
Available in different sizes
Discount available for subscription-based service
Acts as a mood enhancer and has a calming effect
Helps increase focus and concentration
Does not act as a stimulant
Can be consumed without a prescription
Cons
Contains artificial coloring agents
Some consumers noticed side effects
The quantity of some ingredients is not mentioned clearly
Is not helpful for people with cognitive disorders
---
How Does Addall XR Work?
Your brain finds it difficult to concentrate and focus for two primary reasons:
The lack of essential nutrients in your diet which makes it hard for the brain to perform its regular functions
An overstimulated and hyper-active brain
Addall XR helps fill these gaps by providing a formulation full of natural and science-backed nutrients. It also regulates your brain's activity and prevents it from becoming hyperstimulated and overworked. With this nootropic supplement, your brain can go the extra mile without resorting to energy drinks and jugs of coffee.
Advertisement
*All individuals are unique. Your results can and will vary.
Addall XR Ingredients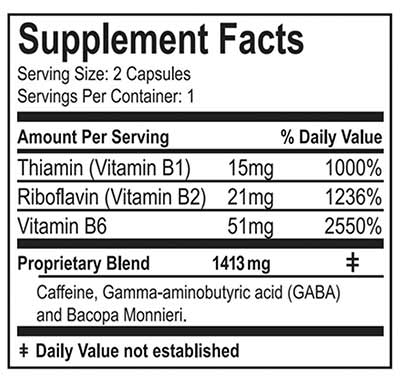 Unlike other nootropic supplements, the Addall XR supplement only uses a handful of ingredients. Not only does this composition deliver excellent results, but it also helps limit unfavorable side effects. Here's a breakdown of its active ingredients.
– or Vitamin B1 is a water-soluble vitamin[1]. It is an essential nutrient that helps your body convert ingested food into energy, and in turn, helps neural cells perform their functions.
A deficiency of this nutrient can cause delirium, a serious illness that causes confusion and restlessness. Since our body does not produce this vitamin, it's vital to include it in our diet.
– is another essential water-soluble nutrient responsible for the optimal functioning of physiological and neurological activities[2].
From forming vital fatty acids to regulating the thyroid hormones, riboflavin plays a crucial role in the conversion of food to energy[3]. Also known as vitamin B2, riboflavin also plays a critical role in the production of red blood cells and the distribution of oxygen to various organs in the body. Studies have found that Vitamin B2 can also prevent neurotoxicity.
– is a vital water-soluble B-complex vitamin[4]. Also known as pyridoxine, it is involved in the production of neurotransmitters. It can improve your mood and increase your energy. From promoting metabolism to producing red blood cells, vitamin B6 has many vital roles.
– is an herb that is traditionally used in Ayurvedic medicines for its mental benefits[4]. From enhancing mood to improving memory, this herb has many uses and antioxidant properties.
– is a neurotransmitter responsible for transmitting the brain's message to other organs in the body[5]. When it attaches to protein receptors, it creates a calming effect and improves concentration.
– is a stimulant that can help you focus and stay alert[6]. It's also known to improve memory and mental functions while decreasing fatigue. Found in safe limits in Addall XR, it also boosts energy and reaction time.
Advertisement
*All individuals are unique. Your results can and will vary.
Addall XR – FAQ's
Q: Is Addall XR The Same As Adderall?
A: No, it's not. Although the names are similar, Adderall is a prescription medication for attention deficit disorder and narcolepsy whereas Addall is an over-the-counter brain boosting supplement. Moreover, Addall XR is free from the serious side effects of Adderall.
Q: Is Addall XR Safe?
A: Yes. Addall XR is safe to consume for individuals above 18. However, pregnant women are advised to stay away from it.
Q: Does Addall XR Work?
A: Yes, it works. Going by numerous customer reviews, Addall XR is a great brain-enhancing supplement.
Q: How Long Does Addall XR Last?
A: The effects of Addall XR can last for a few days to a few weeks and the longevity of its effects vary from person to person.
Q: How Long Does It Take To Feel Addall XR?
A: Addall XR takes effect within a few hours. However, this also depends on your body's tolerance level.
Q: What Does Addall XR Do?
A: Addall XR is a brain-boosting supplement that improves focus, concentration, and energy.
Q: Does Addall XR Affect Mood?
A: Addall XR can positively affect your mood to help you keep calm and focus better.
Q: When is The Best Time to Take Addall XR?
A: You can take it anytime, but the manufacturer advises against consuming it before bedtime.
Q: What Are The Addall XR Pricing and Dosage?
The Addall XR bottle has unique packaging. Unlike other supplements that come in tubes or bottles, it comes in packets of two capsules.
Here are its prices:
3 packs of 6 capsules – $26.97
6 packs of 12 capsules – for $51.24
12 packs of 24 capsules – $97.09
24 packs of 48 capsules – $183.40
Although the packaging mentions that one dosage has two capsules, it's best to start with one capsule per day.
Q: What Are the Alternatives to Addall XR?
Q: What is Addall XR: Safety, Side Effects and Benefits?

Safety and Side Effects

The formulation of Addall XR is safe and consists of six highly effective, science-backed ingredients. Everyone above the age of 18, without any previous medical history or strong medication, can readily consume it.

However, the proprietary blend mentioned in the packaging contains three ingredients Bacopa monnieri, GABA, and caffeine. Unfortunately, the exact amount of these ingredients is not clear. This can cause some side effects depending on your body.

Although no serious complaints have been reported against the company, some common side effects are dizziness, light-headedness, upset stomach, dry mouth, irritability, headache, sleeplessness, and restlessness. In some rare cases, it also causes allergic reactions due to sensitivity to some of its ingredients.

Benefits

Addall XR has three potential benefits:

Advertisement

*All individuals are unique. Your results can and will vary.

Increases concentration: With ingredients like GABA and Bacopa monnieri, Addall XR can greatly improve concentration.
Increases focus: It helps you maintain your focus on the tasks you're doing.
Enhances energy: Addall XR has essential vitamins that assist in converting carbohydrates into usable energy and thus help keep you active and agile.

Addall XR Reviews from Customers

"I am using Addall XR from 6 months and It gives me amazing results. I feel more focused in my life, only because of Addall XR."- Steve

Addall XR Review – Conclusion

Addall XR can be a great choice when it comes to brain-boosting supplements. Packed with effective ingredients and nutrients, it can help you become more focused and have more energy. However, make sure to consume it in recommended doses. If you're on medication, consult a doctor before taking it.
More than ever people of all ages are struggling with memory problems. People are unable to disconnect from their work, while students are under immense pressure to perform. Brains are overloaded with information that must be remembered. A quality memory enhancement product might contain clinically proven ingredients that will help to enhance not only memory, but also focus and night concentration. Memory products might help to optimize overall mental health and brain function.
Below you'll find some of the most effective memory products on the market today, in our opinion.
Our Top Memory Supplements
Verdict on Claimed Benefits: Below is our summary of the available evidence for the claimed benefits of below mentioned brain health supplements and nootropic based on the available research: