In This Review
Algaecal Strontium Boost Overview
Strontium Boost is an all-natural organic supplement that supports bone health in people of every age. The product can increase bone density, and it can also slow down bone loss. Strontium Boost is supposed to have no side effects at all.
Medical studies done on the ingredients have shown conclusively that this product is effective.
How Does It Rate?
Overall Rating: 3.5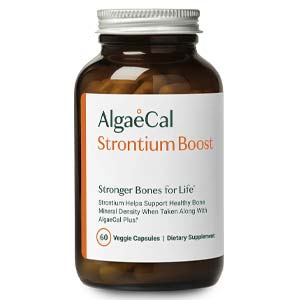 Algaecal Strontium Boost
Brand Highlights
Strontium Boost is manufactured by AlgaeCal, a company that was founded in 2002.
They focus on supporting proper bone health, and their products are backed up by solid clinical research that they complete in-house.
They're the first company to popularise using a plant as a source of calcium.
Pros
This product can increase bone density for people of all ages.
Strontium Boost can slow down bone loss.
The results haver been demonstrated in clinical studies with human beings.
Cons
Antacids and antibiotics may reduce its absorption.
The product relies solely on one ingredient.
You must ensure that you take enough calcium daily while on this supplement.
---
How Does it Work?
Strontium is considered to be a 'bone-seeking element'. It's absorbed into the body in a similar manner to calcium, and it attaches itself to bones.
Science Direct explains that it can "reduce bone resorption by increasing the pool of active osteoblasts;and decreasing the number of active osteoclasts." [1]
Research has proven that strontium can increase bone volume, architecture, and mechanical properties. [2]
Algaecal Strontium Boost Ingredients – Are they safe and effective?
The only ingredient in this supplement is Strontium. This is an alkaline earth metal that was discovered in the town of Strontian, Scotland in 1790. It was identified as the element Sr in 1791. According to Live Science, it's the 15th most abundant element in the Earth's crust. [3]
Strontium has numerous uses, such as blocking harmful X-rays emitted from the TV's picture tube and generating electricity for space shuttles. It also has medical applications in the human body.
The human body absorbs strontium in a similar manner to the way it takes in calcium. In adults, it attaches to the surface of the bones. When used as a medication it can assist in bone growth, increase bone density, and decrease the likelihood of bone fractures. Science Direct states that strontium is often prescribed for postmenopausal osteoporosis. [4]
---
Algaecal Strontium Boost FAQ's
Q: How should you take Strontium Boost?
A: The recommended dosage is 2 capsules per day before you go to sleep, with a full glass of water. You don't have to take them with food. Don't take more than the suggested dosage, or it could harm your body.
Q: How much does Strontium Boost cost?
A: The product is for sale on the manufacturer's official website, and here are the options and prices below. You can also purchase the supplement from third-party retailers. Prices are similar.
1 month supply – $33/bottle
3 month supply – $27/bottle, $81 total
6 month supply – $22/bottle, $132 total
Q: What is Strontium Boost's return policy?
A: This manufacturer is offering a one year guarantee on the product. If you're dissatisfied with the product for any reason, let the company know within a year of the purchase date and return the used and unused bottles. They'll send you a full refund, minus the shipping and handling fees.
Q: Does Strontium Boost offer a free trial?
A: No, the company isn't offering a free trial of any of their products. If you want to try to supplement, you have to purchase it either on the manufacturer's official website or from a third-party retailer.
Algaecal Strontium Boost Review – Final Verdict
The review for this product is quite mixed. Many customers were pleased with the way their medical tests showed a huge improvement in bone density and osteoarthritis.
However, despite the fact that the company claimed that there are no side effects accompanying this supplement, many customers complained that there were.
Users mentioned stomach and leg pain, as well as heart palpitations and diarrhea. People were also displeased with the high price of the item.
This product may not be suitable for people with specific medical conditions, and it could interact with other common medications.
That's why it's essential that you meet with your family physician before you start taking this product, to get medical approval.
Bone development occurs every day of your life, but the pace of losing and growing bone differs depending on age. Building bone mass early in life through exercise, a healthy diet rich in calcium, and supplementation may help delay symptoms associated with osteoporosis. Bone health supplements should be determined based on its: potential to promote increased bone density, potential to reduce bone loss, and potential to Maintain Healthy Bone Support*. The ingredients should be backed by clinical studies and proven to promote overall bone health.
Below you'll find some of the most effective bone health supplements on the market today, in our opinion.
Our Top Bone Support Choices
1MD D3 - Bone & Muscle Support

Ability to Reduce Bone Loss*
Maintain Healthy Bone Support*
100% All Natural Potent Ingredients*
Solgar Ultimate Bone Support
Ability to Reduce Bone Loss*
Maintain Healthy Bone Support*
100% All Natural Potent Ingredients*