In This Review
Osteo Plus Overview
Osteo Plus is a bone health supplement that fortifies bone structure, improves joint movement, and fights against nighttime leg muscle cramps. Osteo Plus is a product in Meditrend Inc.'s Progena line. Meditrend Inc. was founded in 1980 and creates affordable healthcare products. The Progena Professional Formulations line of the company specializes in nutritional supplements. One bottle contains 180 capsules and costs $26 through the manufacturer. You can find this product for cheaper through other online retailers like Pure Formulas. The company provides a 30-day money-back guarantee.
How Does It Rate?
Overall Rating: 3.7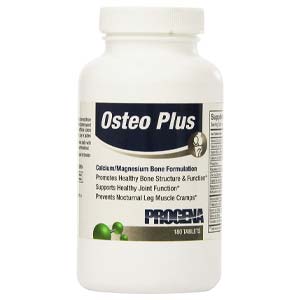 Osteo Plus
Brand Highlights
Osteo Plus is a product in Meditrend Inc.'s Progena line.
Bone-health supplement that strengthens bone structure
Osteo Plus provides four necessary nutrients that support bone health in addition to potassium from natural sources.
Key Ingredients
Vitamin D3 400 IU
Vitamin K1
Vitamin B6
Magnesium
Pros
All-natural
Support overall bone health
Strengthen and restore bone mass
Improve joint mobility
Stop nighttime leg muscle cramping
Can be purchased through other online retailers for less
Money-back guarantee
Cons
No documentation backing the claims of the product's effectiveness is readily supplied.
---
How Does Osteo Plus Work?
Osteo Plus seeks to provide relief for those who suffer from painful cramping of the calf or foot muscles in the middle of the night. The two main causes for this problem are a potassium deficiency, a fluid imbalance, or vitamin deficiency in the bones. Osteo Plus attacks all those problems by providing natural sources of potassium and four other nutrients that support bone health. Those four ingredients—vitamin D3, vitamin K, calcium, and magnesium—help restore bone mass to keep bones strong and also help increase joint flexibility for ease of movement. Osteo Plus comes in tablets that are taken daily.
Osteo Plus Ingredients – Are they Safe & Effective?
Vitamin D3 400 IU
– Although it is rarely found in foods, it is frequently produced by the skin from UV rays from the sun or ingested through nutrition. People with a vitamin D deficiency or a condition associated to it, such as rickets or osteomalacia, are frequently treated with vtamin D.
Vitamin K1 50 mcg
– Vitamin K insufficiency is a substantial risk factor for cerebral haemorrhage and other bleeding, and phytonadione (vitamin K1) is a drug used to treat and control this condition.
Vitamin B6 2 mg
– Vitamin B6 deficiency can be prevented or treated in those who do not consume enough of the vitamin through their diets. It aids in proper brain development and maintains the nervous system and immune system.[1]
Magnesium 600 mg: mineral
– Magnesium is the fourth most abundant mineral found in your body, and it is found in different supplements aimed at supporting bone health, including our calmax formula. This ingredient is crucial for strengthening your bones and ensuring proper bodily function. Without sufficient magnesium, your body cannot operate optimally. Consuming an adequate amount of magnesium has been linked to a reduced risk of heart disease, type 2 diabetes, and various other illnesses.
Other Ingredients
Calcium 750 mg: mineral
Phosphorous 60 mg: mineral
Zinc 5 mg: mineral
Copper 500 mcg: mineral
Manganese 3 mg: mineral
Molybdenum 55 mcg: mineral
Microcrystalline Hydroxyapatite 400 mg: bovine-sourced whole bone concentrate
Protein 147 mg
Boron 2 mg: mineral
Silicon (as Silica) 5 mg: chemical compound
Vanadium 25 mcg: mineral
Osteo Plus FAQ's
Q: Is it simple to use this item? and How long until you start seeing results?
A: Yes, it's easy to consume. 180 capsules, or around 1.5 months' worth of Osteo Plus, are included. With food, take four pills each day. Although the manufacturer does not provide a duration, their 30-day return policy suggests that the product should have begun to yield results by then.
Q: How does Osteo Plus work efficiently?
A: The goal of Osteo Plus is to alleviate severe muscle cramping in the calf or foot muscles by enhancing joint movement. Leg cramps that occur at night are fought off by it. All of those issues are addressed by Osteo Plus, which offers four adequate nutrition that assist bone health in addition to natural sources of potassium.
Q: What are the key features of Osteo Plus?
A: A one and a half month's supply of Osteo Plus is provided by its 180 capsules. It helps maintain and improve the general health of the bones.
Q: What negative consequences does Osteo Plus have?
A: There are no listed adverse effects.
Q: How does the money-back guarantee work?
A: You must request your refund within 30 days of the order date. However, opened items cannot be returned for a refund. To make a return, log into your Meditrend Inc. account, view the order under "Complete Orders," and click Return Item(s).
Customer reviews for Osteo Plus
My physician highly recommends Osteo Plus since they are more readily absorbed by the body and perform excellent for me. By facilitating joint movement, it relieves severe muscle cramping in the calf or foot muscles.~ Review by KATHLEEN COPPENBERG
There is no easily available documentation to support the effectiveness claims made for the product. I used to adore these, but I was disappointed with my most recent order because it seems the tablets are no longer coated. They are practically impossible to swallow without the coating.~ Review by Joe Vazgen
Osteo Plus Review – Final Verdict
Osteo Plus has an official website that is pretty informative. It provides a list of ingredients but doesn't go into detail about what each one is meant to do. However, that information can be found through the other online retailers who sell the product.While the company does not provide any documentation backing the claims of the product's effectiveness, many of the natural vitamins and minerals in the formula have been proven to improve bone health.
Osteo Plus is meant to prevent painful nighttime cramping of the leg and foot muscles by providing protein and ingredients that fortify bone mass and improve joint flexibility. The company provides a 30-day money-back guarantee.
You can purchase this product directly through the manufacturer or through other online retailers, where you can often find it for less.
There are many bone health supplements available on the market, so please consider all options before making a purchase.
Bone development occurs every day of your life, but the pace of losing and growing bone differs depending on age. Building bone mass early in life through exercise, a healthy diet rich in calcium, and supplementation may help delay symptoms associated with osteoporosis. Bone health supplements should be determined based on its: potential to promote increased bone density, potential to reduce bone loss, and potential to Maintain Healthy Bone Support*. The ingredients should be backed by clinical studies and proven to promote overall bone health.
Below you'll find some of the most effective bone health supplements on the market today, in our opinion.
Our Top Bone Support Choices
Verdict on Claimed Benefits: Below is our summary of the available evidence for the claimed benefits of below mentioned bone support supplements and softgels based on the available research:
1MD D3 | Bone and Muscle Support

Supports Bone Health*
Gold Star Evidence
Improves Muscle Health*
Gold Star Evidence
Promotes Healthy Aging*
Gold Star Evidence
Maintain Healthy Mood*
Strong Evidence
Ultimate Bone Support | Advanced Calcium Complex
Improves Bone Density*
Gold Star Evidence
Reduces Fracture Risk*
Strong Evidence
Supports Joint Health*
Gold Star Evidence
Promotes Muscle Function*
Strong Evidence
1MD OsteoMD | Comprehensive Bone Support
Alleviates Joint Pain*
Gold Star Evidence
Maintain Strong Bones*
Strong Evidence
Improves Muscle Function*
Strong Evidence
Reduces Joint Discomfort*
Strong Evidence