What is Now Vitamin D-3?
Most people are aware of the importance of calcium when it comes to bone health. However, calcium is not the only nutrient that is vital to bone health. In fact, calcium only makes up a small percentage of bone composition. Other minerals and some vitamins also play an important role when it comes to bone health. Vitamin D3 is one of the most important vitamins in the body especially when it comes to strengthening the bones. It helps with the absorption of calcium. The intake of calcium alone is ineffective since it needs vitamin D3 for maximum absorption. Let's take a closer look at one of the most popular vitamin D3 supplements today.
Now Vitamin D-3 Ingredients – Are they Safe & Effective?
Vitamin D3 (as cholecalciferol)
Also contains soybean oil, corn oil, gelatin, water and glycerine
How Does Now Vitamin D-3 Work?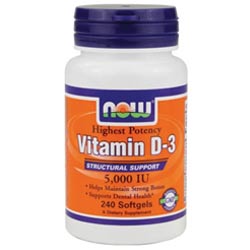 Now Vitamin D-3 claims to provide structural support to the bones. It is also a product that is designed to support dental health and maintain strong bones in the body. It is a GMP quality assured product from Now Foods which is among the most popular supplement companies today. Now Foods is well-known for offering a wide range of high-quality dietary supplements. The product comes in softgels which can be consumed easily.
Vitamin D is normally obtained from sun exposure but many people avoid sun exposure to prevent negative effects on the skin like premature aging. Sun exposure can also lead to a particular form of skin cancer. Vitamin D3 is very important for bone health. It works together with calcium in the formation of new bone cells. It helps prevent osteomalacia which is a bone-thinning disease that comes with a lot of pain. It also helps prevent osteoporosis or the fragility of bones which usually occur as a person gets older.
What are the Advantages of Now Vitamin D-3?
From one of the most popular supplement brands.
Conveniently comes in easy-to-swallow softgels.
Available in most retail stores and supermarkets.
Vitamin D3 is clinically proven to help strengthen bones.
Doesn't contain preservatives or harmful additives.
What are the Disadvantages of Now Vitamin D-3?
A separate calcium supplement is needed if the person doesn't get enough calcium from his/her diet.
There are fake Now Vitamin D-3 supplements being sold out there according to some consumers.
The Dos and Don'ts While Using Now Vitamin D-3
Never exceed the recommended dose of Now Vitamin D-3 which is 1 to 3 softgels daily. Remember to take it with a meal. If you have kidney disorders, hypercalcemia or any other serious health problem, you need to consult your doctor before taking this supplement. Remember to keep it out of reach of children.
Now Vitamin D-3 Review – Final Verdict
Now Vitamin D-3 is one of the most affordable vitamin D3 supplements being sold today. It comes from a reputable company that offers a wide range of quality products. Vitamin D3 is scientifically proven to be effective in improving bone health. This is a highly recommended product if you need a vitamin D3 supplement. However, if you also don't get enough calcium from your diet it would be best to take a calcium and vitamin D3 combination.
Bone development occurs every day of your life, but the pace of losing and growing bone differs depending on age. Building bone mass early in life through exercise, a healthy diet rich in calcium, and supplementation may help delay symptoms associated with osteoporosis. Bone health supplements should be determined based on its: potential to promote increased bone density, potential to reduce bone loss, and potential to Maintain Healthy Bone Support*. The ingredients should be backed by clinical studies and proven to promote overall bone health.
Below you'll find some of the most effective bone health supplements on the market today, in our opinion.
Our Top Bone Support Choices
Bonexcin

Ability to Reduce Bone Loss*
Maintain Healthy Bone Support*
100% All Natural Potent Ingredients*
Ability to Reduce Bone Loss*
Maintain Healthy Bone Support*
100% All Natural Potent Ingredients*