In This Review
Citracal Plus Overview
You lose bone strength as you age. In fact, you may even lose it sooner than expected if you're not too careful with your lifestyle. There are two ultimate secrets to health: proper diet and exercise. The more you feed your body with the right nutrients and minerals, the better you'll be at fighting disease. The more you exercise, the stronger your bones and muscles will be.
Everyone knows that healthy living is the key to living a quality life. However, many don't practice what they preach. It's so easy to give in to temptation, especially when you're surrounded by junk and empty calories that are advertised to taste great. You only find out too late what you should have done. But don't fret just yet because manufacturers have searched for ways to save you.
There are hundreds of bone support products now available in health stores and online shops. Choosing which one is tricky because not all the brands work well. It's always best to stick to the one that's made from a reputable company. You may get a cheaper one elsewhere, but you'll waste good money when you see that this doesn't work as promised. Hence, let's take a look at Citracal Plus. Does this work? Look further to find out.
How Does It Rate?
Overall Rating: 3.6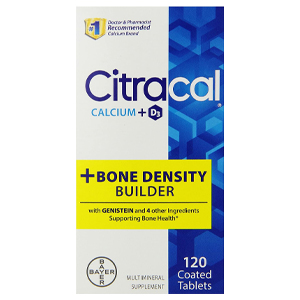 Citracal Plus
Brand Highlights
Now, let's hone in on the manufacturer. Citracal Plus is made by Bayer. Those who have been buying health products know this name.
In fact, Bayer has been around for as long as we've known. The logo and name is already familiar for most.
Bayer lives by the motto: science for a better life. The experts behind their line of health products are continually performing studies and research to continually improve service.
The company has been around for 150 years, and they've survived this long because they continually improve their products and make use of the safest and latest ingredients that have been proven effective.
Key Ingredients
Calcium Nitrate
Vitamin D
Copper
Magnesium
Manganese
Zinc
Pros
Bone support products always contain calcium.
However, not too many people realize that this won't suffice if taken alone.
Your body needs a gamut of ingredients to fight bone loss and rebuild bone strength.
This is why so many people believe that Citracal Plus does stand head and shoulders above the competition.
It contains vitamin D and a range of other components that allow the body to absorb calcium better.
Overall, the supplement fared well in the market as it has garnered a good amount of positive reviews and testimonials from those who have tried the product.
There may have been reported minor side effects, but these are few and far between.
Cons
Severe diarrhea.
Very bad constipation.
Muscle weakness.
Numbness and tingling.
---
How Does Citracal Plus Work?
Citracal Plus may be one of the many bone support products out in the market right now. This one, however, boasts of the fact that it's backed by a reputable manufacturer. This is a calcium supplement that can be taken with or without food. It also is made with magnesium, a mineral that's known to promote bone health.
One serving of Citracal Plus can do the following for you:
Provide 500 mg of calcium so that your bones stay strong
Provide 250 IU of vitamin D3 to help your body absorb calcium better
You get the following minerals that contribute to health: magnesium, copper, manganese, and zinc
Citracal Plus Ingredients – Are they Safe & Effective?
Citracal Plus is made from the following key ingredients:
Calcium Nitrate
– for bone strength. [1]
Vitamin D
– aids on better calcium absorption. [2]
Copper
– It has natural anti-inflammatory and antioxidant properties. The benefits of copper have yielded conflicting results. Some results suggest that magnetic and copper bracelets are ineffective for managing pain, stiffness, and physical function in osteoarthritis as we documented in our review of Advanced Bionutritionals Ultimate Bone Support.
. [3]
Magnesium
– The magnesium component of magnesium stearate aids in the release of energy from fatty foods during the ketosis process, increasing energy levels and metabolism. [4]
Manganese
The magnesium component of magnesium stearate aids in the release of energy from fatty foods during the ketosis process, increasing energy levels and metabolism. [5]
Zinc
– Zinc may improve immune health by deactivating virus proteins and enzymes. [6]
Other notable ingredients are as follows: calcium citrate polyethylene glycol, magnsium hydroxide, croscarmellose sodium hydroxypropyl methylcellulose, magnesium silicate, titanium dioxide (color) propylene glycol dicaprylate/dicaprate, zinc oxide, manganese gluconate, copper gluconate, mangesium stearate, oligofructose enriched inulin, and vitamin D3 (cholecalciferol).
Citracal Plus Alternatives
Citracal Plus FAQ's
Q: Can I take Citracal with other medications?
A: Citracal is gentle on the stomach. However, when it comes to chemicals found in certain medications, this may not always react well. Hence, it's best that you talk to a healthcare professional and see if you can make Citracal Plus a permanent part of your daily diet.
Q: Can I take Citracal during pregnancy or when breastfeeding?
A: Children always get what their mothers are taking, which is why it's best to ask your doctor first because some of the components used may be too potent for the infant. Otherwise, Citracal Plus is safe for those who are highly allergic to certain foods or chemicals.
Q: What Citracal Plus Claims to Do?
A: Citracal Plus has been clinically proven to reduce the rate of bone loss and supply your body with the vitamins and minerals it needs to maintain bone health. Thanks to the soluble and bioavailable components, your body should react to the supplements accordingly. It doesn't contain wheat, barley, yeast, rye, or dairy. It's also gluten-free, which means that it should be gentle for everyone. In fact, the medicines can be taken with or without food.
The manufacturer also claims that Citracal Plus fights osteoporosis. However, the FDA has yet to give its stamp of approval. All you need to do is take one or two tablets twice a day to eventually feel the difference.
Q: How to Use Citracal Plus?
A: As mentioned earlier, it's best to talk to your doctor because you may have to take 2 tabs twice daily or decrease the dosage to just one twice daily.
Q: Whata are the side effects of Citracal Plus?
A: Some people have reported feeling queasy and having stomach upset when they first took Citracal Plus. However, these symptoms disappeared within 10 minutes and with continued use, the discomfort disappeared altogether.
Q: I tried to search for the country that Citracal products are manufactured with no results. Would like to know if you can help!
A: Citracal Sold To Bayer. Beyond the realm of aspirin, Bayer HealthCare's Consumer Care Division (headquartered in Morristown, NJ), a subsidiary of Germany-based Bayer AG, also has reputable real estate in the nutritional supplement market; most notably with its One-A-Day brand daily multivitamin. The company's supplement share recently diversified with the acquisition of Mission Pharmacal's Citracal brand calcium citrate supplement line, which spans five varieties of tablets and capsules, as well as three flavors of Creamy Bites.
If you have any queries or comments about their corporate website, please contact them;
Bayer AG
51368 Leverkusen, Germany
Phone: +49 214 30-1
Citracal Plus Reviews – Final Verdict
Citracal Plus comes from Bayer, a company that has surpassed the test of time and continues to serve people from every corner of the globe. You can also try other brands but if you were to base your decision on customer feedback, this maybe one of the bone support products you may try. However, please make sure you are not allergic. Talk to your doctor about it if you're unsure.
Bone development occurs every day of your life, but the pace of losing and growing bone differs depending on age. Building bone mass early in life through exercise, a healthy diet rich in calcium, and supplementation may help delay symptoms associated with osteoporosis. Bone health supplements should be determined based on its: potential to promote increased bone density, potential to reduce bone loss, and potential to Maintain Healthy Bone Support*. The ingredients should be backed by clinical studies and proven to promote overall bone health.
Below you'll find some of the most effective bone health supplements on the market today, in our opinion.
Our Top Bone Support Choices
Verdict on Claimed Benefits: Below is our summary of the available evidence for the claimed benefits of below mentioned bone support supplements and softgels based on the available research:
1MD D3 | Bone and Muscle Support

Supports Bone Health*
Gold Star Evidence
Improves Muscle Health*
Gold Star Evidence
Promotes Healthy Aging*
Gold Star Evidence
Maintain Healthy Mood*
Strong Evidence
Ultimate Bone Support | Advanced Calcium Complex
Improves Bone Density*
Gold Star Evidence
Reduces Fracture Risk*
Strong Evidence
Supports Joint Health*
Gold Star Evidence
Promotes Muscle Function*
Strong Evidence
1MD OsteoMD | Comprehensive Bone Support
Alleviates Joint Pain*
Gold Star Evidence
Maintain Strong Bones*
Strong Evidence
Improves Muscle Function*
Strong Evidence
Reduces Joint Discomfort*
Strong Evidence