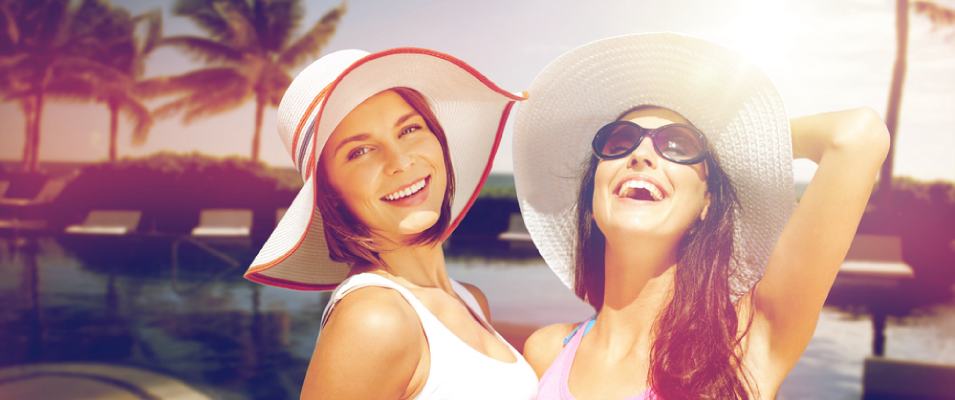 That time of year again is slowly approaching, from the gorgeous bright colored bikini's to the delicious, thirst drenching Cosmos; now although the sun is shining and radiant, our skin should be too, right?
Yes its official Summer is practically around the corner and although the days get longer, the air gets warmer, our skin may get a little darker but sadly oily skin can get a little oilier, breakouts can occur, so can you always be sure that you are treating and looking after your skin the very best way possible?
Here I have created the perfect yet simple go-to guide to achieving great looking skin this summer and also perfect for it you are going on holiday and do want that 'holiday glow.'
Whether you are in London, Paris, LA or Australia, as the weather and climate changes, the summer breeze is upon us and you'll notice depending where you are in the world, the weather certainly gets warmer, meaning that we need to be changing and incorporating small steps into our routine, to achieve healthy yet hydrated, glowing skin.
Let's jump straight into it, so you're probably thinking well what more do I need to do or change?
CLEANSE
This step is crucial and quite frankly the first and most important step in any skincare regime, we have approximately 20,000 pores on our face if we are not cleansing and double cleansing in the evening, our pores and oil glands can become blocked, which then results in blackheads and blemishes, ultimately this is something we want to try an steer clear of.
One specific type of cleanser that I would avoid at all costs, is a foaming cleanser. Anything that lathers up or starts to foam will almost instantly strip our skin of its natural pH, certainly something that you do not want to be doing in the height of summer.
This causes the skin to dry out and become really irritated, even if you are super oily, I would still not recommend to use a foaming cleanser.
My go-to cleanser or something that I would always recommend is a balm or milk cleanser. You want to ensure that you are using the correct cleanser for your skin, which should include something hydrating and will get deep down into the pores.
Both types of cleansers are really gentle on the skin but most importantly, it will keep our skin hydrated and nourished. By cleansing first, you are prepping the skin beforehand in order for the next steps to follow.
Ok so we've spoken about cleansing, you may only need to make minimal changes.
TIP – Always keep in mind that during the evening it is essential to be double cleansing, the first cleanse to get rid and or dissolve makeup/grime, the second cleanse to clean the skin thoroughly.
EXFOLIATE
In my eyes, this is the perfect way to unveil, gorgeous, radiant looking skin. On an average we should all be exfoliating 2/3 a week to ensure that there is minimal dead skin build up, by not exfoliating you are allowing the dead skin cells to gather upon the surface of the skin, this can result in many of problems, one being that this can cause blockages in the pores.
Along with doing so I find if you do like to wear make-up, this will not sit correctly on the skin. You want to be certain that you are using an exfoliator that is gentle enough for your skin, the best type of exfoliators are ones that have a buffing effect on the epidermis (the next layer to our skin) Skin can appear dull or have lack of lustre, even more so to be buffing away those dead skin cells.
TONE
This is the second step to be completed after cleansing and a great way to bring back our skins natural pH.
Quick Science Lesson – So the pH scale ranges from 0-14 0-6 is acidic 7 being neutral and 8-14 alkaline, by spritzing the skin with toner you are enabling the skin to have a healthy, balanced pH, along with closing the pores on our face it is also truly refreshing when using toners as they are super hydrating on the skin.
HYDRATORS
This is without question my favourite part of routine, along with cleansers I really do love to hydrate my skin as best as possible and you can to! There are so many ways in which we can include hydration into our skin from masks, to face mists to face serums, I could go on all day!
Especially during those warmer months, I've found there is no happy medium regarding how warm it can get outside, yet we come indoors into a blast of cooling A/C, which ultimately can dry our skin out even more!
I particularly noticed this a lot when I lived in Dubai for a summer, my skin was either super oily or really dry – something I have never experienced before combination skin.
If you do live in a much hotter climate, just bear that in mind that the A/C can play a huge part in drying out our skin especially during the night, how can this be helped?
Simple, hydration! You could sleep in a restoring and revitalize sleep mask to help prevent this. Some of my all-time favourite masks are ones that are extremely affordable and what I recommend to so many people, which is Garnier's tissue masks. These really are so comfortable yet hydrating on the skin – great for all skin types too.
I would always recommend to try and use a mask between 2/3 a week and with masks as affordable as this, this makes life a lot easier!
Facial Mists – Another great way to lock in and retain moisture back into our skin is by spritzing a super refreshing mist all over the surfaces. Whether you are sat at your desk in work or working up a sweat in the gym, any spritz will work in your favor, take full advantage of a facial mist, your skin will thank you later!
This can literally be applied as and when you feel like your skin is lacking moisture. Most products/spritz contain glycerine which is a remarkable ingredient for locking in moisture, however pure water will also do the trick too!
TIP – I like to keep my toners/mists in the fridge, this keeps them ultra-cool and feels so refreshing and light on the skin when this is applied.
LOCK IT IN – MOISTURISER
Hyaluronic acid is essential to use in any skincare regime and can even be used on the most sensitive of skins, hyaluronic acid is found in our body's natural reservoir and as we age the level of hyaluronic acid in our skin decreases meaning it is vital to use this daily.
Most skincare products on the market these days do contain hyaluronic acid and is such a powerful ingredient, making it so much easier for it to absorb into the epidermis, not only this, but it is known for plumping up and hydrating the skin immensely – perfect for achieving beautiful, plumped up the skin. Plumped skin is so amazing and can even make us look and feel younger; one word is fabulous!
I've found moisturizers that are made up of primary gel do wonder for the skin. Firstly they are super lightweight, and this is something that you will want during summer, you never want your skin to feel claustrophobic or not able to breathe, by using a super-rich moisturizer – save that for the winter.
Don't forget you can also include some of your most favorite serums or oils into your routine, maximizing hydration levels for longer.
LIPS
Along with beautiful, healthy-looking skin we always want to ensure that our lips are never forgotten about, during both winter and summer months our lips can chap up tediously, I for one have certainly been through the struggles of finding a lip balm that not only keeps my lips silky soft all day but something that is really affordable, I think I may have found just that.. Eucerin Lip Balm, Carmex and La Roche-Possay Nutritic Lips.
BODY CREAM
In case you weren't already in the summer spirit, I would highly recommend a lusciously smelling body cream, what better way to remember a great summer by a beautiful scent.
My favorite by far is from Dove; I cannot begin to tell you how genuinely incredible and fresh this smells, to the point where I'm forever getting complimented on this and is indeed my go-to body lotion when I'm on holiday!
There are so many body lotions and cream on the market at the moment which so much variety, go with something that works for your skin but most importantly a smell that you will never forget!
SPF
The last step in my skincare routine but undoubtedly the most important is SPF, and it is essential to ensure that you are using an SPF on a daily basis and even more so in the warmer months to help protect from UV/UB rays.
The sun provides us plenty Vitamin D now although a small amount of this can be good for us, however not all the time – always stay protected. Even whilst enjoying your Cosmo poolside, always bear in mind that the sun is a hottest during the hours of 12-2pm, so when you may be topping up your tan, reapply sunscreen every couple of hours.
I always recommend a factor 50, the higher the better in my eyes. Our face is super important and should be cared for not just only in summer but 365 days a year.
TIP – When applying any SPF cover the entire face including décolletage area, this is an area that a lot of people tend to forget but one place that will show signs of aging the most and if not protected correctly can cause premature ageing, something that none of us wish to experience, when in doubt – re-apply!
DRINK UP

Although you may not wish to admit it but water is going to be your best friend this summer, not even in summer but all year round and is the key to healthy, hydrated skin.
Drinking water is essential to maintain our skin's moisture, not only does this replenish the skin's tissue but will keep our skin cells hydrated meaning more plumpness & elasticity.
MAKE UP
Who doesn't want to achieve that ultimate golden goddess look during the summer months? We all want that glossy, glowy, highlighted skin and the perfect way to do is I've found is by not applying too much makeup, remember less is more!
Opt for a dewy moisturizer/serum that allows this show through over your beautiful skin, personally, for me I always like to let the skin breathe, meaning I hardly ever wear make-up during the day. I tend to opt for a tinted SPF/moisturizer.
One thing I know for sure what will always be in my handbag is a highlighter, I mean would this even be summer without a dusting of your favorite GLOW? I think not.
So there you have it, my perfect guide to healthy, radiant, gorgeous, summer skin. It may seem like a lot, but this could literally take between 5-10 minutes of morning and evening.
What I love most about skincare is the fact that you can spend as much or as little time as you wish to, for me I could easily spend all day! I have made it a lot simpler, always remembering my key most important steps and you cannot go wrong!
Cleanse, Exfoliate, Tone, Hydrate, Moisture, SPF, and Water – Repeat!
Read Next: 10 Skincare Tips To Follow Before Hitting The Beach
Whether you're staying at home this year or sunning it up in Barbados, I hope you have the best summer, but most importantly I hope your skin is protected, healthy and glowing from within!
Image Credits
Feature image: Shutterstock.com
In -Post Image: Shutterstock.com
View All