In This Review
What Is LifeSeasons Securi-T?
LifeSeasons Securi-T is said to offer herbal support to your entire urinary tract system and also the bladder to aid prevent accidents as well as help reduce that urge to urinate most often. LifeSeasons Securi-T is claimed to have been used by caregivers successfully for stroke survivors who might have difficulty knowing the time they need to urinate. Even if the product does not completely eliminate the frequent need to go for a short call, LifeSeasons Securi-T at least offers to help users to control their urge until they get into the restroom.
It is designed to provide both women and men all-natural support for urinary incontinence issues. When this product is taken on a daily basis for about thirty to sixty days consumers may notice the frequent urge to urinate becomes much less as well as those people who have accidents regularly may reduce or even reduce their accidents completely.
How Does It Rate?
Overall Rating: 3.1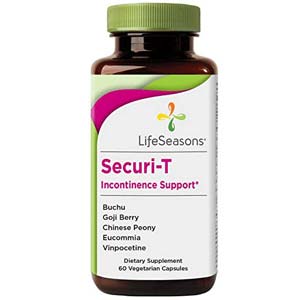 LifeSeasons Securi-T
Brand Highlights
Manufactured by United States based Life Seasons company.
Formulated to improve general health.
Reduces anxiety, controls blood pressure, improves metabolism, and boosts energy levels.
Develop to provide all natural assistance for urinary incontinence concerns in both men and women.
Vegan formula.
Key Ingredients
Buchu Extract
Caprylic Acid.
Ganoderma Lucidum
Eucommia Extract
Wolfberry
Cornsilk
Hawaiian Noni
Vinpocetine
Cinnamon Bark Powder
Pros
It increases your energy levels.
It may help with reducing anxiety, regulating your blood pressure.
It may help promote bladder problems, including swelling of the urinary tract, infections, and even bedwetting.
Improve your overall health.
Cons
There is no information about free trial offers.
No sufficient information on the products demerits.
---
How Does LifeSeasons Securi-T Work?
LifeSeasons Securi-T for Women promotes bladder health and proper urination in both men and women. It achieves this by promoting nerve signalling between the brain and the urinary tract and by calming irritated bladder tissue. Plants such as Buchu, Eucommia, and Chinese Peony provide support for Securi-T. Its ingredients all work together to help improve bladder health.
LifeSeasons Securi-T Ingredients List
When LifeSeasons Securi-T is taken on a daily basis, it works by helping the nerve signaling the bladder and also urinary tract do so in a more effective way ensuring people develop the urge to urinate only when their urinary bladder is full of urine. The combination of some natural ingredients featured in LifeSeasons Securi-T works synergistically to help improve urinary tract and bladder health and its function.
Buchu Extract
– It one of the shrub which is native to South Africa and it has been used as a traditional medicine to enhance urinary tract issues. [1]
Chinese Peony
– It has been used for a long time for various medicinal purposes including menstrual problems.
Ganoderma Lucidum
– Is a mushroom added due to its potential of helping people manage their stress more easily.
Eucommia Extract
– Eucommia is a polysaccharide-rich plant with antioxidants that is used to protect the urinary tract. It is a popular Chinese medicine for promoting longevity.[2]
Wolfberry
– Also called Goji berries, it is superfood with broad antioxidant properties grown in Asia and it has gained much popularity due to its ability to support endurance for the athletics as well as overall health.[3]
Cornsilk
– It is an all-natural ingredient that helps promote bladder problems including swelling of the urinary tract, infections, and even bedwetting.
Hawaiian Noni
– It is an evergreen plant that is used for several health conditions such as urinary tract infections.
Vinpocetine
– It supports cognitive health as well as supporting blood flow.[4]
Cinnamon Bark Powder
– Cinnamon is used to aid minimize gastrointestinal upset.
You May Also Like – Ellura
LifeSeasons Securi-T – FAQs
Q: How Do I Use The Product?
A: Take two capsules per day one in the morning and evening with or without food and you can expect to see the results within a period of about thirty to sixty days of regular use. People claim greater benefit will be seen if this product is combined with Kegel exercises regularly.
Q: What is the price of Securi-T Urinary Incontinence Support Supplement?
A: A single bottle will cost you $25.99 and it can be purchased via the manufacturer official website.
Q: What are the side effects of LifeSeasons Securi-T?
A: There seem to be no harmful side effects reported by users concerning this product.
Read Next – Better Bladder Reviews
Customer Reviews for LifeSeasons Securi-T
I was diagnosed with overactive bladder by a urologist and instead of a prescription approach I wanted to try a natural remedy. I normally feel the urge to go every 30 minutes. After two consecutive months of taking this I can go an 1 hour sometimes almost 2 without having to go! Highly recommended.~ Review by Kaylezz.
Simply the best bladder control supplement that I have tried! I'll be sticking with this product!~ Review by Joan G.
LifeSeasons Securi-T Review – Final Verdict
Considering the benefits, this product seems to be promising and most users might want to use this product. However, it is always advisable to have more information about the formula so as to use it correctly before you buy it. However, most users do not put much attention to the information about the product and this might lead to some severe adverse effects on the users. Therefore, before you decide to try this formula, it is good to do proper research on its key active ingredients, usage, and dosage.
Below are some of the best bladder control supplements on the market today, in our opinion.
Our Top Bladder Control Choices
Verdict on Claimed Benefits: Below is our summary of the available evidence for the claimed benefits of below mentioned bladder control supplements based on the available research:
Confitrol24 | Advanced Bladder Control

Strengthens Bladder Muscles*
Gold Star Evidence
Supports Healthy Urination*
Gold Star Evidence
Enhances Bladder Control*
Gold Star Evidence
Improves Sleep Satisfaction*
Strong Evidence
VigRX Incontinix | Incontinence Relief Formula
Eases Urgent Urination*
Gold Star Evidence
Strengthens Pelvic Floor Muscles*
Strong Evidence
Supports Healthy Urinary Tract*
Gold Star Evidence
Boosts Sleep Quality*
Strong Evidence