In This Review
Flotrol Overview
Flotrol is a dietary supplement made with herbal ingredients that work together to strengthen the bladder. The formula works to strengthen the walls of the bladder enabling it to contract and relax for normal urination.
It also helps improve urinary tract health. The product is designed to treat an overactive bladder to prevent slight leakage and incontinence. It can be used by both men and women.
How Does It Rate?
Overall Rating: 3.4
Flotrol
Brand Highlights
The company behind Flotrol started in 2002 and is a proud member of the Natural Products Association.
The product is manufactured in the United States.
This product can be bought online at the brand's Official WebSite.
They are dedicated to providing effective and safe products for different health and wellness purposes.
Key Ingredients
Pumpkin Seed Extract
Soybean germ extract
Pros
The formula is clinically proven to be effective.
It is an all-natural formulation with no known side effects.
There is a lot of favorable feedback on the product.
It strengthens the bladder and improves urinary tract health.
Cons
It can only be ordered online.
---
How Does Flotrol Work?
Flotrol essentially works by strengthening the muscles of the bladder (bladder walls). It also helps improve urinary tract health. It can also help improve prostate health in men.
Flotrol ingredients have been clinically proven to have natural beneficial activity in two ways: Enhancement of pelvic floor strength According to an in-vitro study, EFLA®940 pumpkin seed extract binds to androgen receptors. The androgen receptor is a ligand-activated nuclear transcription factor that mediates androgen responses (testosterone and its metabolite DHT) in many tissues, including male sexual organs, muscle tissue, and female reproductive organs.
Flotrol Ingredients – Are they Safe & Effective?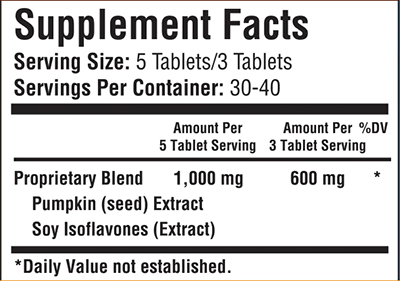 The two active ingredients of Flotrol are soybean germ extract and pumpkin seed extract. These natural ingredients have been used for hundreds of years in traditional medicine to improve bladder function.
Pumpkin seeds
– According to ncbi, Pumpkin seeds are clinically proven to help in reducing the involuntary contractions of the bladder effectively preventing involuntary leakage. [1]
Soybean germ extract
– Soybean germ extract helps increase estrogen levels which strengthens the muscles of the bladder improving the flow of urine and reducing urination-related pain.
In a clinical study, participants were given a combination of pumpkin seed and soybean germ extract. Measurements were taken for urination frequency both during daytime and night time including any emergency episodes.
The study found the marked improvement in urinary tract health and overall quality of life of the participants after one week of use with continued improvement in the succeeding weeks.
What It Claims?
It is an all-natural product.
Bladder support formula formulated especially for mature adults.
The formula only uses clinically proven effective and safe ingredients.
Flotrol FAQ's
Q: Is This Natural Bladder Control Really Effective?
A: The powerful combination of soybean germ extract and pumpkin seed extract is clinically proven to be effective in improving bladder control. There are also many positive reviews from people who have tried Flotrol saying it really works.
Q: Is It Safe?
A: The formulation is all-natural minimizing the risk of side effects. Also, both of the active ingredients have been used for a long time in traditional medicine with no known serious side effects. The only possible side effect is an allergic reaction due to soybean or pumpkin seed allergy.
Q: Is Flotrol effective for men?
A: Flotrol for men is a breakthrough product that can help people with overactive bladders drastically cut the number of trips they make to the bathroom and regain control over their lives.
Q: Can you get Flotrol over-the-counter?
A: Flotrol is not some cheap and unproven supplement available over the counter. It is clinically proven to be effective in strengthening the weakened muscles that keep urine flow under control.
Q: Where to buy Flotrol Bladder Control?
A: You can buy Flotrol from the company's official website in various packaging options and their subsequent advantages. Obviously, larger discounts apply when purchasing more bottles of Flotrol: for instance, you can expect to pay $39.95 for 60 capsules (1 bottle), but $79.90 for 180 capsules (3 bottles) or $119.85 for 300 capsules (5 bottles).
If you choose a different online outlet for purchasing this supplement – which is not recommended by the manufacturer in the first place – then make sure you are not registered into an auto-ship program against your will (this is where you receive a new order of the product each month and your credit card gets billed accordingly). This does not happen when you order Flotrol from the official website since you have to call customer service each time you want your monthly order renewed.
Q: How to Take Flotrol Bladder Support?
A: Take five tablets a day with meals for two weeks then the dosage can be decreased to 3 tablets a day starting on the 3rd week for maintenance.
Q: Can Flotrol help with urinary retention?
A: Flotrol is an innovative product that can help people with overactive bladders and stop frequent urinary impulses and incontinence.
Flotrol Reviews – Final Verdict
Overall, Flotrol is an impressive Natural Bladder Control Formula since it is clinically proven to be effective and safe. This is definitely a product worth trying whether you want to treat urinary incontinence, an overactive bladder, or just improve bladder and urinary tract health.
Due to the clinical evidence proving that the active ingredients and the actual product works, this is a bladder control formula worth trying. The positive feedback from users is a testament to the fact that this is an effective bladder control formula.
It is also a recommended alternative to bladder control medication because it is completely safe.
Below are some of the best bladder control supplements on the market today, in our opinion.
Our Top Bladder Control Choices
Verdict on Claimed Benefits: Below is our summary of the available evidence for the claimed benefits of below mentioned bladder control supplements based on the available research:
Confitrol24 | Advanced Bladder Control

Strengthens Bladder Muscles*
Gold Star Evidence
Supports Healthy Urination*
Gold Star Evidence
Enhances Bladder Control*
Gold Star Evidence
Improves Sleep Satisfaction*
Strong Evidence
VigRX Incontinix | Incontinence Relief Formula
Eases Urgent Urination*
Gold Star Evidence
Strengthens Pelvic Floor Muscles*
Strong Evidence
Supports Healthy Urinary Tract*
Gold Star Evidence
Boosts Sleep Quality*
Strong Evidence