Flotrol: What Is It?
It is a dietary supplement made with herbal ingredients that work together to strengthen the bladder. The formula works to strengthen the walls of the bladder enabling it to contract and relax for normal urination.
It also helps improve urinary tract health. The product is designed to treat an overactive bladder to prevent slight leakage and incontinence. It can be used by both men and women.
About the Manufacturer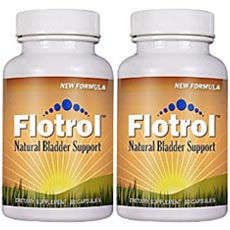 The company behind Flotrol started in 2002 and is a proud member of the Natural Products Association. They are dedicated to providing effective and safe products for different health and wellness purposes. This product can be bought online at the brand's Official WebSite.
What It Claims?
It is an all-natural product.
Bladder support formula formulated especially for mature adults.
The formula only uses clinically proven effective and safe ingredients.
What Are the Potent Ingredients?
The two active ingredients of Flotrol are soybean germ extract and pumpkin seed extract. These natural ingredients have been used for hundreds of years in traditional medicine to improve bladder function. Pumpkin seeds are clinically proven to help in reducing the involuntary contractions of the bladder effectively preventing involuntary leakage.
Soybean germ extract helps increase estrogen levels which strengthen the muscles of the bladder improving the flow of urine and reducing urination related pain.
In a clinical study, participants were given a combination of pumpkin seed and soybean germ extract. Measurements were taken for urination frequency both during daytime and night time including any emergency episodes.
The study found the marked improvement in urinary tract health and overall quality of life of the participants after one week of use with continued improvement on the succeeding weeks.
How It Works?
Flotrol essentially works by strengthening the muscles of the bladder (bladder walls). It also helps improve urinary tract health. It can also help improve prostate health in men.
Recommended Dosage
Take five tablets a day with meals for two weeks then dosage can be decreased to 3 tablets a day starting on the 3rd week for maintenance.
Flotrol Advantages
The formula is clinically proven to be effective.
It is an all-natural formulation with no known side effects.
There is a lot of favourable feedback on the product.
It strengthens the bladder and improves urinary tract health.
Flotrol Disadvantages
It can only be ordered online.
Is This Natural Bladder Control Really Effective?
The powerful combination of soybean germ extract and pumpkin seed extract is clinically proven to be effective in improving bladder control. There are also many positive reviews from people who have tried Flotrol saying it really works.
Is It Safe?
The formulation is all-natural minimizing the risk of side effect. Also, both of the active ingredients have been used for a long time in traditional medicine with no known serious side effects. The only possible side effect is an allergic reaction due to soybean or pumpkin seed allergy.
Expert Opinion
Due to the clinical evidence proving that the active ingredients and the actual product works, this is a bladder control formula worth trying. The positive feedback from users is a testament to the fact that this is an effective bladder control formula.
It is also a recommended alternative to bladder control medication because it is completely safe.
Bottom Line
Overall, Flotrol is an impressive Natural Bladder Control Formula since it is clinically proven to be effective and safe. This is definitely a product worth trying whether you want to treat urinary incontinence, an overactive bladder or just improve bladder and urinary tract health.
Our Top Bladder Control Choices
Bladder Rescue

Active Ingredients For Efficient Bladder Control*
Stop Leaks Before They Occur*
Alternative, Discreet Solution*
Support Of The Urinary System*
Promotion Of Healthy Bladder Functioning*
Active Ingredients For Efficient Bladder Control*
Stop Leaks Before They Occur*
Alternative, Discreet Solution*
Support Of The Urinary System*
Promotion Of Healthy Bladder Functioning*
Active Ingredients For Efficient Bladder Control*
Stop Leaks Before They Occur*
Alternative, Discreet Solution*
Support Of The Urinary System*
Promotion Of Healthy Bladder Functioning*