There are many different skincare products on the market. There are creams, lotions, moisturizers, cleansers, toners and all these products have their own specific role in keeping our skin plump, smooth, and radiant. When it comes to skincare routine, most people overlook and underestimate the power of rejuvenating serum. If you don't have the habit of applying serum, this article will definitely motivate you to do so. Here, you will get informed about all the marvelous benefits of rejuvenating serums as well as find out how to buy ideal product.
What is a Serum?
Most women usually can't determine the primary difference between serums and creams. They usually believe that both products do the same thing. However, the reality is quite different. Serums are lightweight, nutrient-packed liquids that are your key ally in battle for healthy, youthful, and glowing skin. They penetrate deep into your skin's layers and contain active ingredients that benefit your skin.
You shouldn't consider serums as additional tool for achieving healthy and rejuvenated skin. Serum should be an avoidable part of healthy skincare regimen.
Things You Should Know About Serums
Before you find out how to purchase perfect rejuvenating serum, it is important to get educated about these types of products first. Below, you can see some benefits, tips, and other important things you should know about serums before you buy your very first one: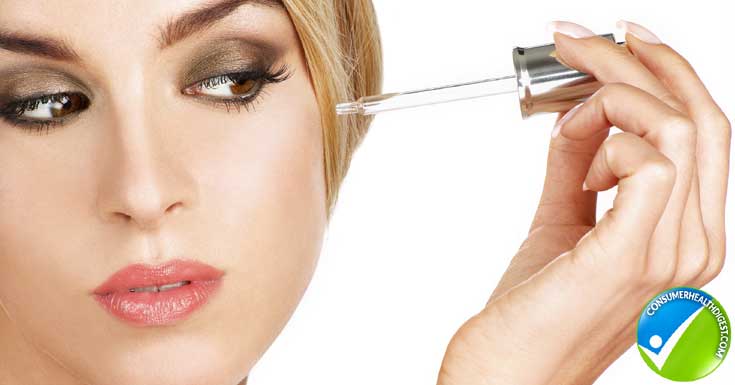 Due to their vitamin-rich formula, serum can be considered as "supplement" to your skin. Most serums are abundant in antioxidants which destroy free radical and prevent cellular damage and photo aging (caused by excessive sun exposure). Antioxidants usually come in forms of vitamins and minerals.
Purchasing perfect serum isn't enough; you also have to know when to use it. When it comes to skincare order matters. Serum should be applied before moisturizer. This way, your skin can absorb ingredients from serum and moisturizer that follows it. If you apply moisturizer first, due to its thicker texture, your skin wouldn't be able to get all the healthy nutrients from serum. Ideally, when applying several products, you should always start with the one with the thinnest texture and work your way up to thicker products.
After you apply your serum, don't start applying moisturizer right away. Instead, give your serum a few moments to get absorbed. This way the product will offer its full potential to your skin and you will avoid greasy texture.
When applying serum, instead of piling it on, you should start with warming a few drops of the product between your fingertips. Only add more if necessary. Most women make mistake by over-applying skincare products which can, sometimes, lead to the opposite effect from the one they want to achieve.
Choose your product carefully. Beauty of serums is in the fact they can be used as target treatment for some specific problem or purpose. There are serums that lighten up dark spots, rejuvenating serums, hydrating serums etc. You should pick the one that fits the purpose.
Consider serum as an investment into radiant and youthful looking skin. Rejuvenating serums contain a wide array of ingredients that you can't find in other products which means they are, indeed, a missing piece of puzzle you need to look younger.
The goal of serum is to ensure that a specific active ingredient penetrates deep into skin's layers and produce their beneficial effect e.g. rejuvenating serums make sure that active ingredients are delivered deeper in skin's layers to boost collagen production and improve elasticity.
Avoid storing serums in hot and humid places in order to preserve their powerful formula. You can safely keep your serum in the fridge.
How to Buy Perfect Serum?
Now that you know everything about rejuvenating serums or hot to use them, it's time to learn how to buy ideal product for you.
Manufacturer
Making sure that product is made by a reputable company is highly important. Conduct a little research and visit official websites of different manufacturers. Ideally, the official website should:
Be easy to navigate
Provide info about manufacturer
Provide contact information
List products and ingredients
Provide useful tips, solutions, and other info about various skincare problems.
Skin type
Type of your skin is always important. For example, if you have sensitive skin it means it is prone to irritations, redness and other reactions to different products. Before you purchase a product, you should always consider whether it will be good for your skin or not.
Ingredients
Reading list of ingredients is highly important for many reasons. For example, list of ingredients shows whether the product stands out among other products of this type. Also, ingredients list can tell you whether you're going to have allergic reaction to some ingredient. And most importantly, just by reading the ingredients list you know how product works.
Rejuvenating serums should contain ingredients that deliver anti-aging effect. For example, ferulic acid fights free radicals and contributes to multiple issues of mature skin.
Antioxidants
When it comes to rejuvenating serums, antioxidants are highly important. Ideally, some serum should contain natural ingredients and antioxidants that come from vitamins or minerals. For example, ACE-Ferulic rejuvenating serum from Solvaderm contains potent antioxidants such as Vitamin C which destroys free radicals and boosts synthesis of collagen to make skin younger and healthier.
Nourishment
Your rejuvenating serum should provide hydration and nourishment as well as anti-aging properties. Ideally, you should go for product that hydrates your skin, improves skin's texture, and makes it feel silky smooth. Hyaluronic acid found in already mentioned Ace-Ferulic is potent moisturizer.
Formula
Perfect skin rejuvenating serum has a quick-absorbing formula that doesn't leave greasy residue. This way, after applying serum you won't have to wait too long to apply moisturizer and your skin won't look oily.
Reviews
Before making the final purchase, always make check reviews with experiences of other customers. It's always important to see how they reacted, whether the product was effective. Naturally, it's important to find reliable reviews instead of those written by fake profiles or unverified purchases.
Conclusion
Rejuvenating serums are extremely beneficial for restoring healthy glow and youthful look. They contain active ingredients which make you look younger by boosting production of collagen. This article explained how to use rejuvenating serums and what to consider before you buy the perfect product for you. Remember, product made by reliable company with natural ingredients is always a good choice.
View All