There is a likelihood you have heard about coconut oil. You are missing out a lot if you have not made it part of your beauty regimen. Celebrities from Victoria's Secret supermodel Miranda Kerr, to the girl next door, and several cosmetic companies have kept it in the secret.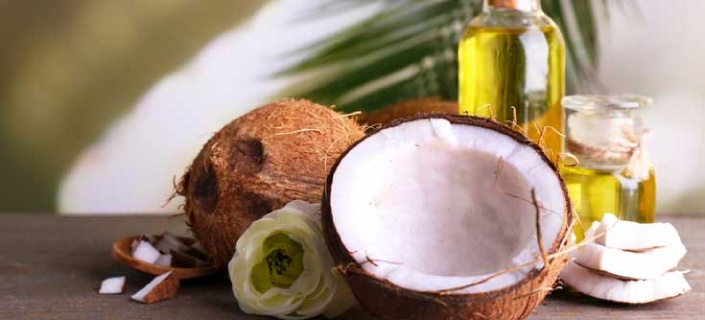 Reasons are coconut oil has antifungal and antibacterial features, let alone being a great moisturizer. It also has an amazing scent and can be used as a relaxer for use when you are out on the beach. You will, as well, reap a lot of benefits by simply consuming coconut oil. With virgin coconut oil, preferably organic, your skin will certainly glow.
Face Mask: A combination of honey and coconut might sound like a mess, but such a mask is a stroke of luck if you have a dried out face. You should simply mix equal proportions of coconut oil and honey and then slather it on your face. Wait for around 10 minutes or so, before rinsing off with lukewarm water and then gently tap it off to dry.
Face Scrub: If you would like to have a gentle but super effective facial scrub, mix equal parts of coconut oil with baking soda. Make sure they are thoroughly blended and creamy to frosting-like in appearance. Rinse your face with warm water and rub a tablespoon between your hands to warm and gently rub on your face using the exfoliator. Use warm water to rinse, and pat dry. The oil helps in flushing away impurities while the soda reveals a brightened skin.
Lip Balm: This is the easiest lip balm ever. It is ideal for chapped lips. Slather plain coconut oil on your lips to rehydrate them. It would be advisable to add a little beeswax, to make a great lip balm in mini-mint tins such that you can carry them with you whenever you are on the go.
Makeup remover: Coconut oil is a great way for removing makeup. Regardless of how strong it is, even waterproof mascara will melt away by simply massaging coconut oil on your face. However, just make sure you rinse it off after by placing cotton pad and rubbing gently in circles around your eye area to remove makeup. You should then rinse with warm water.
Colds: Sometimes your nose could feel rough from sniffles. Don't worry. Rub a little coconut oil on the inner side of your nose. It helps in dealing with a running nose, allergies, and sore nostrils. Consuming coconut oil in food or by taking a teaspoon can go a long way in fighting the sinus problem. Dipping your finger in the coconut oil and then placing it inside your nose while lying on your back will help in the release of mucous buildup and fight another germ around the region.
Eyelashes: Not every one of us has long eyelashes but what coconut oil can do for them leaves much to be desired. Regular application provides them with essential vitamins, minerals and growth agents. Brushing with coconut oil not only leaves them enlarged but also helps in keeping them moisturized.
Acne: Coconut oil is increasingly becoming popular for its microbial activities. Lauric acid and capric acid are the two chemicals it contains that effectively deal with acne. Coconut oil also contains high levels of vitamin K and vitamin E which are powerful antioxidants for preventing skin damage, including scarring which can occur in severe cases of acne. Apply a combination of coconut oil and nutmeg and leave it on your blemish for about 10-15 minutes, and then rinse off.
Age Spots: Coconut oil falls under the best natural remedies for eliminating age spots. It not only helps in their reduction but also prevents the appearance of age spots as long as you use it regularly. Clean your face first, and then pat dry using a soft towel. Apply it directly to the age spots and gently massage to help them fade away and fight off the formation of free radicals. To prevent reoccurrence of age spots, apply coconut oil immediately after you have come from sun exposure.
Makeup highlighter: Majority of natural makeup products are already using coconut oil as one of their ingredients and with good intentions. Apply a little amount of coconut oil on top of makeup to ensure that your face is radiant and glowing.
Conclusion
There are several benefits that come with coconut oil in regard to the appearance of your face. However, for the best outcome, you have to incorporate it as a part of your regular regimen. Exclusive use of the product might not give you the desired outcome. Neither will the effect appear at once, but only with continued and persistent use. Since not all conditions can be treated using coconut oil, it is important to research further, especially if you suffer from a skin problem. Nevertheless, as a cheap source of essential vitamins and minerals for your skin, you can count on coconut for some less severe skin problems.
View All