Looking good is important especially whether it is just an ordinary day or you are attending a special event. For women, instead of just going out look bare and dull, many would use makeup. When you wear makeup, you emphasize and accentuate the features of your face. It makes you feel look more confident and beautiful. No wonder there are a lot of women who spend money just to buy different makeup.
When putting your makeup, it is essential that it is flawless. However, we know that when we are putting a particular product, some things might go wrong. The good thing is that there are easy and effective hacks that you can use to fix makeup mistakes.
We Recommend: 7 Most Common Mistakes Women Make in Middle Age
Use Foundation First before a Concealer
Many women would end up applying concealer first before applying a foundation. Some would think that it does not matter as to which product goes first. But if you apply concealer first, it will not last long. It will easily wear off.
Do not Apply too much Foundation
The saying that less is more is actually true. Using foundation on your skin is good as it can cover impurities and if you have dark spots. But do not overdo it. Applying a lot of makeup can make your skin look heavy and cakey. To have a flawless look, just apply the right amount of foundation.
Do not test the swatch of foundation on your face
If you haven't found the right shade for your skin tone, it is essential that you check out the shade first. In doing this, you should test the swatch on your jawline. Do not apply it on your face especially if you want try out different shades.
Know the Right Way of Applying foundation
The way how you apply your foundation can affect your over-all look. If you do it all wrong, your face might appear cakey. You can either apply foundation using your hands or your brush. In using brush to apply your foundation, you should apply it in upward strokes.
Do not use the same concealer for under eyes and for pimples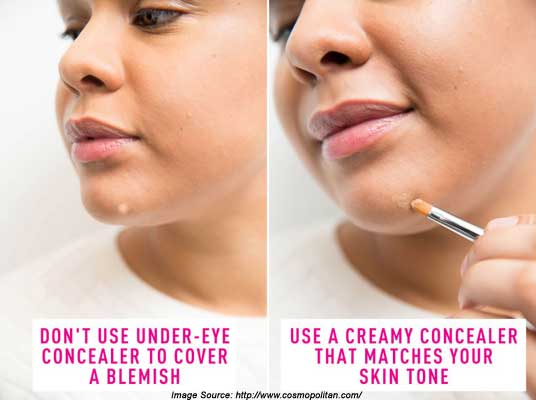 To hide pimples and scars, you should use different concealers. For your under eyes, you have to look for a concealer that has a lighter shade while for pimples, it should match your skin tone. You would not want to highlight your pimples. To make things easier for you, find a good concealer and corrector palette that you can easily use.
Always Apply Moisturizer
Whether you have dry or oily skin, you should never forget to apply moisturizer. Applying makeup without one can make your skin look really dry especially if the weather is hot and humid. Before applying any makeup, apply first you moisturizer.
Do not Use Loose Powder too much if you have Oily Skin
There is a misconception that in order to fight back having an oily skin, you should use loose powder. Using loose powder can make your makeup last long. But if you have oily skin, this is the right way to do it. Instead just apply an ample amount or you can also go for a powder pact.
Avoid Shimmery Products if you have Oily Skin
One of the easiest trips if you have oily skin is that you should avoid shimmery products. Using shimmery products will make your face appear shinier. Instead go for matte products. Whether you are using blush, bronzer, etc. avoid shimmery ones.
Always go for Matte Products if you have Acne-prone Skin
Even if you have acne prone skin, you can still wear makeup. But since you do not want your pimples to catch the attention, you should go products that are matte finish. Keep in mind that the goal is to make your face look as flat as possible. The best trick for that is to go for matte products.
Read Also: How to Cure Acne for Oily Skin?
Do not Apply Bronzer all over your Face
When applying bronzer, you do not apply it all over your face. Instead apply it in a shape "3". This will give you that sun-kissed look and glow without overdoing it. You would not want your face to appear too glimmer and shiny.
Use a Blot Paper
When you have too much oil on your face, you do not always have to retouch and put makeup again. This will only make things worse. The best way is to always bring with you a blot paper. In case, you feel that your face looks shiny or oily, you can just apply the blotting paper.
Wearing makeup can further enhance your look. If ever you encounter problems while doing your makeup, you never have to worry since you can just follow these hacks. Always remember the makeup tips mentioned above and your makeup would be flawless.
Watch This Video – How To Fix Makeup Mistakes?
For women who want to look good whether they are going to the office or whether they are attending an event, wearing makeup is the best choice. After all, when you wear makeup, it accentuates your facial features. It makes you feel more confident. And in wearing makeup, you do not have to apply a lot as you do not want to overdo it. Unfortunately, during your makeup routine, you might experience some problems or you might have mistaken with the application. But the good thing is that there are easy hacks that you can do in case you do it wrong. The article lists down the easiest and the most effective hacks to fix makeup mistakes. For those who have oily skin and those who really want to achieve that flawless and celebrity look, this article can be such a huge help. By following these easy makeup hacks to fix mistakes, you do not have to redo your makeup all over again.
You May Also Want to Read: 29 Expert Beauty Secrets Every Woman Must Follow