Zexin Lin, RDN
Registered Dietitian Nutritionist (RDN), Dietetic Technician, Registered (DTR)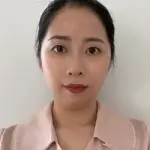 Location
Brooklyn, New York, United States
School
Queens College, City University of New York-Brooklyn College, LaGuardia Community College
Expertise
Registered Dietitian Nutritionist
Highlights
Zexin Lin, RDN, is a bilingual registered dietitian from Brooklyn, NY. She currently practices as an inpatient dietitian at Harlem hospital NYC HHC.
Experience
Zexin Lin, RDN, is a brand-new registered dietitian. She just completed her dietetic internship in June 2022, and she has been an intern for a variety of setting including Acute Care, Long-term care, Counseling, WIC, and Foodservice Management.
She currently practices at acute care facility since she loves the clinical setting. She is currently covering the units of general medicine and seeing patients with various chronic disease, such as DM, HTN, CKD, CHF, and CA.
Zexin enjoys spending her free time with her family and friends. She likes reading and playing badminton. She is fluent in Mandarin.
Education & Certification
Zexin is currently pursuing a Master of Science in Nutrition and Exercise from CUNY of Queens College.
1200 hours of dietetic internship from CUNY of Queens college, June 2022.
Bachelor of Science in Nutrition and Health Science from CUNY of Brooklyn College, June 2021.
About Consumer Health Digest
Consumer Health Digest, a Kyzooma Brand, is your trusted resource for reliable, empathetic, and up-to-date information on wellness topics and product reviews that matter most to you. Our reach is more than 100 million readers. Consumer Health Digest content is fact checked and reviewed by our Medical Expert Board for accuracy and integrity. Learn more about us and our editorial process.