Tracy Lockwood Beckerman, MS, RD
Registered dietitian, Wellness Consultant and Media Spokeswoman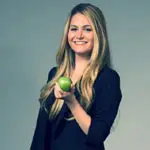 Education
New York University: Master's degree, Clinical Nutrition/Nutritionist
University of Wisconsin-Madison: Bachelors of Science, Dietetics
Experience
Tracy Nutrition: Registered dietitian
Wellness Coaches USA: Registered Dietitian / Health and Wellness Coach
Morrison: Registered Dietitian
New York Methodist Hospital: Dietetic Intern
National Eating Disorders Association: Helpline Volunteer
Columbus Park Collaborative, Specialists in the Treatment of Eating Disorders: Nutrition Intern
New York State Psychiatric Institute: Volunteer
Hospital for Special Surgery: Volunteer
Professional Accomplishments
Author of "The Better Period Food Solution."
featured on JetBlue's airlines in-flight entertainment television
Quotes in New York Times & Time and Fox News
Personal Quote
"Basically everyone's favorite dietitian"
Background
Tracy Lockwood Beckerman, MS, RD, CDN, is a leading women's health expert and nationally-recognized registered dietitian.
HER STRAIGHTFORWARD, YET FRIENDLY AND RELATABLE VOICE HAS ALLOWED HER TO BREAK THROUGH THE WELLNESS SPACE AS A REFRESHING AND HONEST NUTRITION EXPERT.
She influences millions through media with magazine and online features, podcasts, speaking engagements, and YouTube videos. Tracy is currently being featured on JetBlue's airline's in-flight entertainment television, talking about the latest health and nutrition trends.
You can go through her website tracynutrition.com
About Consumer Health Digest
Consumer Health Digest, a Kyzooma Brand, is your trusted resource for reliable, empathetic, and up-to-date information on wellness topics and product reviews that matter most to you. Our reach is more than 100 million readers. Consumer Health Digest content is fact checked and reviewed by our Medical Expert Board for accuracy and integrity. Learn more about us and our editorial process.