Penny S. Brooks, MS, RD, LDN
Registered Dietitian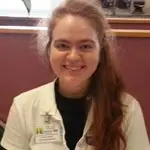 Education
Master of Science In Dietetics and Nutrition - Florida International University
Specialization In Nutrition Biochemistry - Florida International University
Certifications
Harvard Verified Certificate for Cell Biology: Mitochondria
Experience
Nutrition biochemist
Registered & Licensed Dietitian
Multi-sector experienced professional in DC/MD/VA
Background
Penny is a licensed and Registered Dietitian and Master of Science (MS) Candidate in Dietetics and Nutrition with a specialization in nutrition biochemistry.
Being invited to speak from hospital and community sectors, Penny enjoys giving back to the diabetes community through philanthropic speaking engagements and as an independent expert contributing writer.
You can follow Penny on her social media handles where she keeps updates about the work she does.
About Consumer Health Digest
Consumer Health Digest, a Kyzooma Brand, is your trusted resource for reliable, empathetic, and up-to-date information on wellness topics and product reviews that matter most to you. Our reach is more than 100 million readers. Consumer Health Digest content is fact checked and reviewed by our Medical Expert Board for accuracy and integrity. Learn more about us and our editorial process.