Lindsey Gram, RN, BSN
Registered Nurse, Medical Content Writer, Copywriter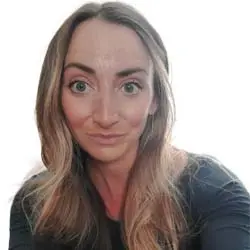 Location
Anchorage, Alaska, United States
School
University of Wisconsin- Milwaukee
Expertise
Registered Nurse
Highlights
Credentials
Education
Bachelor of Science, Nursing
Experience
Registered nurse since 2008, specializing in pediatric intensive care, pediatrics, and neonatal intensive care.
Founder and owner of L&L Copywriting.
Professional Accomplishments
Daisy Award Recipient
March of Dimes Nurse of the Year Nominee
Certifications
Critical Care Registered Nurse Certification, CCRN- Pediatric
Certified Pediatric Nurse, CPN
Background
Lindsey has 15+ years of experience as a registered nurse in pediatric intensive care, pediatrics, and neonatal intensive care. She has worked as a staff nurse, travel nurse, charge nurse, and nurse preceptor in facilities all over the United States.
Lindsey began her nursing career at Children's Hospital of Wisconsin, a large, tertiary care facility serving children and families from all over the Midwest.
After gaining experience in pediatric intensive care, she began travel nursing and has worked at Sunrise Children's Hospital in Las Vegas, Nevada; University of Kentucky Children's Hospital in Lexington, Kentucky; Monroe Carrell Jr. Children's Hospital at Vanderbilt in Nashville, Tennessee; Mercy Children's Hospital in Springfield, Missouri; Flagstaff Medical Center in Flagstaff, Arizona; and Providence Alaska Children's Hospital in Anchorage, Alaska.
Founder and owner of L&L Copywriting. L&L Copywriting provides medical content and copywriting services to health-oriented clients and businesses. L&L Copywriting offers written content such as articles, blog posts, website copy, sales pages, email sequences, white papers, educational materials, and more.
Lindsey completed her nursing education at the University of Wisconsin- Milwaukee, graduating magna cum laude with a Bachelor of Science in nursing degree.
About Consumer Health Digest
Consumer Health Digest, a Kyzooma Brand, is your trusted resource for reliable, empathetic, and up-to-date information on wellness topics and product reviews that matter most to you. Our reach is more than 100 million readers. Consumer Health Digest content is fact checked and reviewed by our Medical Expert Board for accuracy and integrity. Learn more about us and our editorial process.