Kelly Brock
Kelly Brock is a clinical nutritionist and exercise specialist. She holds a master's degree with honors in Applied Clinical Nutrition from New York Chiropractic College. Additionally, she has a bachelor's degree in exercise science. She has been featured as a personal trainer on News 12 Long Island on multiple occasions and has been on the cover of Lucille Roberts magazine. Kelly is passionate about writing and covering a variety of lifestyle topics; check out her blog "Cycle of Wellness" for more! To learn more about her approach to wellness, follow her on LinkedIn.
Most Recent Articles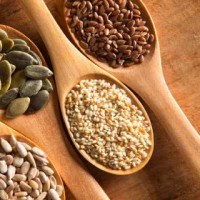 posted in General Health
Seeds deliver serious nutritional benefits and are easy to add in a variety of meals! From decreasing inflammation to boosting energy, seeds provide desirable and convenient nouris...
Read More