Kelly Brock, MS
Kelly Brock is a clinical nutritionist specializing in assisting the population to rebuild their relationship with food. She singlehandely runs a private practice that focuses on nutrition for wellness. In addition, she is a collaborating nutritionist at an outpatient eating disorder treatment center ED-180 located in Garden City, NY.
In August 2017, she received her Master's with honors in Applied Clinical Nutrition from New York Chiropractic College. She holds a Bachelor's degree in Exercise Science and has been an exercise specialist at various fitness facilities on Long Island.
Kelly is passionate about advocating nutrition for mental health. She looks forward to working with clients on rebuilding their relationship with food and exercise.
To learn more about her approach to wellness, follow her on LinkedIn.
Most Recent Articles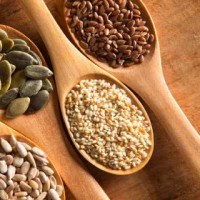 posted in General Health
Seeds deliver serious nutritional benefits and are easy to add in a variety of meals! From decreasing inflammation to boosting energy, seeds provide desirable and convenient nouris...
Read More
posted in Fitness
Can I get in shape on a treadmill? Are you sick and tired of a treadmill because you have fallen short of the results you expected? If yes, it is the most appropriate time to resc...
Read More