Kelli Santiago, MS, RD, CSSD, LD, CPT
Registered Dietitian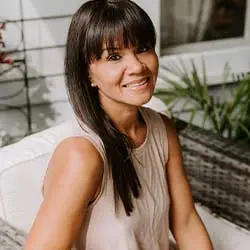 Location
Cleveland, Ohio, United States
Expertise
Registered Dietitian
Highlights
Registered Dietitian and Founder of Inso Sports Nutrition
Education
Master of Science of Dietetics and Nutrition- Arizona State University
Dietetic Internship: The University of Akron
Bachelor of Science in Dietetics: Ohio University
Experience
Founder and Owner, Inso Sports Nutrition
Clinical Dietitian and Wellness Coach, University Hospitals of Cleveland
Nutrition Specialist, O2X Human Performance
Clinical Dietitian, Horizon House halfway house
Clinical Dietitian, Mt. Alverna Village
Clinical Dietitian, Healthcare Services Group
Personal Trainer, Fitworks Fitness Club
Professional Accomplishments
2020 Recognized Dietitian of the Year, Ohio Academy of Nutrition and Dietetics
Certifications
Board Certified Sports Dietitian
Certified Intuitive Eating Counselor
Personal Trainer, NCSF
Background
Kelli Santiago is a Registered Dietitian and Board Certified Specialist in Sports Nutrition. She completed her undergraduate degree at Ohio University, her dietetic internship at The University of Akron and her master's degree in nutrition from Arizona State University.
Kelli has been a dietitian since 2010 and has worked in numerous areas of nutrition and healthcare including hospitals, long term care facilities, fitness centers and even a halfway house for women recovering from drug and alcohol addiction. While her career has led her down many paths, Kelli's real passion lies in sports nutrition. In the past few years Kelli has worked with an array of athletes including competitive power lifters, military tactical athletes, first responders, high school and adult athletes, runners and triathletes.
Kelli currently holds positions at University Hospitals of Cleveland as a Clinical Dietitian and Wellness Coach and Nutrition Specialist with O2X Human Performance. Most recently she has opened her own Private Practice, Inso Sports Nutrition, where she focuses on endurance and strength athletes. She was voted Ohio's 2020 Recognized Dietitian of the Year by the Ohio Academy of Nutrition and Dietetics for her significant contribution to the profession of dietetics and has been an active member of the Greater Cleveland Academy of Nutrition and Dietetics Board of Directors since 2016 and has held positions including, Social Media chair, COPI chair and COPI chair-elect, and President-elect/ Communications Committee, chair and President.
About Consumer Health Digest
Consumer Health Digest, a Kyzooma Brand, is your trusted resource for reliable, empathetic, and up-to-date information on wellness topics and product reviews that matter most to you. Our reach is more than 100 million readers. Consumer Health Digest content is fact checked and reviewed by our Medical Expert Board for accuracy and integrity. Learn more about us and our editorial process.