Therapist/ Sex Educator/ Public Speaker/ Author
Jo Langford
Jo Langford is the author of the Spare Me, 'The Talk'!, series: the only modern guide to healthy sexuality in print for boys and their parents, AND the first guide to growing up for girls (and their parents) written by a male.
He is also a dad, a Masters-level therapist and sex educator for tweens, teens and parents, in Seattle, Washington. More about his work with youth, parents and professionals to promote healthy, positive and safe sexual and social behavior can be found at his website-Beheroes.net. Connect with him on LinkedIn, Twitter and Facebook.
Most Recent Articles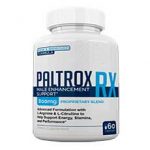 posted in Male Enhancement Reviews
What is Paltrox RX? Paltrox RX is one of many male enhancement supplements on the market. This specific product could provide you with specific nutrients and boosts to certain func...
Read More
posted in Sex And Love
You Learn How To Use Your Words Yeah, we have Tinder and all of its clones now, but nothing beats the sexiness and accuracy of actual, grown-up conversation around turn-ons. This ...
Read More