Jayson Hunter, RD, CSCS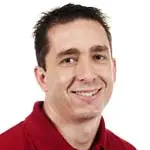 Education
Illinois State University: Bachelor Degree, Nutrition and Food Science
Experience
Jaylab Pro, Inc: Research And Development Specialist At Jaylab Pro, Nutrition Specialist at Jaylab Pro
Elite Nutrition and Fitness, LLC: Meal Plans Creator
Prograde Nutrition: Nutrition Education Provider, Research and Development Director, Weight Loss Information Expert
Jaylab, Inc: Weight Loss Consultant, Registered Dietitian, Weight Loss Expert
Licenses & Certifications
Commission of Dietetic Registration: Certified Registered Dietitian
National Strength and Conditioning Association: Certified Strength and Conditioning Specialist (CSCS)
State of Missouri: Licensed Dietitian
Background
Jayson Hunter is a Registered Dietitian (RD) and Certified Strength and Conditioning specialist (CSCS) for the past 19 years specializing in fat loss and teaching individuals how to achieve quick weight loss.
He has an informative quiz he uses to screen his clients to learn which foods are best for their body type.
You can take the same quiz and learn which foods are best for your body type here. Best Foods For Your Body Type Quiz.
About Consumer Health Digest
Consumer Health Digest, a Kyzooma Brand, is your trusted resource for reliable, empathetic, and up-to-date information on wellness topics and product reviews that matter most to you. Our reach is more than 100 million readers. Consumer Health Digest content is fact checked and reviewed by our Medical Expert Board for accuracy and integrity. Learn more about us and our editorial process.