Carmelita Lombera, RDN
Registered Dietitian Nutritionist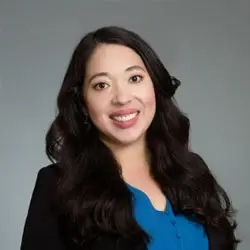 School
University of California, Berkeley
Expertise
Registered Dietitian and Health Coach
Highlights
Clinical nutrition
Individual counseling
Research and media consultant
Certifications
Registered Dietitian Nutritionist (RDN)
Certified Health Coach (CHC)
Certified Group Fitness Instructor
Experience
Bachelor of Science in Nutrition- Dietetics from UC Berkeley
Dietetic Internship at Wellness Workdays
Background
Carmelita Lombera started her career as a Health Coach, then later earned certifications as a Fitness Nutrition Specialist, and Group Fitness Instructor. During her ten years as a Health Coach, she traveled to companies throughout the United States and provided support to their employees by organizing health fairs, teaching group classes, and creating educational resources on topics such as diabetes management.
As a Registered Dietitian, she helps patients apply medical nutrition interventions and establish healthier lifestyle changes. Physicians refer their patients to her because they see significant improvements. Patients trust working with her because they see reduced medical costs and a better quality of life.
Carmelita prioritizes partnerships with health professionals and community members because she believes we are stronger together. She also works with media outlets to reach a larger audience. She has been featured in articles by Carewell, Eat This, Not That, First for Women Magazine, Target 100, Total Shape, and more! Her area of expertise focuses on nutrition interventions for disease management and establishing good eating habits for each stage of life.
Carmelita's vision includes expanding services through brand partnerships and media outlets in English and Spanish-speaking networks. Carmelita believes food brings us together and can heal our communities and our bodies one meal at a time. To know more about her, please visit dietitiancarmelita.com.
About Consumer Health Digest
Consumer Health Digest, a Kyzooma Brand, is your trusted resource for reliable, empathetic, and up-to-date information on wellness topics and product reviews that matter most to you. Our reach is more than 100 million readers. Consumer Health Digest content is fact checked and reviewed by our Medical Expert Board for accuracy and integrity. Learn more about us and our editorial process.