Dr. Atanas G Atanasov
Leading Scientist. Molecular Medicine and Digital Health.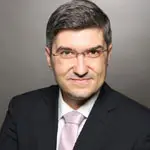 Location
Vienna, Vienna, Austria
School
University of Vienna
Education
University of Vienna: Habilitation
University of Bern: PhD, Biochemistry
Sofia University St. Kliment Ohridski: Master, Molecular Biology/Biotechnology
Experience
Exploration of Digital Health Technologies: Editor-in-Chief
Ludwig Boltzmann Gesellschaft: Principal Investigator
Bulgarian Academy of Science: Guest Professor
IGAB PAS: Adjunct Professor
University of Vienna: Senior Scientist
Institute of Pathology, Inselspital, University of Bern, Switzerland: Postdoctoral Scientist
Department of Clinical Research, University of Bern, Switzerland: Postdoctoral Scientist, PhD thesis
Background
Prof. Atanasov studied at the University of Sofia, Bulgaria, and received a Ph.D. degree in Biochemistry from the University of Bern, Switzerland.
In 2016 he obtained a Habilitation in Pharmaceutical Biology at the Department of Pharmacognosy, University of Vienna, Austria. Since 2016 Prof.
Dr. Atanas G Atanasov is a Head of the Molecular Biology Department at the Institute of Genetics and Animal Breeding of the Polish Academy of Sciences, Jastrzebiec, Poland. His scientific research interests are in the area of Molecular Medicine, Nutrigenomics, Biotechnology, Natural Products, and Molecular Pharmacology.
About Consumer Health Digest
Consumer Health Digest, a Kyzooma Brand, is your trusted resource for reliable, empathetic, and up-to-date information on wellness topics and product reviews that matter most to you. Our reach is more than 100 million readers. Consumer Health Digest content is fact checked and reviewed by our Medical Expert Board for accuracy and integrity. Learn more about us and our editorial process.