Skinceuticals ANTIOXIDANT LIP REPAIR Overview
Skinceuticals ANTIOXIDANT LIP REPAIR is a high quality product especially formulated for providing restoration to environmentally damaged lips. It also helps to refine and smooth out the lip surface to make it supple and sweet looking. It combines together two very powerful and essential antioxidants which are vitamin E and silymarin to give the most popular and effective therapy for your lips. Skinceuticals ANTIOXIDANT LIP REPAIR helps shield the lips from various harsh conditions such as UV light, windy and dry weather. It helps moisturize, replenish and reshape the lip tissues. The lip repair solution is made up of botanical ingredients that are combined together to form a powerful and effective solution yet is still gentle and tender enough to use daily for as long as you want.
Skinceuticals ANTIOXIDANT LIP REPAIR can be purchased online via the manufacturer's website at $38.00. They offer free shipping locally and international shipping at a reasonably affordable fee. Once you place your order you will get the shipment within 36 hours and deliveries are made right at your doorstep no matter your geographical location. The company also offers 100% money back guarantee for any purchases you may not be satisfied with.
Manufacturers Information and Claims about Skinceuticals ANTIOXIDANT LIP REPAIR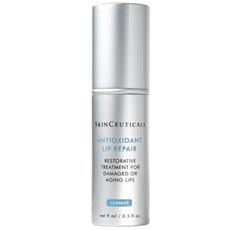 SkinCeuticals is the creator of Skinceuticals ANTIOXIDANT LIP REPAIR and is based in the US. SkinCeuticals Company is the manufacturer of several other skin care products, each product for every skin area. The manufacturer has been in existence for many decades now and is well known for the bestselling and most effective products available in the market today. It is made up of award winning personnel who are highly experienced and experts in their field. They, therefore, ensure that you get a product that gives you fast and effective results but that does not have any adverse effects to the user in any way. The manufacturer claims that this lip repair product is the most effective in the market right now and that it can be used daily with no harmful effect.
Skinceuticals ANTIOXIDANT LIP REPAIR Ingredients List
The ingredients used to formulate this lip antioxidant include:
Silymarin: This ingredient is a strong antioxidant that helps to get rid of free radicals and reverse any signs of aging to give you healthy and smooth lips.
Vitamin E (Alpha Tocopherol): This powerful ingredient helps to nourish the skin especially dry cracked skin. It does this by helping to replace dead skin cells so as to facilitate repair.
Hydroxyethyl Urea : Well known for its powerful ability to hold water, this ingredient helps to retain and absorb moisture in the lips.
Hyaluronic Acid: This is a natural ingredient that is famous for use in most high quality moisturizers and is capable of retaining up to 1000 times its own weight in any water.
The Advantages of Skinceuticals ANTIOXIDANT LIP REPAIR
It is a product that is suitable for all skin types and for any age group so no one is left out from benefitting from Skinceuticals ANTIOXIDANT LIP REPAIR.
It is also quit affordable in all online sites including the manufacturer's site this means that you can get it without having to break the bank.
It is formulated from high quality and powerful botanical ingredients by highly qualified experts. This means that you get fast and effective results but no side effects.
This lip treatment helps you prevent premature signs of aging caused by harsh environmental conditions and it also helps to restore moisture to ensure you get smooth lips.
The Cons of Skinceuticals ANTIOXIDANT LIP REPAIR
There are no disadvantages that you will encounter while using this lip antioxidant.
FAQs
How Is Skinceuticals ANTIOXIDANT LIP REPAIR Used?
This lip product is for external use only and you apply lightly every day.
Possible Side Effects
There are no side effects associated with using Skinceuticals ANTIOXIDANT LIP REPAIR.
Final Verdict
For supple and smooth lips moisture is a great requirement as it prevents cracking and dryness if the skin on the lips. Free radicals and toxins make the lips appear dry and chapped and also gives you signs of premature aging. Skinceuticals ANTIOXIDANT LIP REPAIR is a product that is suitable to deal with all lip challenges to leave you with healthy, supple and moisturized lips. It is formulated from high quality and powerful ingredients to enable you to achieve your desired goals within a short time and also make sure that these results last for a long time. This product is used daily and it reverses all signs of aging and unhealthy lips and it also protects the lips from harmful environmental factors such as UV light and free radicals.
Our Top Antioxidants Choices
Turmeric Curcumin Plus

Strengthening of the Immune System*
Help you Feel Relaxed and Tranquil*
Reduce The Risk of Vitamin and Mineral Deficiency*
Improve The General State of Health*
Healthy Circulation and Improves Natural Energy*
Strengthening of the Immune System*
Help you Feel Relaxed and Tranquil*
Reduce The Risk of Vitamin and Mineral Deficiency*
Improve The General State of Health*
Healthy Circulation and Improves Natural Energy*
Strengthening of the Immune System*
Help you Feel Relaxed and Tranquil*
Reduce The Risk of Vitamin and Mineral Deficiency*
Improve The General State of Health*
Healthy Circulation and Improves Natural Energy*
Strengthening of the Immune System*
Help you Feel Relaxed and Tranquil*
Reduce The Risk of Vitamin and Mineral Deficiency*
Improve The General State of Health*
Healthy Circulation and Improves Natural Energy*
Strengthening of the Immune System*
Help you Feel Relaxed and Tranquil*
Reduce The Risk of Vitamin and Mineral Deficiency*
Improve The General State of Health*
Healthy Circulation and Improves Natural Energy*