In This Review
What is Plexus Joyome?
Plexus Joyome is a combo-product set of serums that focus on reducing the signs of aging on the skin of the face and neck. Joyome Illuminating Day Serum is meant to be used in the morning.
How Does It Rate?
Overall Rating: 3.4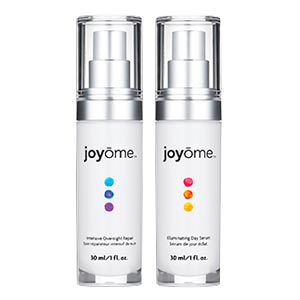 Plexus Joyome
Brand Highlights
The manufacturer Plexus Joyome line is Plexus Worldwide, a company that is located in Scottsdale, Arizona.
They produce health products that are based on science-backed research.
The company was founded in 2014, and since then it's been on the fast track to success.
It has more than 550,000 product ambassadors in every part of the world.
The organization was highlighted on the 500 lists of Fastest-Growing Companies.
Key Ingredients
Silanetriol, Chicory Root Oligosaccharides
Magnesium Carboxymethyl Beta-Glucan
Haematococcus Pluvialis Extract
Cranberry Fruit Extract
Anthemis Nobilis Flower Oil
Jasmine Oil
Lavender Oil
Origanum Majorana Leaf Oil
Castor Seed Oil
Pros
Some of the product ingredients may remove dark circles from under your eyes
Stops bacteria and other toxins from damaging your skin
The collagen produced as a result of this product might smooth out wrinkles and fine lines on your face
The product may hydrate the cells, and this moisturizes the skin
Makes you look years younger and gives your skin a healthy glow
Cons
Lactic acid will make your skin more sensitive to the sun.
The product takes at least 2 weeks to start working.
Claims about the product seem too lofty and are probably not all correct.
The amounts of the listed ingredients are unknown, and there may not be enough to be effective.
---
How Does it Work?
It should smooth out wrinkles and fine lines and erase the dark circles under your eyes. It also contains a moisturizer. The Joyome Intensive Overnight Repair should be used in the evening, and its main function is to get rid of dead skin cells and help with the production of new ones.
Plexus Joyome Ingredients – Are they Safe & Effective?
The Joyome Illuminating Day Serum
– includes ceramides, red clover extract, hyaluronic acid, Argireline peptide, niacinamide, and eyeseryl peptide. The peptides are major active ingredients in terms of anti-aging. They're amino acids that encourage extra collagen to be produced in the body. Collagen smooths out wrinkles and makes the skin firmer.
An abstract published by Research Gate tells more about some topical peptides which possess both, proven and sparse efficacy.[1]
Hyaluronic acid draws moisture, so it really hydrates the skin and leaves it beautifully moisturized.[2]
The Joyome Intensive Overnight Repair
– contains the ingredients retinoid ester, matrixial peptide, lactic acid, bakuchiol and azelaic acid.[3]
Lactic acid is an anti-wrinkle substance, largely because it draws a lot of moisture and so it smooths out. A Cosmetic Dermatology study published by, MDedege, shows beneficial antiaging effects of Lactic Acid.[4]
Another major active ingredient is retinol (retinoid ester) which smooths out wrinkles and lines and eliminates areas of discoloration.
Plexus Joyome Products
The Joyome Illuminating Day Serum: Meant to be applied first thing in the morning to prepare the skin for the day. It gets rid of dark circles under the eyes and smooths out wrinkles and lines, moisturizes the skin, works to shrink your pores, and gives your skin a youthful glow.
The Joyome Intensive Overnight Repair: Meant to be applied in the evening, before you go to sleep. Allows you to 'take off the day by getting rid of dead skin cells and helping to replenish them. This product will also tighten up your skin and make it smoother.
---
Plexus Joyome Alternatives
Seller Info
Address: Plexus Worldwide® 9145 East Pima Center Parkway, Scottsdale, Arizona 85258 U.S.A.
Contact: (EN) 480-998-3490, (ES) 480-374-4998
Plexus Joyome Before and After Results
Plexus Joyome FAQ's
Q: How Should You use Plexus Joyome Serum?
A: Use the cream twice a day, once when you get up in the morning and once before you go to sleep. Start by washing your face as usual and drying it with a towel. Then take 3-5 pumps of the cream and spread it all over your face and neck, including the skin around your eyes. Add moisturizer on top of the product if you like.
Q: How are Plexus Joyome Reviews given by the users?
A: It is important to go through the user reviews before sitting to a particular product. This was a gift for my daughter-in-law. Her skin begins to Glow after 2 weeks!! ~ Review by Pam K.
(Above reviews has been taken from Amazon)
Q: How Much Is Plexus Joyome Serum?
A: The regular retail price of purchasing the two-product set is normally $153. At the moment, preferred customers who are subscribed to the site get 15% off, so they pay a purchase price of $130. Customers who are also ambassadors of the company save 24%, for a closing price of $115. For this, you'll be set a 60-day supply of the product. You also have the option of purchasing individual products. You can buy the illuminating day serum at a price of $80 for a one-time purchase and $68 a month if you buy a subscription. The intensive overnight repair is slightly more expensive
Q: What is Plexus Joyome's Return Policy?
A: This manufacturer offers a 60-day "empty bottle" money-back guarantee. If you are dissatisfied with the product for any reason at all, contact the customer service department at the manufacturer within 60 days of the purchase and get all of your money back. The guarantee can only be used one time for each product.
Q: Does Plexus Joyome Offer a Free Trial?
A: No, the company doesn't appear to offer any free trial where customers can test out the product to decide if they like it before making a purchase. Neither do they seem to offer any free samples of the product – at least not at the current time. Free product samples are always an effective way to make the customer feel appreciated.
YOU MAY ALSO LIKE – Musely Reviews and Needle Less Serum Reviews

Plexus Joyome Reviews – Final Verdict
Plexus Joyome is a two-product set of anti-aging products; one for the daytime and one for the night. The day product focuses on removing wrinkles and dark circles under your eyes and moisturizing. The night product gets rid of dead cells and replaces them. It also works on wrinkles and age spots as you sleep at night.
This is a product with a decent customer base. Many customers are very happy with the results these creams have on their skin and swear that their wrinkles disappeared after starting to use this product. One issue is that the price point for this product is very high, and few will be able to afford to continue purchasing this set on a monthly basis.
Another issue is the fact that lactic acid is an added ingredient. This substance makes your skin very sensitive to the skin and could give you a sunburn. This seems inappropriate for a skincare product.
You can also gather facts on other best face creams for aging skin and compare them to this product. Look at the ingredients, price, and reputability of the manufacturing company. Only then should you decide for certain which product to purchase.
As we age the composition, texture and appearance of our skin changes. Signs of skin aging include wrinkles, fine lines, loss of moisture, uneven tone, and dull, tired-looking skin. There are countless anti-wrinkle creams on the market promising to make skin look and feel younger. Many anti-wrinkle creams promise everything short of a facelift or to provide the much sought after "fountain of youth". In reality most are just moisturizers marketed as anti-aging products.
Below you'll find some of the most effective wrinkle serum/cream formulations on the market today, in our opinion.
Our Top Anti Wrinkle Serums Choices
Verdict on Claimed Benefits: Below is our summary of the available evidence for the claimed benefits of below mentioned anti-wrinkle serums based on the available research:
Beverly Hills MD Repair + Reverse Daily Serum

Reduces Wrinkles*
Gold Star Evidence
Hydrates Skin Deeply*
Gold Star Evidence
Diminishes Age Spots*
Gold Star Evidence
Rejuvenates Aging Skin*
Strong Evidence
Cyabags 5th & Glow | Instant Wrinkle Remover
Instantly Tightens Eyes*
Gold Star Evidence
Reduces Eye Puffiness*
Strong Evidence
Restores Youthful Skin*
Gold Star Evidence
Non-Irritating Formula*
Strong Evidence
Beverly Hills MD Line Smoothing Serum
Reduce The Appearance of Fine Lines & Wrinkles*
Gold Star Evidence
Support The Skin's Structural Foundation & Elasticity*
Strong Evidence
Powerful Collagen-supporting Peptides Moisture-rich Volumizers*
Strong Evidence
Promotes Youthful Skin*
Strong Evidence