In This Review
Formulyst Anti-Wrinkle Peptide Serum Overview
A topical solution you apply to your face in an attempt to change the appearance of fine lines and wrinkles that appear as we age and our skin changes.
Everyone knows that as we age our skin texture and firmness change and we begin to see sagging skin and wrinkles on our faces.
Formulyst Anti-Wrinkle Peptide is looking to replenish a youthful appearance to your delicate facial skin.
How Does It Rate?
Overall Rating: 3.3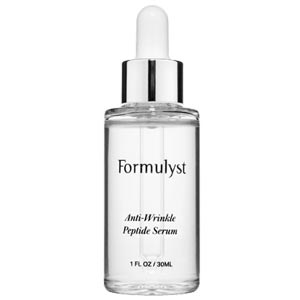 Formulyst Anti-wrinkle Peptide Serum
Brand Highlights
The manufacturer displays confidence in their products by choosing to use the Formulyst Corporation Limited name directly on their product label.
Formulyst has direct contact with their customer base through a retail website and phone sales, and they have a social media presence as well.
Although no information is available on the website about how long they have been in business, they seem to have a large line of facial products available.
Key Ingredients
Palmitoyl Tetrapeptide-7
Palmitoyl Tripeptide-1
Octapeptide-3
Dipeptide
Pentapeptide -18
Acetyl Hexapeptide-8
Pros
Using this serum may help to reduce the look of fine lines and wrinkles.
This product may replace other moisturizers you are currently using and may provide additional benefits to your skin.
This serum is water-based, so it feels light on the skin.
While using this product you may notice other improvements to your skin's texture or feel.
Cons
While using this product your skin may become irritated from one or more of the ingredients.
You may not notice any improvement in the number of existing wrinkles you have.
This product can't remove wrinkles permanently.
The appearance of your skin may not improve instantly while you are using this product.
---
How Does it Work?
The Formulyst Anti-Wrinkle Peptide combines six peptides into one formula that penetrates the facial skin to improve hydration, and visibly smooth the appearance of facial wrinkles.
The moisturizing and peptide combination of Formulyst Anti-Wrinkle Peptide looks to combat the signs of aging and the wrinkles that are created form repetitive facial motions like smiling or frowning.
Providing the peptides and added hydration to your facial skin may help your skin look and feel smoother and provide a more youthful appearance.
Formulyst Anti-Wrinkle Peptide Serum Ingredients – Are they Safe & Effective?
The ingredient list for this anti-wrinkle serum is quite extensive, so details about the peptides used are below, and the other remaining ingredients are either used to create the serum base or provide additional moisturizers to the serum.
Acetyl Hexapeptide-8
– Acetyl Hexapeptide-8 is a peptide compound that is commonly used in skin care products to reduce the look of wrinkles brought on by repeated facial motions. [1]
Pentapeptide -18
– Pentapeptide -18 is used in cosmetic creams to reduce the look of deep wrinkles around the eyes or forehead. [2]
Dipeptide
– Dipeptide is an organic compound created from the combination of two amino acids, and is mostly used as a skin conditioner.[3]
Octapeptide-3
– Octapeptide-3used in facial creams and serums to visibly reduce the look of deep wrinkles around the eyes and forehead[4].
Palmitoyl Tripeptide-1
– Palmitoyl Tripeptide-1 a synthetic peptide that can help strengthen skin and reduce wrinkles. [5]
Palmitoyl Tetrapeptide-7
– Palmitoyl Tetrapeptide-7used in cosmetics to suppress the chemical messengers that can trigger your body's acute inflammatory responses, and this helps the skins support system. [6].
Alternatives
Formulyst Anti-Wrinkle Peptide Serum FAQ's
Q: How Should You use Formulyst Anti-Wrinkle Peptide?
A: The manufacturer website provides no dosage information or instructions on the frequency of their serums application.
Q: How Much Does Formulyst Anti-Wrinkle Peptide Cost?
A: One one-ounce bottle retails for $59.00 on the website the manufacturer does however offer a package deal for combining three products for a total of $108.00 plus shipping.
Q: What is Formulyst Anti-Wrinkle Peptide's Return Policy?
A: The manufacturer offers a money back guarantee if the product is returned within 31 days of the original purchase date. The refund amount is minus the cost of shipping.
Q: Does Formulyst Anti-Wrinkle Peptide Offer a Free Trial?
A: No, Not at this time.

Formulyst Anti-Wrinkle Peptide Serum Review – Final Verdict
Formulyst has created their Anti-Wrinkle Peptide Serum to help combat our skins natural aging process by providing your skin with a moisturizer, and peptide boost in one product.
Unlike heavy oil-based creams of the past and present Formulyst has chosen to create their facial serum using water as the main base ingredient of their serum, and this may enable them to provide a facial serum to people who would normally avoid or deem a serum as too oily for their skin.
While the look of fine lines and wrinkles may improve on your face while you are using this serum and you may indeed notice that your facial skin seems smoother, the truth is that this serum doesn't remove existing winkles and some may find that using the product dosen't improve the visual appearance of their wrinkles at all.
When you are looking for an Anti-Wrinkle product take the time to research the ingredients, and speak with your healthcare provider. Finding a product that provides the improvements that you seek may take some trial and error.
As we age the composition, texture and appearance of our skin changes. Signs of skin aging include wrinkles, fine lines, loss of moisture, uneven tone, and dull, tired-looking skin. There are countless anti-wrinkle creams on the market promising to make skin look and feel younger. Many anti-wrinkle creams promise everything short of a facelift or to provide the much sought after "fountain of youth". In reality most are just moisturizers marketed as anti-aging products.
Below you'll find some of the most effective wrinkle serum/cream formulations on the market today, in our opinion.
Our Top Anti Wrinkle Serums Choices
Verdict on Claimed Benefits: Below is our summary of the available evidence for the claimed benefits of below mentioned anti-wrinkle serums based on the available research:
Beverly Hills MD Repair + Reverse Daily Serum

Reduces Wrinkles*
Gold Star Evidence
Hydrates Skin Deeply*
Gold Star Evidence
Diminishes Age Spots*
Gold Star Evidence
Rejuvenates Aging Skin*
Strong Evidence
Cyabags 5th & Glow | Instant Wrinkle Remover
Instantly Tightens Eyes*
Gold Star Evidence
Reduces Eye Puffiness*
Strong Evidence
Restores Youthful Skin*
Gold Star Evidence
Non-Irritating Formula*
Strong Evidence
Beverly Hills MD Line Smoothing Serum
Reduce The Appearance of Fine Lines & Wrinkles*
Gold Star Evidence
Support The Skin's Structural Foundation & Elasticity*
Strong Evidence
Powerful Collagen-supporting Peptides Moisture-rich Volumizers*
Strong Evidence
Promotes Youthful Skin*
Strong Evidence