In This Review
Dermaclara Claraline Peptide Fusion Serum Overview
Dermaclara is a skincare formula that is used to treat the face, stretch marks, and body damage. It provides a remedy for the wrinkles and fine lines. Clinical tests prove that Dermaclara delivers visible results after one hour of usage.
It permanently treats damages that occur on the chest, neck as well as on stomach. It also aids in getting rid of scars, keloids, cellulite, and also stretch marks. It contains powerful and active ingredients that work jointly to eliminate any blemish on the skin.
This product is made available for a limited duration. 60-days money-back guarantee is allowed by the manufacturer. It is manufactured by a California-based company Dermaclara. Users are expected to stick to the manufacturer's instructions so as to avoid adverse effects. They should consult a dermatologist before embracing it.
How Does It Rate?
Overall Rating: 3.8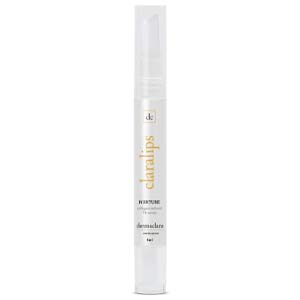 Dermaclara Claraline Peptide Fusion Serum
Brand Highlights
The manufacturer of this product is recognized as the California-based company 'Dermaclara'.
They offer this product at a price of $89 per package.
It is easily accessible on their official website for purchase.
They offer a money-back guarantee that lasts for 60 days after purchase.
The manufacturer has provided their contact information as well as their email, which the customers can use to reach them anytime.
Key Ingredients
Claraprep
Claraline
Clarasome
Claralips
Clarafuse
Pros
It aids in getting rid of fine lines and the wrinkles on the skin
It treats chest, neck and stomach damages
It eliminates stubborn blemishes on the skin
It smoothens and softens the skin
It keeps the skin hydrated throughout
It provides a remedy for stretch marks
It cleanses the skin and refreshes it
It moisturizes the skin
Cons
Manufacturer does not provide detailed information about the product and ingredients composition
It may result to adverse effects if not properly handled
---
Read Also – StriVectin-SD
How Does Dermaclara Work?
The product composition and the ingredients are highly concealed.
The manufacturer claims that this product works by preventing the aging process through the elimination of wrinkles and fine lines that tend to appear on the skin.
The ingredients that work jointly to yield desirable results. They are of high quality and hence safe and effective for use. According to WebMD, there are several ways to reduce the wrinkles.[1]
Dermaclara Claraline Peptide Fusion Serum Ingredients – Are they Safe & Effective?
Claraprep
– Cleanses the skin completely without drying.
Claraline
– Contains a peptide intensifying serum that smoothens the skin as well as hinders the aging process.[2]
Clarasome
– Keeps the skin hydrated, radiant and moisturized throughout.
Claralips
– Hydrates as well as refreshing lips.
Clarafuse
– Inhibits the aging process in the face, chest and neck.[3]
---
Dermaclara Claraline Peptide Fusion Serum FAQ's
Q: How safe and effective is this product?
A: Several clinical tests have been carried out and indicate that this product is 100% safe for use.
Its effectiveness is clearly depicted since it delivers visible results within a span of one hour after application.
Q: Where to buy this product?
A: You can visit the company's website and leave your order there and wait for product delivery.
Q: Does Dermaclara serum work?
A: Dermaclara serum is made up of potent ingredients which deliver exceptional results. It really works as it prevents the aging process through the elimination of wrinkles.
Q: Is Dermaclara serum legit?
A: The ingredients used in Dermaclara are of high quality and are safe to use. It is clinically proven and there are more positive reviews than negative ones.
Q: Can this product be used to treat skin diseases?
A: Not really. It is purposely designed to improve skin wellbeing by refreshing it and keeping it healthy. However, it may treat some minor skin conditions such as scars, stretch marks, keloids, and skin blemishes.
Q: What is the Dermaclara Return Policy?
A: Dermaclara provides its consumers with a return policy of 60-days from the date of purchase.
You May Also Like – LifeCell
Dermaclara Before and After
Dermaclara looks promising and provide good results, as you can see the before and after pictures from one of the user.
Final Verdict
Dermaclara is an anti-aging product that delivers impressing results immediately when it is used.
Therefore, people are free to try this challenge so as to restore their youthful look.
As we age the composition, texture and appearance of our skin changes. Signs of skin aging include wrinkles, fine lines, loss of moisture, uneven tone, and dull, tired-looking skin. There are countless anti-wrinkle creams on the market promising to make skin look and feel younger. Many anti-wrinkle creams promise everything short of a facelift or to provide the much sought after "fountain of youth". In reality most are just moisturizers marketed as anti-aging products.
Below you'll find some of the most effective wrinkle serum/cream formulations on the market today, in our opinion.
Our Top Anti Wrinkle Serums Choices
Verdict on Claimed Benefits: Below is our summary of the available evidence for the claimed benefits of below mentioned anti-wrinkle serums based on the available research:
Beverly Hills MD Repair + Reverse Daily Serum

Reduces Wrinkles*
Gold Star Evidence
Hydrates Skin Deeply*
Gold Star Evidence
Diminishes Age Spots*
Gold Star Evidence
Rejuvenates Aging Skin*
Strong Evidence
Cyabags 5th & Glow | Instant Wrinkle Remover
Instantly Tightens Eyes*
Gold Star Evidence
Reduces Eye Puffiness*
Strong Evidence
Restores Youthful Skin*
Gold Star Evidence
Non-Irritating Formula*
Strong Evidence
Beverly Hills MD Line Smoothing Serum
Reduce The Appearance of Fine Lines & Wrinkles*
Gold Star Evidence
Support The Skin's Structural Foundation & Elasticity*
Strong Evidence
Powerful Collagen-supporting Peptides Moisture-rich Volumizers*
Strong Evidence
Promotes Youthful Skin*
Strong Evidence