In This Article
Overview
The skin is not only the largest organ on the body, but also surrounds the entire body, offering a protective layer against the internal parts of the human body.
For many people, healthy skin that looks young, radiant and flawless offers them a boost in confidence and self-image, but for those with unhealthy and dry skin looks like it is aging too fast, adverse mental reactions may be experienced, such as the development of anxiety symptoms when present in a social situation where other individuals that are aged similar to a person has better skin than they personally have.
Luckily, with proper care, the well being of the skin can be preserved and maintained effectively for a Younger-Looking Skin. When proper skin care routine steps are utilized, a person is often able to delay the appearance of symptoms that are considered part of aging, as well as help to improve the well being of their skin by giving them a clear, flawless skin that is evenly toned and are not prone to developing acne and other problems that are associated with unhealthy skin.
However, to get healthy & wrinkle-free skin, here we are introducing to best anti wrinkle cream. Check Ponds Rejuveness Review.
What are the Effective Skin Care Routine For Flawless Skin?
While we all know that healthy and flawless skin can help us maintain a positive self-image and confidence level, many does not realize how they can effective attend to the problems their skin is developing – such as wrinkles and fine lines, acne and other types of spots, as well as an uneven skin tone. Additionally, a lot of people are also uncertain about the most appropriate methods they can utilize to prevent their skin from becoming excessively dry or developing signs of aging at a young age.
Fortunately, an effective daily skin care routine is all that is needed to maintain healthy, good-looking skin at all times.[1]
Step 1: Cleanse Your Face Two Times Per Day
The first and often considered an essential step not only to preventing acne, blackheads and other spots, but also to assist with preventing the development of wrinkles and other signs of aging, is to properly cleanse the face two times a day. This process should be repeated once in the morning and once at night before going to bed.
Marie Claire explains that many people tend to treat the cleansing process as a "wash-and-go" routine, but this is actually not the correct way to cleanse the face.
Advertisement
*All individuals are unique. Your results can and will vary.
First, you need to make sure you properly remove any remaining makeup that are left over on your face after a hard day's work. According to Marie Claire, it is usually recommended to use a gentle cleanser to avoid causing irritation to the skin, but this also means the cleanser is usually not appropriate to act as a makeup remove too.
Step 2: Tone After Cleansing
Once cleansing has been done, all makeup has been removed and the face is free of buildup oil and dirt, then it is time to use a the best toner for skin. Glamour reports that toner is actually a product that helps to complete the process of cleansing the face by reducing the amount of excess oil that may be present in the skin and to thoroughly remove any dirt that may still be present even after cleansing.
In addition to the fact that a toner helps to assist with the cleansing process, another important function of these beauty products is the fact that they help to restore the skin's pH level to a natural level.
Step 3: Keep Your Face Moisturized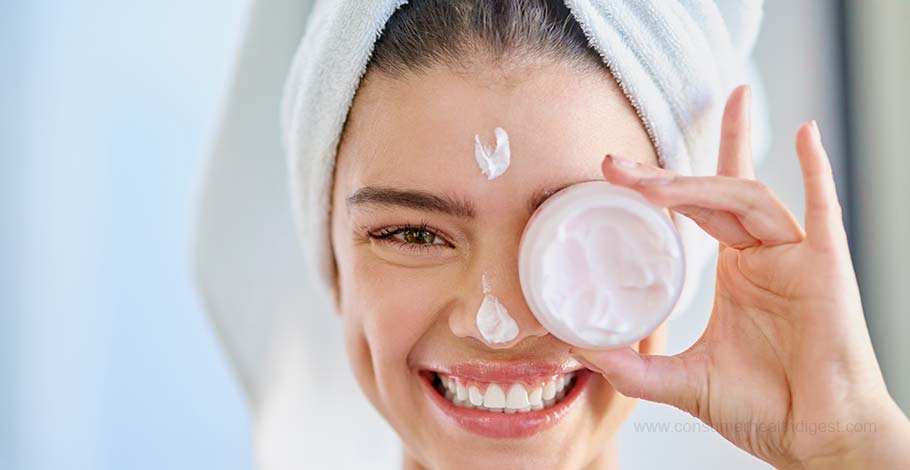 Next up is moisturization, a vital part of keeping the skin healthy, vibrant and looking as young as possible. This step is especially important for a person's skin care routine in 30s.[2]
There are many different moisturizers to choose from and it is important to choose one appropriate not only for your age, but also for your skin type. Early Care that a good moisturizer will help to prevent the development of dry skin and even help to moisture dry skin in case skin has already become dry.
Furthermore, sensitive skin can be protected by proper moisturization, and the skin's texture and tone can be upheld to a healthy level with the right moisturizer. It is usually recommended to apply an appropriate moisturizer soon after the cleansing process has been completed for best results.
Step 4: Exfoliate… But Do Not Overdo It
Exfoliating the skin is another very important step in a proper skin care routine. There are numerous benefits to utilizing an effective, yet gentle exfoliating skincare product. Since exfoliating can be somewhat harsh on the skin, depending on your skin type and the particular product used to exfoliate your skin with, TS Beauty recommends starting with exfoliating only two times every week.
Advertisement
*All individuals are unique. Your results can and will vary.
When this amount seems ineffective, you may want to increase your weekly exfoliation sessions to three times per week. Should irritation occur and it seem like two times per week is too harsh on your skin, consider opting for a single exfoliation session once a week.
As a precaution, it is important to note that you should try to avoid exposure to the sun within the first 24 hours following exfoliation as this may cause excessive damage to the skin. It is also important to consume a larger amount of water than usually during exfoliation. This will help to keep both the inside of the body and the outside hydrated, as well as assist with draining the toxins that are being broken down due to the exfoliating process.
Step 5: Always Be Protected Against The Sun
While the sun is known to increase the production and prevalence of vitamin D in the human body, which is beneficial for the skin, it is also important to know that the UV rays of the sun can be harmful to your body when you are in the sun without any protection.
Medline Plus explains that, while the most common complication of unprotected sun exposure is sunburn, skin cells can also be killed by these sun rays. This can cause the skin to start aging sooner than it should be aging; thus leading to symptoms of premature aging. Furthermore, certain proteins may be affected in an adverse way, causing a loss of skin elasticity and the development of saggy skin.
To counteract the harmful effects of the sun, it is recommended to always wear a broad spectrum sun screen cream on the face, as well as on other parts of the body that will be exposed to sunlight. Avoiding the sun between 10 in the morning and two in the afternoon is also a good idea. You may also consider anti aging cream which provides more protection to your skin.
Conclusion
Taking care of your skin can be as simple as practicing a series of skin care routine steps every day. These steps does not take a lot of your time and will ensure your skin is not only protected at all times, but will also help the most vital cells found in the skin shed and reproduce appropriately; thus leading to a reduced risk of developing certain conditions of the skin that is considered unpleasant, including premature aging and acne.
The steps we have outlined in this article offers an excellent starting point to preventing skin problems and even for treating certain skin issues that may already be present.
Therefore, the steps discussed above will help you achieve and sustain a Younger-Looking Skin. However, peeping on anti aging creams reviews like Dermaplex review on our site may also be beneficial to keep your skin healthy.
4 Sources
We review published medical research in respected scientific journals to arrive at our conclusions about a product or health topic. This ensures the highest standard of scientific accuracy.