In This Article
It is impossible to freeze the time and prevent the formation of wrinkles or other signs of aging.
Although we don't really want to face the music and notice these tiny lines on our face, the reality is that aging is a natural process that changes a person's body in many ways.
That being said, you're not powerless. Many anti-aging options nowadays help slow down the formation of wrinkles or minimize their appearance. One of these options is Botox. Even though we tend to assume you have to be a celebrity to use Botox, the treatment is available to everyone.
Since eye area is prone to wrinkles, this article will provide much-needed information about Botox under eyes and other important things you should know.

What is Botox?
In order to understand how it works and whether Botox is safe for under-eye wrinkle treatment, we have to know what it is first. There is more to Botox than needle and injection you see on TV or fashion magazines.
Basically, Botox is just a brand name of a toxin produced by a bacterium called Clostridium botulinum. This particular bacterium is also found in the intestinal tract of fish and mammals [1].
Botulinum toxin, or Botox for short, blocks nerve activity in muscles. The first uses of this toxin were to treat muscle spasms in limbs and neck and it is also used to address excessive underarm sweating.
In addition, Botox can treat certain eye muscle conditions that are caused by nerve disorders including spasm of the eyelids and uncontrolled blinking. Other problems that are usually treated with Botox include overactive bladder and incontinence caused by spinal cord injury or multiple sclerosis.
Botox migraine treatment is effective for relief of a migraine in adults who have been experiencing severe headache for more than 15 days a month with each episode lasting for 4 hours or longer.
Where Botox is injected?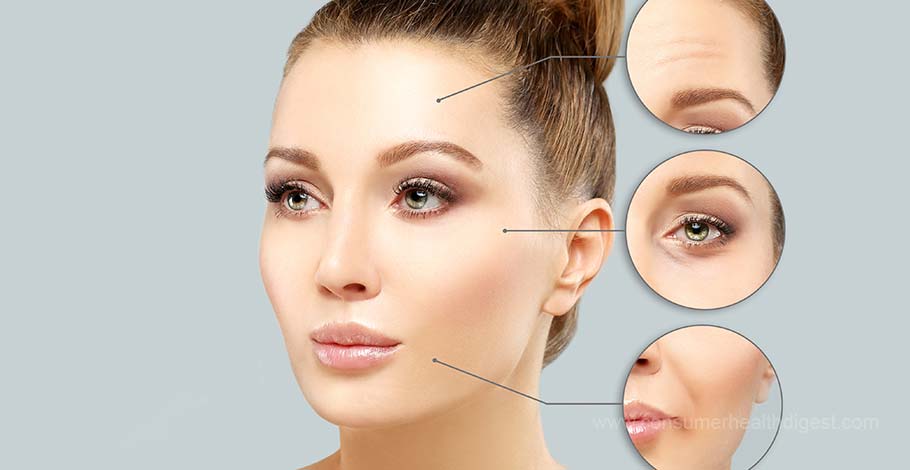 As seen above, Botox isn't just a cosmetic treatment; it has a tremendous potential to help address various health problems. When it comes to the anti-aging use of Botox, you're probably wondering where it is possible to inject it. The most popular method is Botox forehead [2], but a licensed healthcare provider can also inject it on:
Around the mouth to address down-turned corners of the mouth and smoker's lines
Bunny lines (lines in the nose)
Chin
Crow's feet (branching wrinkles at the outer corner of a person's eye)
Frown lines
Skin bands on the neck
When we're talking about cosmetic uses of Botox, you should bear in mind this treatment usually has no effect on wrinkles that are a result of sun damage and gravity. Another important thing to clarify is that Botox isn't facial filler; it just relaxes your muscles.

How does Botox work?
One of the most common reasons why men and women are reluctant to try Botox is that they don't know how it works. Lack of understanding is a major source of fear and confusion. Botox injections or surgery of the solution should only be performed by a healthcare professional. You should never, under any circumstances, agree to get Botox from a person who is not licensed or certified to perform such a service.
The doctor or some other healthcare professional inserts between 1 and 3 cc's of Botox into an under-eye muscle (or some other area, depending on your needs and preferences). The procedure itself causes only mild discomfort and it is over in a few minutes only.
As a result, the injected muscle is unable to tighten or contract as forcefully as it used to. Fine lines and wrinkles soften and relax. This minimizes their appearance and you look noticeably younger.
Botox's price ranges from one doctor to another. On average, doctors charge about $10 to $20 per unit, and about 1-2 units per treatment are necessary for the under-eye area [3].
How long does it take to see results?
The skin around the outer corner of your eyes lacks sebaceous glands, thus explaining why signs of aging appear here first. In order to appear more youthful, many women (and even an increasing number of men) opt to get Botox under eyes.
Now that you know how the procedure works, you're probably wondering how long it takes to see results. Basically, it takes between three and seven days for Botox to take its full effect.
In some instances, it can take up to two weeks for full results to show. Always bear in mind that botox results vary from one person to another. Some people can notice significant changes in just a few days while some people need longer than that.
How long do results last?
Results of Botox surgery don't last forever. When you receive injections to the under-eye area or just about any other part of the skin your skin will appear visibly younger, but for a certain period of time. Generally speaking, effects of Botox last between three and six months.
You can easily spot signs that indicate Botox is wearing off. How? It's simple; when the muscles are regaining their ability to contract and move, crow's feet, fine lines, and wrinkles will reappear. Using a best anti-aging product such as SiO 24 Hour System might be beneficial for you to get healthy skin with fewer side effects.
Is Botox safe for the under-eye area?
A major concern regarding Botox treatment is its safety, particularly in the under-eye area. Doctors inject only small doses of Botox in the under-eye area of the skin primarily because high dosages could be counterproductive. Too much Botox can make lower eyelid drip. Although the effect is temporary, it is visible and an affected person feels subconscious about his/her appearance.
So, is Botox safe then? The answer is yes. Botox is considered to be a safe procedure, but the risk of potential side effects exists. In fact, every treatment or medication regardless of the purpose always carries a risk of adverse effects, but it doesn't mean you'll experience them.
Botox side effects under your eye area include:
Bruising at the injection site
Eyelid droopiness
Dry mouth
Headache
Fatigue
In rare instances, Botox spreads well beyond the site of injection and causes more severe side effects. You can easily minimize the risk of these adverse effects by striving now to rub the spot of injection. This is particularly important for men and women who use Botox under eyes, you may be compelled to rub your eyes after the procedure, but do your best not to [4].
Who shouldn't get Botox for under-eye wrinkles?
Despite the fact that Botox is generally safe, some people should be cautious and think thoroughly before they opt to get the injections. If you are taking some medications, you should consult a healthcare provider to see whether there is a possibility for Botox to interact with them.
Also, these botox injections are probably not a good idea for individuals with substantial fat under the eye. Why? That's because they can cause the fat to bulge and look more noticeable. Hence, our website covers so many anti wrinkle cream reviews, reading these reviews may help you to understand how wrinkle cream really works.
Final Verdict
Botox is a common anti-wrinkle treatment, but it is used for many other purposes. When it comes to Botox under eyes, it is important to mention the procedure is effective and safe.
If you have significant under-eye fat, you should consult your doctor to see whether it's okay to undergo the treatment. Results depend from one person to another, but generally you should notice improvements in skin under eyes within two weeks.
4 Sources
We review published medical research in respected scientific journals to arrive at our conclusions about a product or health topic. This ensures the highest standard of scientific accuracy.