In This Article
Forget the make-ups; do you really believe you can take years off your face with simple facial exercises?
While your friends are rushing to get facial surgeries and Botox(both highly expensive with various side effects), we are here to help you know how to easily stroke those wrinkles right out of your face to look younger than your age naturally with simple anti aging exercises.
The modern culture is so much into quick fixes, as is the case with the highly expensive cosmetic surgeries performed across the world each year. What many have failed to understand is that consistent use of basic natural therapies and methods is sufficient to do away with the surgical interventions we are seeing around on a daily basis.
Many people will actually acknowledge knowing so little about facial exercises, but the reality is that there is a lot of information out their concerning this subject. For those that have managed to grasp the concepts of facial exercises, they have managed to keep their faces toned and youthful.

What are the Impact of lifestyle on health and facial appearance?
In the recent years, many researchers have shown more interest on lifestyle as an important factor of health and general well being. WHO, indicates that 60% of related factors to individual health and well being are correlated to lifestyle. In that case, it is simply clear that leading an unhealthy lifestyle is likely to cause various challenges like diseases, disabilities among other harmful encounters [1].
While lifestyle directly affects personal health in one way or the other, general health status also affects your physical looks. Having the discipline to observe a good lifestyle will thus make you look younger than your age. Such lifestyle factors like stress, poor dieting and use of antidepressants directly linked facial aging.
In case you are facing such scenarios in your life, all you need right now is not facial lifting through surgeries but rather observing a healthy lifestyle characterized by eating a healthy diet, taking enough water and performing facial exercises to look younger.
How Proper diet helps anti-aging?
According to ncbi, "Eating more fresh vegetables and fruits is crucial in improving your overall health; these are essential in protecting your body against serious ailments such as heart disease, arthritis, stroke and cancer among others.
Besides, they can help slow down the body's aging process". Your diet should therefore be rich in fruits and vegetables so as to ward off skin wrinkles on your face by enhancing the skin's natural defense against damages from the sun. Taking enough water is crucial too to keep your skin hydrated all the time [2].
Fresh vegetables and fruits are beneficial to your skin by supplying the body with highly bio-available nutrients that work together for optimal beauty and overall health. There are many benefits of observing a diet rich in vegetables and fruits for a number of reasons but our major concern hear is their importance in slowing down cellular aging so as to remain young forever in appearance.
It is also important to note that vegetables provide nutrients such as Vitamin B, folate, Omega-3 fats, potassium, magnesium and glutathione that help you to adapt to stress- a leading causing factor for facial and skin aging.
How Does Exercise Make You Look Younger?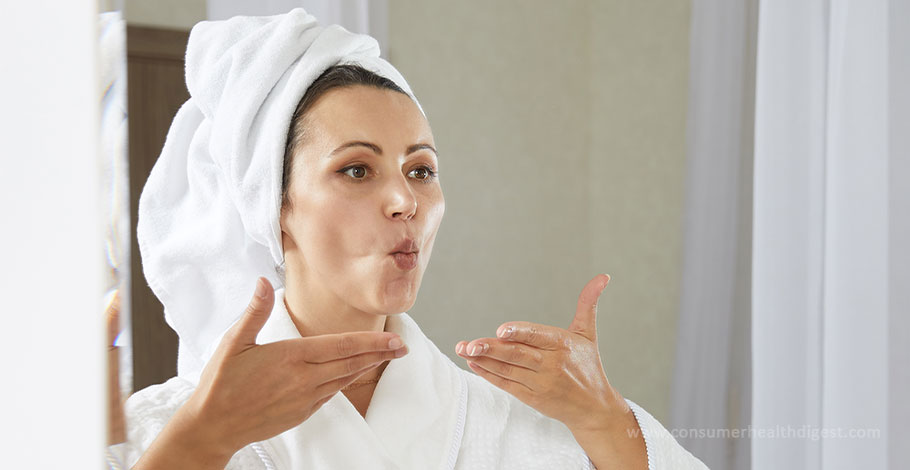 Facial exercises are as crucial as body workouts. Basically what causes the skin to have a droopy appearance is the fact that some of the body muscles naturally start losing elasticity and flexibility due to lack of use. There are actually more than 50 facial muscles which are responsible for the various facial expressions.
Besides the crucial role facial muscles play in controlling the various facial expressions, they also play an important role in shaping and contouring of your face.
This is where facial exercises come in to help maintain a youthful appearance even as you become older, preventing sagging of the neckline and drooping of eyelids among other signs of aging.
Regular exercises ensure that all facial muscles remain firm to support the skin thus preventing sagging and wrinkles. The various exercises also stimulate blood flow to the various muscles to help counter the appearance of wrinkles.
From this analysis, you can clearly see the best way, safe and cheapest way to prevent facial aging is by adopting a regular anti-aging facial exercise routine. Forget the plastic surgeries; these exercises don't require any equipment to perform, just your fingers! However, to prevent wrinkles & fine lines for long term you may endeavor best anti wrinkle creams, which not only prevent wrinkles but gives a flawless skin.

What are the top anti aging yoga exercises that are quite effective?
1. The "V"
This is a facial exercise good for drooping eyelids, eye bags and puffiness.
How to do it
Bring your middle fingers of both hands together at the inner corner of the eyebrows. Apply some pressure with your index fingers to the outer corners of the eyebrows
Raise the lower eyelids to the ceiling making a strong squint then relax afterwards
Repeat as many times as you are comfortable.
This type of facial exercise is a good replacement for Botox injections and eye surgeries done out there.
2. The smile smoother
This type of facial exercise is good for the cheek lines and sagging facial and neck skin.
How to do it
With your mouth open, hide your teeth using your lips then making an "O" shape with it.
Try to smile widely while retaining the teeth hidden behind the lips
Hold the smile for a couple of seconds, and then move your jaw up and down with the head slightly tilted to the back.
Relax and repeat as much as you are comfortable
3. Smooth the brow
Are you concerned of the appearance of those horizontal forehead lines? This is the best facial exercise for you. It is a good alternative to Botox injections that is used to get rid of the lines.
How to do it
Place your hands on the forehead with all the fingers facing inwards, start spreading all the fingers towards the outside between the eyebrows and the hairline.
While spreading the fingers, apply some light pressure to tighten the skin
Relax and repeat as many times as you can
4. The flirty eyes
This exercise is good to get rid of deep eye hollows and drooping eyebrows. The exercise works perfect in place of eyebrow lift surgery or injections.
How to do it
Place index fingers under both eyes pointing towards the nose
Hide the teeth with your lips and tease the top and bottom lips from each other
Finally flatter the upper eyelids while gazing to the ceiling
Do this for about 30 second then relax and repeat as many times as you want
5. The giraffe
This is a good anti aging exercise to help prevent loose skin and lines on the neck.
How to do it
Look straight ahead and place the finger tips at the bottom of the neck
Start stroking the skin downwards lightly while tilting the head to the back.
Lower the head back down to the chest and repeat from the beginning.
Repeat this as many times as you will be comfortable.
Final Verdict
All these anti aging exercises are quite effective in strengthening your facial muscles making your face maintain the youthful appearance. The exercises are not quick fixes, but they are effective, safe and easy to do.
However, you need to understand that the most crucial aspect of youthful appearance is a healthy diet [3]. With this crucial aspect, not even the anti-aging facial exercises will be effective [4].
You may also peep on some anti aging cream reviews such as LilyAna Naturals Retinal Cream Review which may help you to guide to get healthy skin.
5 Sources
We review published medical research in respected scientific journals to arrive at our conclusions about a product or health topic. This ensures the highest standard of scientific accuracy.