In This Review
Tan Physics Overview
Tan Physics is a sunless tanner and skincare product. It is formulated with high-quality ingredients and exclusive components that give the user a natural-looking, streak-free tan.
The product also works to reduce the visibility of fine lines and wrinkles. It is a formula suitable for all skin types adjusting to any complexion for individualized tan shades.
The lotion is easy to apply and blend. It is formulated to be gentle and can be used on the face and body. One 8 oz. container is being sold online.
How Does It Rate?
Overall Rating: 3.8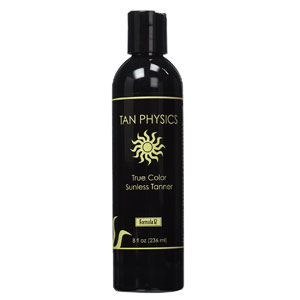 Tan Physics
Brand Highlights
Nourishes the skin giving it a flawless, gorgeous and stunning sunless tan
Replenishes and hydrated the skin using proven natural ingredients
Enhances and builds on the sunless tan with color correcting tints
Reduces odor using advanced scent blocking technology
Key Ingredients
Argan Oil
Matrixyl
Coconut oil
Caramel and sugar-derived tanners
Aloe Vera
Hydrolyzed collagen
Pros
Tan Physics uses a natural tanner which is safer compared to its artificial counterparts
The formula may nourish and condition the skin
It may be formulated to reduce the visibility of skin aging signs
There are many good reviews saying it is really effective
Cons
The product has not undergone thorough clinical testing for safety and effectiveness
It is only being sold by selected retailers
The formula may cause skin irritation on certain individuals
---
How Does Tan Physics Work?
Tan Physics uses a dual-action system that gives a rich, natural tan while at the same time nourishing the skin.
Advertisement
*All individuals are unique. Your results can and will vary.
It uses high-quality natural ingredients like the tanner derived from sugar which gives an authentic and long-lasting tan.
The revolutionary formula also makes use of ground-breaking peptides, amino acids, and natural extracts that further enhances the depth and natural color of the tan.
It uses what is called Formula 12 which was developed to suit all skin types, complexions, and tomes. It also uses proven active ingredients that hydrate and nourish the skin.
Tan Physics Ingredients – Are they Safe & Effective?
Argan Oil
– It contains a combination of nutrients and antioxidants including vitamin E which protects the skin from one of the main causes of premature skin aging. It also helps treat dry skin while reducing skin irritation for smooth and youthful skin.[1]
Matrixyl
– This is a powerful anti-aging compound that activates the natural collagen production in the skin to reduce the visibility of fine lines, wrinkles, and other skin aging signs.[2]
Coconut oil
– This is known to be thoroughly absorbed by the skin to strengthen and condition underlying tissue. It also works to lock in moisture and prevent dryness to keep the skin looking flawless.[3]
Caramel and sugar-derived tanners
– This is the primary active ingredient for tanning as stated in Journal of Clinical and Aesthetic Dermatology. It uses the highest quality natural tanners in the world. It gives the skin a natural and even-looking tan that lasts.[4]
Aloe Vera
– This is the special organic variety that is absorbed 400% faster compared to water. It conditions the skin and helps with moisture retention while offering many other benefits to the skin.[5]
Hydrolyzed collagen
– This active ingredient offers powerful skin rejuvenation and restoration effects. It enhances the strength and elasticity of the skin to restore its youthful qualities.[6]
See Also – Suisse Serum
Tan Physics FAQs
Q: What is the Tan Physics directions for use?
A: It is best to first exfoliate the skin before applying to Tan Physics. Make sure your skin is dry before application.
Advertisement
*All individuals are unique. Your results can and will vary.
Apply it just like a lotion starting from your feet working your way up to your face. Work it in with small circles massaging onto the skin. It may take a few applications before you learn the best way to apply the product.
Q: What are the Tan Physics warnings?
A: There is a possibility that some users are sensitive or even allergic to certain ingredients in the formula.
Perform skin testing to check how your skin reacts to the formula before extensive use. In case of severe side effects, wash with water and consult your skincare professional.
Q: I'm on meds for Bi-Polar diagnosis. Should this be safe to use? I received it today.
A: Tan Physics claims that its self-tanning products are gentle enough for use anywhere on the body, including your face. The product promises a natural-looking tan that won't streak or blotch, and is supposed to be safe for use on both the body and the face.
Q: What are some similar products to Tan Physics?
A: Similar products include Natura Beaute and Angel Lift.
What Kind of Reviews are Out there for Tan Physics?
As we mentioned above, the fact that there are thousands of reviews for this product is something quite important. It shows that people are undoubtedly using it and sharing their feedback.
For once, the product has a lot of negative but also a lot of positive reviews, which is to be expected.
One person goes on the share that he has been using the product for 8 days and he has received no results. He says that even though he looks a bit jaundiced, he doesn't have any tan at all.
On the other hand, a more satisfied user goes on to say that the product is definitely better than most and it is more natural-looking than the ones that he has been using so far.
Tan Physics Review – Final Verdict
After taking a very close look at Tan Physics, it is a good sunless tanning formula.
The product might be able to help you get tan without exposing yourself to the harmful sun rays. Of course, there is a lot that has to be considered.
The ingredients in the formulation are natural and are said to bring prominent benefits without any substantial malicious effects.
At the same time, it might be a good idea to take another look at the market. There are plenty of other anti-aging products that you might also be able to take advantage of.
As we age the composition, texture and appearance of our skin changes. Signs of skin aging include wrinkles, fine lines, loss of moisture, uneven tone and dull, tired-looking skin. There are countless anti-wrinkle creams on the market promising to make skin look and feel younger. Many anti-wrinkle creams promise everything short of a facelift or to provide the much sought after "fountain of youth". In reality most are just moisturizers marketed as anti-aging products.
Below you'll find some of the most effective wrinkle serum/cream formulations on the market today, in our opinion.
Our Top Anti Aging Choices
Verdict on Claimed Benefits: Below is our summary of the available evidence for the claimed benefits of below mentioned anti-aging products and anti-wrinkle creams based on the available research: