In This Review
Overview of Revive Derma
Tons of anti-aging products have been introduced in the market since time immemorial. How much of them delivered results? Probably less than 1% who knows? The point is, these anti-wrinkle creams and serums exaggerate on what these products can allegedly deliver but, show very minimal actual results. The market is tired, and the consumers are exhausted of promises of youth.
Aging skin can be quite tough to accept and even tougher to manage. The first way to effectively deal with it is to change your mindset about your skin. Your skin is just one of many organs in your body and whatever you do to your body certainly affects your skin.
Once you've fully absorbed the virtue of this statement, you'll come to realize that you need a lifestyle revamp if you want your skin to stay as flawless for as long as possible. Still, it wouldn't hurt to have a go-to anti-wrinkle product to support you in your quest to obtain healthier, younger looking skin. Can Revive Derma Snake Venom Peptide Cream perform this function for your benefit? Revive Derma Snake Venom Peptide Cream claims it is made of 72% organic ingredients, all infused in this product's formulation to serve a single, common objective and that is, to give you youthful looking skin. Revive Derma Snake Venom Peptide Cream promises to benefit you skin in the following ways:
Restore your skin's normal moisture levels while also minimizing surface water loss
Make your skin better protected from damage caused by free radicals and UV radiation
Even out skin tone and give you a brighter, more improved skin complexion
Improve skin elasticity and make your skin less prone to wrinkling and creasing
Revive Derma Snake Venom Peptide Cream is exclusively sold and distributed via online channels. You may order your jar from the product's or its affiliate websites. The good news is that Revive Derma Snake Venom Peptide Cream is currently available for a limited time, free trial offer in select territories only. Find out if you are eligible today by visiting the product website. Be reminded that the trial offer is good only for up to 14 days which begins to countdown from the date when you placed your order. Read the terms and conditions closely before signing up.
How Does It Rate?
Overall Rating: 3.8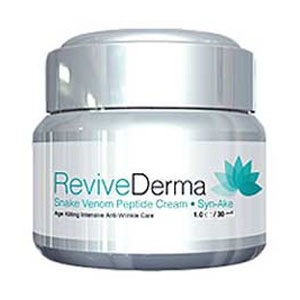 Revive Derma Snake Venom Peptide Cream
Brand Highlights
The product can be purchased through the online secure system.
All you need to do is visit the manufacturer's website.
The company allows returns within the timeframe that begins from the date of purchase.
Key Ingredients
Alpha Lipoic Acid
Vanilla Extract
Vitamin A
Vitamin E
Ginseng sources
Minerals
Aloe Vera
Grape Seed Oil
Avocado
Pros
May support skin in fighting and coping more effectively with multiple signs of skin aging.
May provide instant hydration and deep moisturisation.
It is said to be made from natural ingredients.
Cons
The full product ingredients list is not disclosed
Product is only available online
---
How Does Revive Derma Work?
The primary ingredient behind Revive Derma Snake Venom Peptide Cream is perhaps a snake venom peptide which, although not mentioned or discussed in the product website, is assumed to be infused in this product's formulation by its mere inclusion in this product's name. This snake venom peptide has an instant facelifting effect and works by relaxing and freezing your skin and the muscles below it that leaves you with an expressionless face and a more evened out, smoother skin surface.
The combined deep moisturizing effect of skin conditioners attempt to make this no-wrinkle look to last longer by flooding skin with moisture. In the process, the added moisture fills in cracks in your skin which appear as fine lines, wrinkles and other visible signs of aging on your skin's epidermis or, your skin's outer layer. Botanical ingredients also help reinforce the skin's natural outer protective layers with the help of antioxidants.
Revive Derma Ingredients – Are they Safe & Effective?
Alpha Lipoic Acid
– Helps blot out skin puffiness while also aiding in rebuilding the skin's protective layers,
Vanilla Extract
– Has anti-inflammatory properties that help slow down skin aging.
Vitamin A
[1] – Significantly smoothens out wrinkles and fine lines
Vitamin E
[2] – Powerful antioxidant and has a moisturizing effect on skin
Ginseng sources
– Has anti-inflammatory and antioxidant properties plus, it also helps power up the biological processes involved in skin repair and renewal
Minerals
– Specific mineral contents of this product are not mentioned though, the nourishing and envigorating effect of minerals on skin have been well documented
Aloe Vera
– With an organic makeup that closely resembles skin, it remains to be the best botanical ingredient in treating various skin conditions.[3] Because aloe vera possesses moisturizing attributes, it can elevate skin hydration and enhance elasticity, resulting in the reduction of fine lines and wrinkles. This is why it's incorporated into skincare formulations such as Hydrossential Serum, an anti-aging product, to capitalize on its remarkable skincare advantages.
Grape Seed Oil
– Deeply nourishes without the greasy feel[4]
Avocado
[5]– Contains fatty acids which helps prevent skin thinning; also contains antioxidants, including Vitamins C and E
Read More About Similar Products:
Revive Derma FAQ's
Revive Derma Dosage Instructions
For maximum results, Wash the face thoroughly with water and pat it dry with a towel and then apply to clean skin in the morning and at night daily.
Who Can Use Revive Derma?
Some of the ingredients are not known. So, this product is recommended only for people who have mature skin types.
Know The Related Products
ReViv contains a number of active ingredients, which are highly beneficial at the level of the skin. Among the most important ingredients, you can find retinol and vitamin E. The anti-aging serum works by replenishing the nutrients lost at the level of the skin. Thus, it modifies its overall structure, minimizing fine lines and wrinkles. The combination of retinol and vitamin E works to tighten and lift the skin, taking years off your face. It also has an intensely hydrating effect, eliminating the tired aspect of the skin. Thanks to the whole collagen molecules, the structural matrix of the skin is repaired.
Revive Derma Review – Final Verdict
Revive Derma Snake Venom Peptide Cream can be just one of many anti-wrinkle products in the market or, it can be that one product that finally addresses you needs.
As we age the composition, texture and appearance of our skin changes. Signs of skin aging include wrinkles, fine lines, loss of moisture, uneven tone and dull, tired-looking skin. There are countless anti-wrinkle creams on the market promising to make skin look and feel younger. Many anti-wrinkle creams promise everything short of a facelift or to provide the much sought after "fountain of youth". In reality most are just moisturizers marketed as anti-aging products.
Below you'll find some of the most effective wrinkle serum/cream formulations on the market today, in our opinion.
Our Top Anti Aging Choices
Verdict on Claimed Benefits: Below is our summary of the available evidence for the claimed benefits of below mentioned anti-aging products and anti-wrinkle creams based on the available research:
Beverly Hills MD - Best #1 Rated Skincare Brand
Innovative Science-Backed Skincare Products*
Gold Star Evidence
Range of Products for Specific Skin Concerns*
Gold Star Evidence
Cruelty-Free, Premium Quality Ingredients*
Gold Star Evidence
Visibly Lifts Skin From The Inside, Out*
Gold Star Evidence
Beverly Hills MD Dermal Repair Complex | Best Anti-Aging Supplement

Diminishes Wrinkles & Dullness*
Gold Star Evidence
Reduces Sagging or Drooping*
Gold Star Evidence
Improves Hair & Nails Strength*
Strong Evidence
Enhances Skin Elasticity*
Gold Star Evidence
Deep Wrinkle Filler | Anti-aging Skin Care Formula
Erase The Appearance Of Fine Lines*
Gold Star Evidence
Fill in Deep Wrinkles*
Gold Star Evidence
Give Skin a Smoother, More Flawless Appearance*
Strong Evidence
Nourishes Skin For Lasting Results*
Strong Evidence
XYZ Smart Collagen | The Best Anti-aging Cream
Wrinkles Reduction*
Gold Star Evidence
Improves Skin Firmness*
Gold Star Evidence
Improves Skin Texture*
Strong Evidence
Smart Collagen Management*
Strong Evidence
Hydrossential Serum | All-Natural Skin Care Product
Support Skin Health*
Gold Star Evidence
Helps Eliminate Acne, Dark Spots, Fine Lines*
Strong Evidence
Improves Resistance to Inflammation*
Gold Star Evidence
Repair and Restore Damaged Skin Cells*
Strong Evidence