In This Review
What is Revitaderm 40?
Revitaderm 40 is a special formulation for extremely dry skin. It can also be used as an anti-aging product to help slow down the skin aging process. However, the formulation is marketed as a product for extremely dry skin which includes diabetic skin conditions and dry, cracked heels.
It was initially available by prescription only but the formulation can now be purchased over the counter. The formula is water-free in order to provide hydrating benefits for more than 6 hours. It uses special active ingredients that were carefully selected for their softening and hydrating effects. One 4 oz. container is being sold online for $25.45.
The ultra-hydrating formulation is from Blainelabs which is a company known for developing and distributing dermatological products for different purposes. The company identifies the most common skin problems and finds a solution through its formulations. Blainelabs is not very well-known but the company has established a good reputation in the dermatological community in its years of operation.
How Does Revitaderm 40 Rate?
Overall Rating: 3.8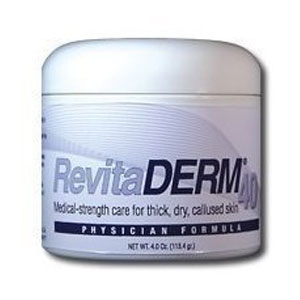 Revitaderm 40
Brand Highlights
The brand has an extremely impressive line of sports nutrition products.
Revitaderm 40 uses clinically proven ingredients in their formulations.
They are committed to being a source of top-notch, original goods.
It is known for developing and releasing the most cutting-edge products.
Key Ingredients
Urea
Aloe Vera
Tea Tree Oil
Coconut Oil
Matricaria
Cocoa Butter
Licorice and Burdock Root Extract
Pros
Revitaderm 40 contains powerful moisturizing ingredients that are natural.
It is proven to provide lasting hydration.
The formula can even be used to address calluses.
It has been available for a long time.
The product is from a reputable company that specializes in dermatological formulations.
There are many good reviews saying it is a great moisturizing product.
Cons
The anti-aging benefits of the formula are limited.
Some users may be sensitive to certain ingredients in the formulation.
There is some negative feedback saying it is not very effective.
---
How Does Revitaderm 40 Work?
Revitaderm 40 uses a combination of powerful hydrating ingredients. It is formulated to provide hydration for more than 6 hours after application. The product contains nourishing ingredients as well in order to keep the skin soft, smooth, and healthy.
It hydrates the skin intensively to address issues related to dryness and cracking. The formula also uses a special active ingredient for removing calluses in just several days of use. It is clinically proven to address dryness issues using a combination of natural active ingredients that do not irritate the skin.
Revitaderm 40 Ingredients – Are they Safe & Effective?
40% Urea
It is a natural component of the tissues of the skin making up around 7% of the natural moisturizing factor of the skin. It is a powerful hydrating agent that provides fast relief to dry skin. It absorbs water and works to improve the barrier function of the skin thus its powerful moisturizing effects on the skin. The high concentration enables it to treat extreme dryness issues including cracked skin and calluses.
Aloe Vera P2000
This is a special
Aloe Vera extracts have powerful nourishing, soothing, and hydrating effects on the skin. It helps soften and smoothen the skin while also working to address various skin issues. Aloe Vera[1] is one of the most common ingredients in skin care formulations because of its many benefits.
Tea Tree Oil
This is a soothing ingredient that also works to moisturize the skin and address various skin issues.
Coconut Oil
It is a potent nourishing and hydrating ingredient that helps treat various skin problems.
Matricaria
This is a special extract from German Chamomile which has soothing and nourishing properties that help in making the skin smoother and softer.
Cocoa Butter
Cocoa Butter is a well-known natural moisturizing ingredient. It has been used in traditional medicine to keep the skin moisturized and minimize stretch marks along with other skin issues[2].
Licorice and Burdock Root Extract
These natural extracts have nourishing effects on the skin helping clear it up and improve smoothness.

FAQ's
Q: How should I Apply the Revitaderm 40?
A: Apply as needed on areas of the skin that are very dry. It is best applied to the affected areas immediately after taking a shower and just before bedtime. The supplied pumice stone and brush are for removing dead skin.
Q: What Are The Precautions When Using Revitaderm 40?
A: Avoid contact with the eyes if you have sensitive skin. Please consult a dermatologist before using this cream for a more accurate answer.
Q: How Long Before I See any Improvements?
A: It takes a few weeks for you to start noticing the results. However, results may vary from one person to the other.
Q: Are There Any Side Effects of Revitaderm 40?
A: Revitaderm 40 might cause irritation on the skin, and it must not be used on a damaged complexion.
What Do the Reviews Say?
It actually doesn't accomplish anything. It might give you some short-term skin comfort for a few hours, but the expense is not justified. I haven't noticed any notable advantages as a result of using it.
~ Racheal
Conclusion
After carefully examining Revitaderm 40 and reading various reviews from people who have tried the product, it is a good skin care product for extremely dry skin. However, it is not really for those who are looking for an anti-aging product. The formulation works to moisturize the skin and address extreme dryness including calluses. It is from a reputable company and the formulation has been available for some time. It is surely worth trying if you're looking for a product to address extreme skin dryness issues.
As we age the composition, texture and appearance of our skin changes. Signs of skin aging include wrinkles, fine lines, loss of moisture, uneven tone and dull, tired-looking skin. There are countless anti-wrinkle creams on the market promising to make skin look and feel younger. Many anti-wrinkle creams promise everything short of a facelift or to provide the much sought after "fountain of youth". In reality most are just moisturizers marketed as anti-aging products.
Below you'll find some of the most effective wrinkle serum/cream formulations on the market today, in our opinion.
Our Top Anti Aging Choices
Verdict on Claimed Benefits: Below is our summary of the available evidence for the claimed benefits of below mentioned anti-aging products and anti-wrinkle creams based on the available research:
Beverly Hills MD - Best #1 Rated Skincare Brand
Innovative Science-Backed Skincare Products*
Gold Star Evidence
Range of Products for Specific Skin Concerns*
Gold Star Evidence
Cruelty-Free, Premium Quality Ingredients*
Gold Star Evidence
Visibly Lifts Skin From The Inside, Out*
Gold Star Evidence
Beverly Hills MD Dermal Repair Complex | Best Anti-Aging Supplement

Diminishes Wrinkles & Dullness*
Gold Star Evidence
Reduces Sagging or Drooping*
Gold Star Evidence
Improves Hair & Nails Strength*
Strong Evidence
Enhances Skin Elasticity*
Gold Star Evidence
Deep Wrinkle Filler | Anti-aging Skin Care Formula
Erase The Appearance Of Fine Lines*
Gold Star Evidence
Fill in Deep Wrinkles*
Gold Star Evidence
Give Skin a Smoother, More Flawless Appearance*
Strong Evidence
Nourishes Skin For Lasting Results*
Strong Evidence
XYZ Smart Collagen | The Best Anti-aging Cream
Wrinkles Reduction*
Gold Star Evidence
Improves Skin Firmness*
Gold Star Evidence
Improves Skin Texture*
Strong Evidence
Smart Collagen Management*
Strong Evidence
Hydrossential Serum | All-Natural Skin Care Product
Support Skin Health*
Gold Star Evidence
Helps Eliminate Acne, Dark Spots, Fine Lines*
Strong Evidence
Improves Resistance to Inflammation*
Gold Star Evidence
Repair and Restore Damaged Skin Cells*
Strong Evidence