After former model Christie Brinkley produced a range of clip-in hair extensions called Hair 2 Wear in 2013, she will be launching Authentic Skincare in March 2015. Authentic Skincare is the newest vegan and environmentally friendly skincare line that will carry products that include everything from facial wash to anti-wrinkle treatments.
Brinkley collaborated with celebrity dermatologist Doris Day to create eight products which will be introduced in time for the launch. One of these products is the RECAPTURE 360 + IR Defense Anti-Aging Day Cream.
Other products that will be launched under the Authentic Skincare line includes the Complete Clarity Facial Cleansing Wash, Recapture 360 Night Anti-Aging Night Treatment, Complete Clarity Daily Facial Exfoliating Polish, Refocus Eye + IR Defense Serum Infusion Eye Treatment, Uplift + IR Defense Firming Neck & Décolleté Treatment, Close Up Instant Wrinkle Smoother & Treatment, and the Close Up + IR Defense Skin Smoothing Primer Serum.
RECAPTURE 360 Formula Overview
Once introduced in the market, the RECAPTURE 360 + IR Defense Anti-Aging Day Cream will be made available in 50ml bottle that will cost US$70.
RECAPTURE 360 + IR Defense Anti-Aging Day Cream is designed for daytime application and recommended for use of both men and women, regardless of their age.
RECAPTURE 360 + IR Defense Anti-Aging Day Cream promises to deliver the following results: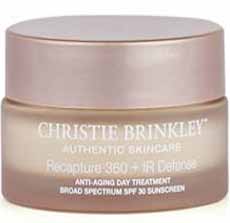 Improve* the appearance of wrinkles
Improve* and even reverse signs of skin aging
Promote skin elasticity
Support skin's ultrahydration and moisturization for that supple skin that's soft to the touch
Minimize the appearance of dark spots.
Tighten skin for a firmer appearance
Correct uneven skin tone
Protect skin from further damage caused by exposure to the sun's harmful UV rays
Protect skin from the damaging action of other free radicals that include pollution and other environmental stressors.
Active Ingredients
RECAPTURE 360 + IR Defense Anti-Aging Day Cream consists of the following key ingredients, most of which are specially formulated for Authentic Skincare:
Neodermyl: Neodermyl is designed to recharge and help revitalize skin for improved* skin rejuvenation. It aids in the production of collagen and elastin which promotes* rapid skin cell turnover so that skin stays firm, soft, and youthful.
Elix-IR: Made from natural ingredients, Elix-IR is formulated to protect skin from premature and photoaging as a result of sun exposure.
Systenol A: Made from edible seeds, Systenol A helps improve* skin appearance and even reverse skin damage.
K Vita C: This ingredient is a fortified form of Vitamin C that protects skin against the damaging effects of free radicals. It helps improve* the skin's color and texture.
Mitostime: An anti-aging ingredient derived from brown algae. Brown algae is rich in iodine and other minerals including zinc, copper, and selenium. Brown algae extract is touted as the next super antioxidant, along with its other algae counterparts.
Vederine: Another naturally derived ingredient infused in this product is Vederine which has been found to revitalize Vitamin D receptors in the skin without the need for sun exposure.
Phormistim G: Derived from a plankton found only in South Aftica, Phormistim G also boosts* the skin's natural antioxidant-fighting properties.
Aquaxyl: This promotes* skin ultramoisturization.
Essenskin: This ingredient is made from a special combination of amino acids and calcium which serve as building blocks for skin cell repair and renewal.
How Does RECAPTURE 360 Care Formula Work?
RECAPTURE 360 + IR Defense Anti-Aging Day Cream is infused with a specially formulated complex, Bio-Copper designed to promote skin ultra-hydration and boost* skin cell turnover and repair. The product works two ways. First, it aids skin in capturing and locking in moisture. Second, the product contains a broad spectrum protection against UVA and UVB.
The result is improved* skin elasticity and firmness. As such, RECAPTURE 360 + IR Defense Anti-Aging Day Cream helps in protecting skin against signs of skin aging, and claims to help reverse the unpleasant lines and creases caused by wrinkles.
RECAPTURE 360 Usage
Apply during the day. Reapplication may be necessary at mid-day to maintain effectiveness in fighting off antioxidants, including sun damage.
Pros
The great fact about this new daytime anti-aging cream is that it is made from carefully studied and special formulated complex ingredients that have undergone careful R&D processes. Another great news is that this product highly took into consideration the use of natural products in its final formulation.
Cons
No adverse side effects are noted at this point.
Caveats
There are currently no available information concerning possible adverse side effects or safety information regarding this product.
Is It Effective To Remove* Signs Of Aging?
Information as to product effectiveness in fighting and reversing signs of aging is currently not available. The product website, however, discusses the technology and ingredients behind the product in detail. The science behind its claims seem to make sense and has high potential for being effective.
Bottom Line
RECAPTURE 360 + IR Defense Anti-Aging Day Cream is worth trying out. It just might be a great alternative to the usual chemically-laden anti-wrinkle creams around.
As we age the composition, texture and appearance of our skin changes. Signs of skin aging include wrinkles, fine lines, loss of moisture, uneven tone, and dull, tired-looking skin. There are countless anti-wrinkle creams on the market promising to make skin look and feel younger. Many anti-wrinkle creams promise everything short of a facelift or to provide the much sought after "fountain of youth". In reality most are just moisturizers marketed as anti-aging products.
Below you'll find some of the most effective wrinkle serum/cream formulations on the market today, in our opinion.
Our Top Anti Aging Choices

Renews Skin and Boosts Collagen
Diminishes Fine Lines & Wrinkles
Improves Skin's Texture and Firmness
Potential to Lighten Dark Circles
Renews Skin and Boosts Collagen
Diminishes Fine Lines & Wrinkles
Improves Skin's Texture and Firmness
Potential to Lighten Dark Circles
Renews Skin and Boosts Collagen
Diminishes Fine Lines & Wrinkles
Improves Skin's Texture and Firmness
Potential to Lighten Dark Circles
California Bio-Energy Sculpting Cream
Renews Skin and Boosts Collagen
Diminishes Fine Lines & Wrinkles
Improves Skin's Texture and Firmness
Potential to Lighten Dark Circles
Renews Skin and Boosts Collagen
Diminishes Fine Lines & Wrinkles
Improves Skin's Texture and Firmness
Potential to Lighten Dark Circles