Whether you are enjoying a still youthful skin today even when you're 30 or beyond or, have been seriously bothered by the sprouting of wrinkles, fine lines and other signs of skin aging, you still need an anti-aging cream to help you get through all the way to your senior years without being overly bothered about dry skin and unsightly wrinkles as you begin your journey to 60.
Sure there will still be wrinkles and age spots no matter what but, it is in your best interest to keep these at bay. There are several ways by which you can try to counter and slowdown skin aging, and a good, reliable, and science-based anti-wrinkle cream is one of them.
About Premiera Matrixyl Anti-Aging Formula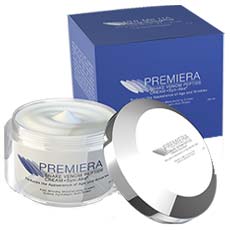 Premiera Matrixyl Anti-Aging Formula gives your skin the Botox level pampering it needs to get rid of wrinkles while promising there will be no 'ouch' and no downtime involved in the process.
Premiera Matrixyl Anti-Aging Formula is a topical anti-wrinkle cream that stimulates skin revitalization and catalyzes the awakening of skin cell repair and rejuvenation process to help your skin cope with the dryness, creasing and hyperpigmentation which are characteristic of aging skin.
Premiera Matrixyl Anti-Aging Formula is indicated to help improve the following skin issues:
Wrinkles and fine lines
Dark under eye circles
Tired, puffy eyes
Dry skin
Fight the damaging effects of intrinsic and environmental stress only with Premiera Matrixyl Anti-Aging Formula, available via the product's online website for $89.91 per bottle. If you get your free bottle today, pay only $4.95 for shipment. That's one totally free bottle of Premiera Matrixyl Anti-Aging Formula for you to try for. 15 days only. If you don't ship back to the manufacturer, it indicates that you fell in love with the product and will then be charged the full product cost through your credit card. Expect another delivery the following month and the month after that and so on until after you call in to cancel.
Manufacturer information and its claims about Premiera Matrixyl Anti-Aging Formula
Manufacturer information is nowhere to be found. It, however, makes the bold claim that Premiera Matrixyl Anti-Aging Formula can make you look up to 10 years younger. Also, based on a clinical study of hundreds of women, Premiera Matrixyl Anti-Aging Formula yielded the following positive results:
Up to 84% improvement in the appearance of deep seated wrinkles and fine lines
Up to 95% improvement in collagen production rate and volume
Up to 73% improvement in the appearance of dark undereye circles
How Does Premiera Matrixyl Anti-Aging Formula Work?
Premiera Matrixyl Anti-Aging Formula is formulated with peptides which, combined with the product'r proprietary ingredient, Biosphere, which makes the formulation's molecules dense, is delivered straight to the dermis where skin cell repair and production are happening round-the-clock.
The result: more youthful skin that's softer and silkier.
Premiera Matrixyl Anti-Aging Formula Ingredients
Premiera Matrixyl Anti-Aging Formula contains peptides, amino acids that help supply the skin's requirements for producing skin precursors, including collagen, elastin and hyaluronic acid.
Other than peptides, no other ingredient has been disclosed.
Premiera Matrixyl Anti-Aging Formula Benefits
Brighter complexion
Improved appearance of fine lines and wrinkles
Revitalized skin
Enlivened puffy eyes
More hydrated skin that is able to better lock in moisture
Premiera Matrixyl Anti-Aging Formula Drawbacks
Very expensive for the lack of explanation for the ingredients and how the product works
Accountability for product claims and safety of use cannot be established without the full disclosure of manufacturer information
Effectiveness of product formulation cannot be evaluated in the absence of a full disclosure of product ingredients
Instructions
Thoroughly cleanse face with water and a mild and gentle facial cleanser. Tone skin. Apply Premiera Matrixyl Anti-Aging Formula generously on face and neck. Use product up to twice daily for best results.
Precautions
For external use only.
Conduct a patch test to check for any skin reaction to the product or to any of its components. Leave the product on the patch of skin overnight then observe for possible signs of allergy or irritation the following day. If swelling, redness or itchiness are experience, immediately discontinue use. If symptoms persist, consult with your physician.
Premiera Matrixyl Anti-Aging Formula Side Effects
There are no product side effects noted. However, in the absence of a full product ingredients list, it's hard to say for sure if the product contains well-known irritants and toxic products or not.
Who can use Premiera Matrixyl Anti-Aging Formula?
This product is suitable for women and men who are in their 30s and beyond. Pregnant and nursing women are strongly discouraged from using this product.
Final Verdict
It is generally hard to make anything out of a product that does not contain information on product ingredients nor a detailed explanation of how it works to address signs of skin aging. It's one of those products that want you to believe what it claims to do, 'period', no questions asked.
As we age the composition, texture and appearance of our skin changes. Signs of skin aging include wrinkles, fine lines, loss of moisture, uneven tone and dull, tired-looking skin. There are countless anti-wrinkle creams on the market promising to make skin look and feel younger. Many anti-wrinkle creams promise everything short of a facelift or to provide the much sought after "fountain of youth". In reality most are just moisturizers marketed as anti-aging products.
Below you'll find some of the most effective wrinkle serum/cream formulations on the market today, in our opinion.
Our Top Anti Aging Choices
XYZ Smart Collagen

Renews Skin and Boosts Collagen*
Diminishes Fine Lines & Wrinkles*
Improves Skin's Texture and Firmness*
Potential to Lighten Dark Circles*
Prevents Skin Cell Aging*
Collagen Refresh Lemonade
Renews Skin and Boosts Collagen*
Diminishes Fine Lines & Wrinkles*
Improves Skin's Texture and Firmness*
Potential to Lighten Dark Circles*
Prevents Skin Cell Aging*