In This Review
Overview of Prache Anti-Aging Cream & Serum
Prache Anti-Aging Cream & Serum are skin care products manufactured to help you eliminate any signs of aging. This cream combines both impressive moisturizers and support antioxidants to provide and replenish skin complexion the missing nutrients in your aged skin.
This formula is designed with an intention to make the skin firm and tight and prevent skin sagging caused by aging skin. On the other hand, the serum offers an ideal solution to a delicate skin, which is common with aged skin.
This treatment aids in clearing damaged skin cells and also blemishes on the skin. It's good to note that this formula is yet to be tested on the animals. However, the formulators have extensively used it on an artificial skin to illustrate its effectiveness.
How Does It Rate?
Overall Rating: 3.7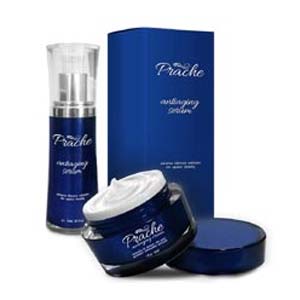 Prache Anti-Aging Cream & Serum
Brand Highlights
Prache Anti-Aging Cream & Serum is manufactured by an American company by the name Rollon Skin Care Ltd.
The company is one of the leading producers and sellers of high-quality products that majorly solve aging issues of the skin.
Prache Anti-Aging Cream & Serum are new and revolutionary products that are claimed to offer a better alternative to inpatient and plastic surgery.
It is said to feature a combination of natural ingredients that have potent antioxidants and replenishing nutrients that work to support a youthful and good skin complexion.
Key Ingredients
Bioactive Peptides
Vitamin C
Barley Extract & Sandalwood
Marine-based Neurosoother
Soy Bean Extract
Olive Oil
Anogeinissus Leiocarpa Bark Extract
Pros
Have natural ingredients in their formula
Help to prevent skin from aging
Assist in clearing fine lines and wrinkles
Improve skin firmness and tightens the skin especially the sagging
Cons
There is auto subscription of supply after the trial
The full list of ingredients is missing
The statements and the ingredients are yet to be evaluated by FDA
---
Prache Anti-Aging Cream & Serum Review – Does It Really Work?
Prache Anti-Aging Cream & Serum features natural ingredients have potency in eliminating aging signs. They are also lightweight and work through a technology that offers ultimate protection in any climate.

Prache Anti-Aging Cream & Serum Ingredients – Are they Safe & Effective?
Prache Anti-Aging Cream & Serum make use of the active ingredients in the formula to support the claimed benefits. The cream is light weight and absorbs fast into the skin offering hydrating effects of a moisturizer.
The active concentrate of aging agents induces skin revitalizing and rejuvenation.
The serum protects your skin starting from the cellular level by fighting oxidative stress, repairing and detoxifying the skin.The ingredients include:
– Induce production of elastin and collagen that help to improve skin firmness and suppleness[1].
– They work to offer antioxidant effects and replenish the skin and stimulate collagen formation to help the skin achieve its youthful look[2].
Barley Extract & Sandalwood
– Reduce the loss of water and facilitate lipid naturally occurring in skin.
Marine-based Neurosoother
– Treat root cause of aging and wrinkles
– Improve skin smoothens[3].
– Support smooth skin, hydration elasticity and countering wrinkle formation[4].
Anogeinissus Leiocarpa Bark Extract
– Boost antioxidants and enhance collagen production.

Prache Anti-Aging Cream & Serum FAQs
Q: How Do I Use The Product?
A:
The treatments are said to have different textures.
Use a gentle cleanser to clean your skin and pat to dry.
Once the skin is clean and dry, you can now use Prache Anti-Aging Cream & Serum selectively. If you have to apply both, then the serum should be applied first then the cream.
Q: What Are The Precautions When Using This Serum Or Cream?
A: Avoid your eyes from coming into contact with either of the formulas
Q: How Long Before I See Any Improvements?
A: The time that one may take to observe changes is not disclosed on the products official website.
Possible Side Effects
Prache Anti-Aging Cream & Serum hardly have adverse effects if the correct usage instructions adhere to. In addition, the formulas are made with natural ingredients and contain no paraben or chemicals that might cause side effects to your skin.
Read Next – Jolie Derme and PhytAge Plus

Prache Anti-Aging Cream & Serum Review – Final Verdict
Prache Anti-Aging Cream & Serum are revolutionary skincare products manufactured to help you clear aging signs while moisturizing your skin all through. These two formulas are first absorbing and feature active natural ingredients that work to deliver the claimed benefits.
They help to replenish skin complexion and enhance skin firmness to prevent skin sagging caused by maturity. Additionally, it offers nutrients that your skin requires for its healthy look.
As a customer, before deciding on buying these products it's significant that you visit the product's website where you will find more about the products, and maybe some information may not have been captured in this review.
However, there are many other competitor products on the market that are said to serve the same purpose as Prache Anti-Aging Cream & Serum. Therefore, research on them and compare them closely and select the product that you feel will work to fulfill the needs of your skin.
For wrinkled skin, you should also add lotion to your daily routine, we have reviewed one of the trending products called DRMTLGY's Exfoliating which gently removes dead skin cells and helps to improve the texture and tone of your skin.
As we age the composition, texture and appearance of our skin changes. Signs of skin aging include wrinkles, fine lines, loss of moisture, uneven tone and dull, tired-looking skin. There are countless anti-wrinkle creams on the market promising to make skin look and feel younger. Many anti-wrinkle creams promise everything short of a facelift or to provide the much sought after "fountain of youth". In reality most are just moisturizers marketed as anti-aging products.
Below you'll find some of the most effective wrinkle serum/cream formulations on the market today, in our opinion.
Our Top Anti Aging Choices
Verdict on Claimed Benefits: Below is our summary of the available evidence for the claimed benefits of below mentioned anti-aging products and anti-wrinkle creams based on the available research:
Beverly Hills MD - Best #1 Rated Skincare Brand
Innovative Science-Backed Skincare Products*
Gold Star Evidence
Range of Products for Specific Skin Concerns*
Gold Star Evidence
Cruelty-Free, Premium Quality Ingredients*
Gold Star Evidence
Visibly Lifts Skin From The Inside, Out*
Gold Star Evidence
Beverly Hills MD Dermal Repair Complex | Best Anti-Aging Supplement

Diminishes Wrinkles & Dullness*
Gold Star Evidence
Reduces Sagging or Drooping*
Gold Star Evidence
Improves Hair & Nails Strength*
Strong Evidence
Enhances Skin Elasticity*
Gold Star Evidence
Deep Wrinkle Filler | Anti-aging Skin Care Formula
Erase The Appearance Of Fine Lines*
Gold Star Evidence
Fill in Deep Wrinkles*
Gold Star Evidence
Give Skin a Smoother, More Flawless Appearance*
Strong Evidence
Nourishes Skin For Lasting Results*
Strong Evidence
XYZ Smart Collagen | The Best Anti-aging Cream
Wrinkles Reduction*
Gold Star Evidence
Improves Skin Firmness*
Gold Star Evidence
Improves Skin Texture*
Strong Evidence
Smart Collagen Management*
Strong Evidence
Hydrossential Serum | All-Natural Skin Care Product
Support Skin Health*
Gold Star Evidence
Helps Eliminate Acne, Dark Spots, Fine Lines*
Strong Evidence
Improves Resistance to Inflammation*
Gold Star Evidence
Repair and Restore Damaged Skin Cells*
Strong Evidence