In This Review
Overview of PhytAge Plus
PhytAge Plus is an anti-aging supplement that is intended to help support a healthy appearance by providing nutrients that may help address some of the visible effects of aging. It comes in the form of a capsule that you take daily, with each bottle of the product representing a month's supply (30 capsules). It is sold only by the manufacturer, and the pricing is quite high, with one bottle going for $49.95. The product does have a ninety-day return policy, however, which will get you a full refund (less the cost of shipping).
How Does It Rate?
Overall Rating: 3.7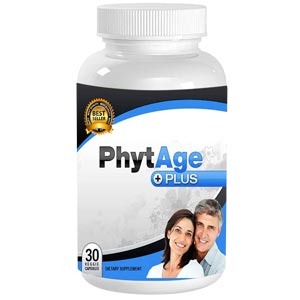 PhytAge Plus
Brand Highlights
PhytAge Plus Supplement is made by PhytAge Laboratories.
PhytAge PLUS, There first health supplement.
They claim about the product is that it's going to rejuvenate and nourishes your skin, helping you feel and look younger.
Pros
No known side effects.
Contains a large number of vitamins
No animal products of any kind
Generous money-back guarantee
Bulk discounts are available
Cons
There are no clinical studies cited to support the claims that this product will provide direct skin support
Price is very high, even considering the bulk discounts
---
PhytAge Plus Review – How Does It Work?
PhytAge Plus features a blend of natural vitamins and ceramide compounds carefully formulated to promote a healthy skin appearance, especially beneficial for individuals experiencing prolonged damage from factors such as pollution, stress, sun exposure, and similar causes. This supplement is conveniently packaged in capsule form, designed for daily intake, making it one of the best anti aging vitamins to support skin health.
PhytAge Plus Ingredients – Are they Safe & Effective?
The makers of this skincare product include a full list of the ingredients in this product, although they do not provide any information on how much of the active ceramide compounds are present in each capsule. There is also no clinical support cited for their formulation. However, the active ingredients are as follows:
– Vitamin A, Vitamin D, Vitamin E, and Vitamin C[1].
– Waxy esters derived from plant sources are included in order to support the healthy appearance of skin[2].
Important Features
The ingredients of this product are derived from natural sources
It is meant to serve as a nutritional supplement to support healthy skin appearance, not to replace healthy habits and sun protection
It can be taken by any adults, though people who have experienced some degree of skin ageing will likely get the most benefit
PhytAge Plus FAQ's
Q: Does PhytAge Plus have side effects?
A: There are no known side effects of this product when it is administered correctly. Given that the ingredients are primarily vitamins, side effects are unlikely, but if you do experience any negative reactions, be sure to discontinue use.
Q: How do I use PhytAge Plus?
A: The maker's directions for this anti-aging supplement are simple: Take one capsule per day with water.
Q: How quickly could I hope to see results?
A: This is not entirely clear, but the manufacturers suggest that it might take up to ninety days for you to experience benefits to your skin's appearance.
Q: Does this product contain any possible allergens?
A: PhytAge Plus does contain compounds derived from rice as well as a small amount of rice flour.
Read Next – Platinum Beaute, Prache Anti-Aging Cream
PhytAge Plus Review – Final Verdict
PhytAge Plus has an excellent money-back guarantee and a professional-seeming website, as well as being free of "trial and autoship" or similar tactics. Their product also seems quite likely to have some beneficial effect. However, the price is very high, and the only ingredient that is included – ceramide compounds – to justify this price does not have any cited clinical research to back it up. As such, you might be paying a premium price for what is essentially a multivitamin.
There are products available for all price ranges, and we encourage you to do your research before you commit – so you can get the most for your hard-earned money!
As we age the composition, texture and appearance of our skin changes. Signs of skin aging include wrinkles, fine lines, loss of moisture, uneven tone and dull, tired-looking skin. There are countless anti-wrinkle creams on the market promising to make skin look and feel younger. Many anti-wrinkle creams promise everything short of a facelift or to provide the much sought after "fountain of youth". In reality most are just moisturizers marketed as anti-aging products.
Below you'll find some of the most effective wrinkle serum/cream formulations on the market today, in our opinion.
Our Top Anti Aging Choices
Verdict on Claimed Benefits: Below is our summary of the available evidence for the claimed benefits of below mentioned anti-aging products and anti-wrinkle creams based on the available research:
Beverly Hills MD - Best #1 Rated Skincare Brand
Innovative Science-Backed Skincare Products*
Gold Star Evidence
Range of Products for Specific Skin Concerns*
Gold Star Evidence
Cruelty-Free, Premium Quality Ingredients*
Gold Star Evidence
Visibly Lifts Skin From The Inside, Out*
Gold Star Evidence
Beverly Hills MD Dermal Repair Complex | Best Anti-Aging Supplement

Diminishes Wrinkles & Dullness*
Gold Star Evidence
Reduces Sagging or Drooping*
Gold Star Evidence
Improves Hair & Nails Strength*
Strong Evidence
Enhances Skin Elasticity*
Gold Star Evidence
Deep Wrinkle Filler | Anti-aging Skin Care Formula
Erase The Appearance Of Fine Lines*
Gold Star Evidence
Fill in Deep Wrinkles*
Gold Star Evidence
Give Skin a Smoother, More Flawless Appearance*
Strong Evidence
Nourishes Skin For Lasting Results*
Strong Evidence
XYZ Smart Collagen | The Best Anti-aging Cream
Wrinkles Reduction*
Gold Star Evidence
Improves Skin Firmness*
Gold Star Evidence
Improves Skin Texture*
Strong Evidence
Smart Collagen Management*
Strong Evidence
Hydrossential Serum | All-Natural Skin Care Product
Support Skin Health*
Gold Star Evidence
Helps Eliminate Acne, Dark Spots, Fine Lines*
Strong Evidence
Improves Resistance to Inflammation*
Gold Star Evidence
Repair and Restore Damaged Skin Cells*
Strong Evidence