In This Review
Overview of Kleem Retinol Moisturizer
Kleem Organics Retinol Moisturizer is an organic anti-aging cream that may remove wrinkles and fine lines from the skin. It is one of most current skincare products from this manufacturer, and it naturally boosts skin health while causing few side effects.
This cream could increase the amount of collagen in your skin, replacing some that have been lost with age. This makes your skin firmer and more elastic eliminates signs of age and improves elasticity. The product should also give you a radiant glow. The Kleem Retinol Cream reviews were mostly from happy customers.
How Does It Rate?
Overall Rating: 3.7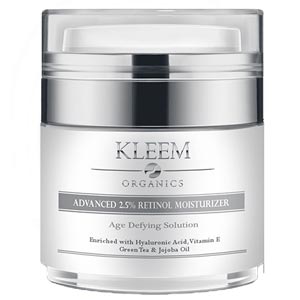 Kleem Advanced Retinol Moisturizer
Brand Highlights
The manufacturer of Kleem Retinol Moisturizer is a company called Kleem Organics, located in Pieta, Malta.
They're a skincare company that uses 100% organic ingredients in their products.
There's only a very limited amount of information about this brand online.
Key Ingredients
Retinol
Hyaluronic Acid
Vitamin E
Pros
Kleem Advanced Retinol Moisturizer may make your skin tighter.
This cream could improve your skin's elasticity.
Kleem Advanced Retinol Moisturizer may leave you with a more youthful appearance.
It could eliminate wrinkles and fine lines.
This cream may deeply hydrate the skin and get rid of dryness.
Cons
If you have an allergy to one of the ingredients, you could develop a skin reaction.
The bottle is quite small and could run out quickly.
The strong scent could be off-putting to some users.
---
How Does Kleem Advanced Retinol Moisturizer Work?
Kleem Advanced Retinol Moisturizer contains some very hydrating ingredients like aloe vera. The liquid penetrates the skin and gives it more volume, helping to smooth wrinkles and lines. It also deeply moisturizes and eliminates dry skin. A review in the Indian Journal of Dermatology examined the properties and mechanisms of action of aloe vera.
Ingredients like retinol are high in antioxidants, as are other botanicals in this cream. They kill roaming free radicals and lower oxidative stress. This helps to repair damage to the skin barrier and protect it from harmful agents like dust and other pollutants.
Retinol also initiates the production of additional collagen, which firms the skin and makes it more elastic. This helps to eliminate wrinkles and lines. Retinol and other ingredients also contain anti-inflammatory benefits which could help treat wounds and redness on the skin.
A study published in JAMA Dermatology found that Vitamin A (retinol) led to an improvement in naturally aging skin.

Kleem Advanced Retinol Moisturizer Ingredients – Are they Safe & Effective?
The ingredients included in the Kleem Advanced Retinol Moisturizer penetrate the skin deeply to support the rejuvenation of dead skin cells. Some of the primary active ingredients include:
–
This is Vitamin A, an ingredient which improves skin elasticity and provides anti-aging benefits. It's rich in antioxidants which repair the skin barrier and protect it from future damage.It causes more collagen production, which tightens the skin and gets rid of wrinkles. It also has anti-inflammatory benefits which lessen swelling on the skin. An article in Advances in Dermatology and Allergology found that retinoids are molecules that actively affect the structure of the skin[1].
–
This is a substance that exists naturally in the body, mostly in the skin and connective tissue. It has the ability to retain 1000 times its weight in liquid, and this helps to moisturize the skin and plump it up, getting rid of wrinkles and lines.The Journal of Aesthetic and Clinical Dermatology found that a new hyaluronic acid applied topically had rich benefits for the skin[2].
–
This vitamin is good at supporting the body of the users to have renewed health support in the skin. It is safe and is being sourced from plant materials extracts[2].
Similar Products To Be Think About
Kleem Advanced Retinol Moisturizer FAQ's
Q: How Should You Take Kleem Advanced Retinol Moisturizer?
A: The best time to use this product is at night, as it includes retinol which can make you sensitive to the sun. However, you may also use it during the day if you pair it with a good sunscreen. Begin by cleansing your face.
Apply a warm towel to your skin for about 3 minutes, to open up the pores. Then wait 15 minutes from the time you washed your face to apply the cream. Take a small amount onto your fingers and spread it all over your face and neck. Massage until it's absorbed.
Q: How Much Does Kleem Advanced Retinol Moisturizer Cost?
A: You can buy Kleem Anti-Aging Retinol Moisturizer Cream on the manufacturer's official website, on eBay, Amazon, and a few other select websites. The price on the official site is $32 for a one-time purchase and $28.80 if you subscribe.
Q: What is the Kleem Advanced Retinol Moisturizer's Return Policy?
A: Kleem Advanced Retinol Moisturizer has a 30-day return policy, for products that are in their original condition. If you want a refund, contact the company and then send the product back within 30 days of the original purchase date.
Q: Does Kleem Advanced Retinol Moisturizer Offer a Free Trial?
A: There is no free trial for Kleem Advanced Retinol Moisturizer. However, you can subscribe to the service where you get a bottle a month automatically and are billed for it.
Q: Can Men Use Kleem Retinol Moisturizer?
A: Kleem Anti-Aging Retinol Moisturizer Cream is for both men and women, to enhance overall skin health and appearance. It's not made specifically for one gender or the other.
Q: What Do the Kleem Advanced Retinol Moisturizer Reviews Say?
A: The Kleem Organics Advanced Retinol Moisturizer reviews were mostly positive. Many customers said that the cream helped to remove wrinkles and lines from their skin and leave it smooth and moisturized. There were some users with sensitive skin who said they had a reaction to the product.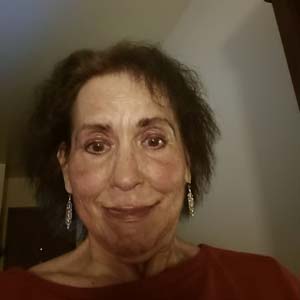 One review says, "Buy The Bundle! That way it will take care of all parts of the face! — I have mixed concerns about the effectiveness of the products. My lines are getting deeper on my forehead and my eyes are also bagging…a tad. Not too bad for 71. I had expected a little more, though. I am ordering this Bundle one more time, making it three times..The skin serum 'ran out' way before the month was up. I have maybe a couple of days left of remaining products. I need the product. I suggest you to use it…get the Bundle…that way you have the 'Serum'…'Under Eye Sagging' and that lovely 'Advanced Retinol Cream'. That refreshing citrus scent of oranges is a bonus. Try it…give it a couple/3 month before you decide. Many use it for the rest of their lives and if you have the money I would say "Go for it". (It is NOT very costly and You may be very pleased with these products! You do not have to spend over 200.00 when you can spend around $50.00 on a BUNDLE (Amazon) I feel that you might be Pleased that you chose these products! Happy Vibrant Skin Health to all men and women everywhere!"
Read Next – Bee Friendly Skincare

Kleem Advanced Retinol Moisturizer Review – Final Verdict
Kleem Advanced Retinol Moisturizer is a natural formula that aims to enhance the condition of the skin and remove signs of age. It contains organic ingredients which help to rejuvenate the skin cells and improve elasticity. It's also a deeply moisturizing formula that hydrates and plumps the skin.
The Kleem Organics Anti-Aging Retinol Moisturizer reviews were mostly quite positive. Users were happy with the benefits of the product, with its texture and scent, and with the way it made their skin looked younger and fresher. There were only minor complaints about the cream.
You could experience a rash or redness on your skin if you have an allergy to one of the ingredients. If this happens, stop using it right away. Consider going to a dermatologist before using a new product to make sure it suits your skin.
Here are some of our top anti-aging creams based on today's market. You can compare top rated anti-aging products on our site before taking any decision.
As we age the composition, texture and appearance of our skin changes. Signs of skin aging include wrinkles, fine lines, loss of moisture, uneven tone and dull, tired-looking skin. There are countless anti-wrinkle creams on the market promising to make skin look and feel younger. Many anti-wrinkle creams promise everything short of a facelift or to provide the much sought after "fountain of youth". In reality most are just moisturizers marketed as anti-aging products.
Below you'll find some of the most effective wrinkle serum/cream formulations on the market today, in our opinion.
Our Top Anti Aging Choices
Verdict on Claimed Benefits: Below is our summary of the available evidence for the claimed benefits of below mentioned anti-aging products and anti-wrinkle creams based on the available research:
Beverly Hills MD - Best #1 Rated Skincare Brand
Innovative Science-Backed Skincare Products*
Gold Star Evidence
Range of Products for Specific Skin Concerns*
Gold Star Evidence
Cruelty-Free, Premium Quality Ingredients*
Gold Star Evidence
Visibly Lifts Skin From The Inside, Out*
Gold Star Evidence
Beverly Hills MD Dermal Repair Complex | Best Anti-Aging Supplement

Diminishes Wrinkles & Dullness*
Gold Star Evidence
Reduces Sagging or Drooping*
Gold Star Evidence
Improves Hair & Nails Strength*
Strong Evidence
Enhances Skin Elasticity*
Gold Star Evidence
Deep Wrinkle Filler | Anti-aging Skin Care Formula
Erase The Appearance Of Fine Lines*
Gold Star Evidence
Fill in Deep Wrinkles*
Gold Star Evidence
Give Skin a Smoother, More Flawless Appearance*
Strong Evidence
Nourishes Skin For Lasting Results*
Strong Evidence
XYZ Smart Collagen | The Best Anti-aging Cream
Wrinkles Reduction*
Gold Star Evidence
Improves Skin Firmness*
Gold Star Evidence
Improves Skin Texture*
Strong Evidence
Smart Collagen Management*
Strong Evidence
Hydrossential Serum | All-Natural Skin Care Product
Support Skin Health*
Gold Star Evidence
Helps Eliminate Acne, Dark Spots, Fine Lines*
Strong Evidence
Improves Resistance to Inflammation*
Gold Star Evidence
Repair and Restore Damaged Skin Cells*
Strong Evidence