In This Review
What is Formulyst Active Serum?
Formulyst Active Serum is a facial serum created with vitamins and minerals to nourish your facial skin and to help protect your delicate facial skin from environmental hazards. The formula created by the manufacturer of Formulyst Active Serum is looking to help safeguard your skin from the daily environmental assaults that are possibly prematurely aging and adding wrinkles to your facial skin.
With all of the harsh factors of our environmental exposure, like UV rays or air pollution, our facial skin may be exposed to cell damage and signs of premature aging without you realizing the extent of the damage until it becomes visible. This is where you may find using Formulyst Active Serum helpful in adding some nourishing protection to your skin.
How Does It Rate?
Overall Rating: 3.8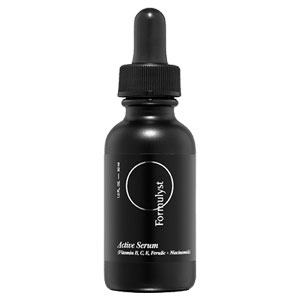 Formulyst Active Serum
Brand Highlights
Formulyst Limited Corporation is the parent company responsible for bringing Formulyst Active Serum to consumers.
There is little or no information on how long Formulyst has been producing their facial treatment line.
However, they do market their products directly to consumers via website or phone orders and offer a presence on social media as well.
Key Ingredients
Water
Ethoxydiglyscol
L-Ascorbic Acid
Propylene Glycol
Glycerine
Laureth-23
Ferulic Acid
Panthenol
Niacinamide
Pros
Using this facial serum may help improve the look of fine lines and wrinkles on the face.
You may find your skin looks brighter and healthier while using this product.
The use of this serum may help to ward off some of the damage our environment can cause to the skin.
Using this serum may help your skin to look more youthful in appearance
Cons
You may have allergy problems with some ingredient in this serum.
The protection from environmental damage and premature aging may be difficult to determine, and results will vary from person to person.
Your skin may not show any improvements in the number of wrinkles you already have.
---
How Does Formulyst Active Serum Work?
Formulyst Active Serum uses a combination of vitamins to provide your skin with an antioxidant-rich formula to help protect your facial skin from the harsh stressors our environment exposes it too.
The vitamin-packed formula may help your skin to look more youthful and brighter, as well as healthier and better protected from the stressors we all face every day.
Advertisement
*All individuals are unique. Your results can and will vary.
Formulyst Active Serum Ingredients – Are they Safe & Effective?
The active ingredients used in the Formulyst Active Serum formula are listed below and include some vitamins that you may already be familiar with and some other ingredients that help make the serum.
Water – Water is used as a base for creating a lighter cosmetic feel on the face, and certain vitamins are water soluble meaning they need water to be absorbed into the skin.
Ethoxydiglyscol – Used for viscosity decreasing properties in cosmetics[1].
L-Ascorbic Acid – Also known as Vitamin C. According to Indian Dermatology Online Journal, it is a powerful antioxidant used in cosmetics against photoaging.
Propylene Glycol – According to PubMed, it is a small organic alcohol used as a skin conditioning agent[2].
Glycerine – Is a well-known humectant used in cosmetics to prevent the loss of moisture[3].
Laureth-23 – Functions as a surfactant cleansing agent and a surfactant solubilizing agent[4].
Ferulic Acid – According to the study, Ferulic Acid helps prevent sun damage to skin and is a powerful antioxidant.
Panthenol – Derived from vitamin B5 it acts as a lubricant on the surface of the skin[5].
Niacinamide – According to Research Gate, it is also called Vitamin B3. It's topical application smoothes the surface of the skin and helps to reduce wrinkles[6].
There are other ingredients that are not detailed above whose primary function is in creating the soluble base of the serum.
Advertisement
*All individuals are unique. Your results can and will vary.
---
You May Also Like – Natura Beaute Reviews
Formulyst Active Serum FAQ's
Q: How Should You Use Formulyst Active Serum?
A: Actual usage information was not available, but the manufacturer claims that one drop is loaded with powerful antioxidants.
Q: How Much Does Formulyst Active Serum Cost?
A: A one-ounce bottle retails for $80.00, but it can be combined with two other products in a bundle, and the total cost of the bundle is $108.00
Q: What is Formulyst Active Serum's Return Policy?
A: The manufacturer offers a money back guarantee minus shipping costs for customers who are not satisfied with the product if the return is done within 31days from purchase.
Q: Does Formulyst Active Serum Offer a Free Trial?
A: No, the manufacturer is not offering a free trial at this time.
Formulyst Active Serum Review – Final Verdict.
Many of us take a daily vitamin for the purported health benefits, so applying vitamins directly to your facial skin may just give your face the added boost it needs.
The manufacturer has marketed Formulyst Active Serum as a product to help protect your facial skin from the damages of everyday life, including environmental stressors and sun damage.
These claims may be true, but the manufacturer has not given any supporting detail to these claims as to why this combination of vitamins and antioxidants should offer protection to your facial skin.
As with any wrinkle serum, trial and error may come into play to find out if this serum will work for you.
Be diligent and compare products, and ingredients to find the product that best fits you.
'Formulyst Active Serum' can be purchased through Amazon & Walmart
As we age the composition, texture and appearance of our skin changes. Signs of skin aging include wrinkles, fine lines, loss of moisture, uneven tone and dull, tired-looking skin. There are countless anti-wrinkle creams on the market promising to make skin look and feel younger. Many anti-wrinkle creams promise everything short of a facelift or to provide the much sought after "fountain of youth". In reality most are just moisturizers marketed as anti-aging products.
Below you'll find some of the most effective wrinkle serum/cream formulations on the market today, in our opinion.
Our Top Anti Aging Choices
Verdict on Claimed Benefits: Below is our summary of the available evidence for the claimed benefits of below mentioned anti-aging products and anti-wrinkle creams based on the available research: