In This Review
What is Exilis?
Exilis is the advanced technology for tightening loose and sagging skin, at-reduction, reducing wrinkles, etc. It is a non-invasive treatment that can be used to shape and tighten many areas of the body, without any surgery. It produces quick and long-lasting results with minimal downtime.
It has become a very popular device used by dermatologists as an alternative to liposuction, anti-aging cosmetic surgeries and other Skin anti-aging strategies[2].
Exilis – Is It Safe & Effective?
It is important to understand that Exilis is not a miracle anti-aging device. It is expensive ranging from $1,000 to $1,500 depending on your area.
This anti-aging product is really effective for tightening the skin but the device doesn't really deliver results as considerable as anti-aging procedures like a facelift.
Take note that it is also important to find a dermatologist who is knowledgeable and experienced in the procedure in order to get the most out of your money. For fat loss, it is not as effective as liposuction but many are happy with the results it can deliver.
How Exilis Works?
There are two available Exilis models which are the BTL Exilis Elite and the BTL Exilis Protégé. The former is for body treatments while the latter is for facial treatments[1]. The basic principle behind the technology is not really new and it has been used in dermatology before.
It revolves around the stimulation of certain processes within the skin through radio frequency waves. Different wave settings are used for penetrating the skin and targeting certain layers.
For skin tightening effects, Exilis is used to stimulate collagen production in the skin. The particular radio frequencies work to unravel collagen fibers making the fibroblasts produce more of the protein. This builds up the skin's fiber network which results in the tightening of the skin after a few treatment sessions.
Exilis is used for fat reduction by delivering radiofrequency deeper into the tissues. Energy is used to destroy fat cells which will literally melt away with the treatment. The fat cells are then broken down which will be removed from the area through the natural processes of the body.
Does Exilis Hurt?
Exilis treatments are comfortable and painless. It doesn't involve the use of needles but some patients report a certain degree of discomfort. There are also those that feel pain during the procedure but it is only minimal. There are no topical anesthetics used because it is unnecessary.
Advertisement
*All individuals are unique. Your results can and will vary.
Exilis also uses cooling technology to avoid damaging the skin's upper layers. It also makes the treatment comfortable and relatively painless. This is how it targets the inner layers of the skin while keeping the outer layers unaffected.
---
Advantages of Exilis
Exilis is noninvasive
It reduces fat and tightens skin
Exilis requires no downtime
It has long-lasting results
Exilis treats all areas of the face and body
Disadvantages of Exilis
According to some users, the results were too subtle for the time and money spent
People who have moderate to severe sagging skin aren't good candidates for this procedure
Because the effects improve over time as new collagen builds, it may takes months to see the visible results
Results last about two years, later on maintenance will be need
---
Exilis Alternatives
| | | |
| --- | --- | --- |
| Products | Cost Range | Key Ingredients |
| Glé Skincare | $39.99 | Jojoba Oil, Algae Extract, Vitamin E, Vitamin B3 and B5, Safflower Seed Oil |
| DermaSet | $55 | Hyaluronic Acid, Matrixyl 3000, Argireline Extract, Sea Fennel Stem Cells, Edelweiss Stem Cells, Apple Stem Cells |
| Miami MD | $49 | Acetyl Hexapeptide, Jojoba Seed Oil, Saw Palmetto, Chondrus Crispus |
| Musely | $82 | Water, Sodium Methyl Cocoyl Taurate, Sodium Coco-Sulfate, Sodium Chloride, Cocamidopropyl Betaine, Sodium, Cocoyl Glutamate, Phenoxyethanol, Benzoic Acid, etc. |
Exilis Elite Treatments Customization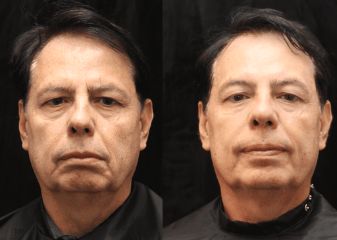 There are several combinations of radio frequencies and cooling technology allowing skin care professionals to offer a range of intensity options for treatment. This makes Exilis treatment highly customizable depending on the needs and wants of the patient.
Our anatomy also slightly differs so skin thickness can vary from one area of the body to another. Thus, radiofrequency energy and cooling strength require adjustment in order to achieve optimal results.
As an example, Exilis treatment for the thighs requires a stronger radio frequency in order to reach the fat deposits. In contrast, treating the face requires stronger cooling settings and weaker radio frequencies. This is due to the fact that the skin in the face is much thinner and a lot more delicate.
What are the Possible Side Effects of Exilis?
Mixed Exilis treatment reviews can be found by the users. The skin tightening and fat removal benefits that Exilis offers do not come with many risks in terms of side effects. Patients usually do not experience irritation, bruising or redness in the area treated.
However, some patients have experienced minor skin burns and some amount of pain which is usually due to the inexperience of the doctor performing the procedure.
It is vital to use the right settings which depend on the area of treatment. Using the wrong settings is the most common cause of side effects which can include skin irritation/redness and minor skin burns.
What Users Are Saying
I have had 5 treatments to the neck and jowls, each a week apart, and it has caused the wrinkles and jowls to become more noticeable and literally much worse. Please tell me what I should say to my Plastic Surgeon? Should I ask for part of the money back? I'm out $1200.00 and now have to dish out much more money for a neck lift because it looks horrible. by Elsie Peachey
Exilis Review – Final Verdict
All in all, Exilis is a good treatment option if you want tighter skin and reduce skin aging signs. The treatment can deliver considerable results within a few sessions.
Advertisement
*All individuals are unique. Your results can and will vary.
It is also a good way to get rid of excess fat in certain parts of the body. However, it is still not as effective as liposuction since it can't get rid of a lot of fat in just one session.
The main problem is the price that many people are unable to afford or are unwilling to pay. Fortunately, there are more affordable anti-aging and fat loss options available like the use of anti-aging creams and fat loss supplements.
Read Next – Sono Bello Reviews and Dermal Repair Complex Ingredients
As we age the composition, texture and appearance of our skin changes. Signs of skin aging include wrinkles, fine lines, loss of moisture, uneven tone and dull, tired-looking skin. There are countless anti-wrinkle creams on the market promising to make skin look and feel younger. Many anti-wrinkle creams promise everything short of a facelift or to provide the much sought after "fountain of youth". In reality most are just moisturizers marketed as anti-aging products.
Below you'll find some of the most effective wrinkle serum/cream formulations on the market today, in our opinion.
Our Top Anti Aging Choices
Verdict on Claimed Benefits: Below is our summary of the available evidence for the claimed benefits of below mentioned anti-aging products and anti-wrinkle creams based on the available research: