In This Review
What is DermaTek?
DermaTek is a new skincare product that is used to combat aging. It is a product that removes blemishes and age spots to make you look youthful.
It is an affordable product that helps you eliminate moles and age spots completely without having to undergo painful surgeries.
This is a cream that is applied to any part of your skin. It is rubbed on the affected area to clear the age spots and moles.
It utilizes the ability of its natural ingredients for positive results.
This is a natural option for removing moles and age spots. It causes no harmful effects on your skin or other parts of your body.
The company behind the product is called DermaTek Incorporated. It seems like a reliable manufacturer, which seems to have a lot of experience in the field of skincare and beauty care.
At the same time, though, the company doesn't have its own website.
Nevertheless, the product is widely present on the internet, which does show a lot of confidence and credibility vested within it.
Of course, it makes quite a few claims. The product starts off by promising that there are no side effects that you should be concerned with and that it is made of ingredients that are 100% natural.
The product is designated to reverse harmful aging signs such as fine lines and wrinkles, which is something quite important.
Advertisement
*All individuals are unique. Your results can and will vary.
How Does DermaTek Rate?
Overall Rating: 3.8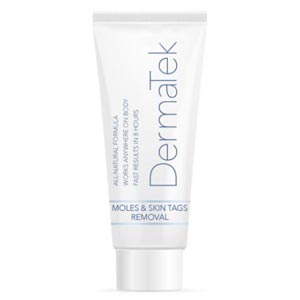 DermaTek
Brand Highlights
The brand has an extremely impressive line of sports nutrition products.
DermaTek uses clinically proven ingredients in their formulations.
They are committed to being a source of top-notch, original goods.
It is known for developing and releasing the most cutting-edge products.
Key Ingredients
Sweet almond oil
Avocado oil
Tea tree oil
Lavender oil
Jojoba oil
Pros
The product might be able to enhance the smoothness and firmness of your skin.
It might be able to reduce the appearance of fine lines and wrinkles.
It could promote the elasticity and softness of your skin.
It is supposedly made of natural and entirely harmless ingredients.
Cons
There is less discussion of its ingredients.
There is no discussion of the manufacturing process or steps to make the product.
The product is only purchased through the product's website.
---
How Does DermaTek Work?
This is a product that makes use of its ingredients for desired results. It is being absorbed into the inner layers of your skin where it starts to clear growths, age spots, and moles. It ensures that your skin is smooth and fresh through the supply of moisture to your skin. It also prevents your skin from irritation and inflammation.
DermaTek Ingredients – Are they Safe & Effective?
This is a product that is made up of all-natural ingredients. These ingredients are as discussed below:
Sweet almond oil
This is responsible for removing fragments found in your skin pores and any toxins. It leads to healthy and fresh skin.
Avocado oil
It is responsible for reducing redness and swelling of the skin. It provides moisture to your skin to make it look fresh.
Tea tree oil
Tea tree oil is responsible for clearing acne and clearing of other age spots found on your skin to keep it[1] smooth.
Advertisement
*All individuals are unique. Your results can and will vary.
Lavender oil
This is responsible for fighting against aging and clearing growths on your skin.
Jojoba oil
Jojoba is responsible for the supply of required moisture to the skin to prevent your skin from drying. It[2] also prevents irritation on your skin.
Read More Article Here:
A:
FAQ's
Q: What are the DermaTek Dosage Instructions?
A: This is simple product to use. Follow the below steps for effective results:
Wash the affected area with water and soap.
Dry the area with a clean towel.
Apply the cream rubbing it gently on the area.
Allow time for the cream to be absorbed for effective performance.
Q: How Long Before I See any Improvements?
A: DermaTek takes a few weeks for you to start noticing the results. However, results may vary from one person to the other.
Q: What Are The Precautions When Using DermaTek?
A: Avoid contact with the eyes if you have sensitive skin. Please consult a dermatologist before using this cream for a more accurate answer.
What Do the Reviews Say?
It actually doesn't accomplish anything. It might give you some short-term skin comfort for a few hours, but the expense is not justified. I haven't noticed any notable advantages as a result of using it.
~ Catherine
Conclusion
The product might be able to help you reduce the harmful effects that aging has on us and it is one that doesn't seem to contain any unnecessary chemicals. It might improve your fine lines and wrinkles and prevent the appearance of tired-looking skin.
At the same time, it could behave like a natural way to treat moles and warts. All the ingredients are natural, and they are also said to be very helpful. There are, though, other options on the market that you might be able to take advantage of as well.
As we age the composition, texture and appearance of our skin changes. Signs of skin aging include wrinkles, fine lines, loss of moisture, uneven tone and dull, tired-looking skin. There are countless anti-wrinkle creams on the market promising to make skin look and feel younger. Many anti-wrinkle creams promise everything short of a facelift or to provide the much sought after "fountain of youth". In reality most are just moisturizers marketed as anti-aging products.
Below you'll find some of the most effective wrinkle serum/cream formulations on the market today, in our opinion.
Our Top Anti Aging Choices
Verdict on Claimed Benefits: Below is our summary of the available evidence for the claimed benefits of below mentioned anti-aging products and anti-wrinkle creams based on the available research: