In This Review
Dermalactives Overview
Dermalactives offers a line of anti-aging products for the skin, including skin care and several red light therapy products to further boost skin health. The brand promises to tighten and lift the skin, improve elasticity, eliminate wrinkles and lines, improve skin tone and texture, hydrate, and get rid of hyperpigmentation.
While the blend of ingredients they use is high quality and primary organically sourced, the items are very expensive in many cases. It's a luxury brand with matching prices.
How Does It Rate?
Overall Rating: 3.8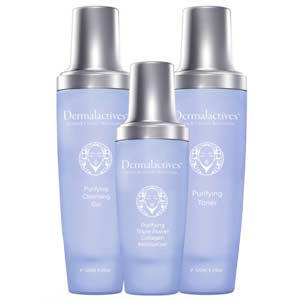 Dermalactives
Brand Highlights
These products include mostly organic ingredients.
The company is cruelty-free.
They have some products specifically for sensitive skin.
The manufacturer has 15 years of experience in the industry.
Key Ingredients
Squalane
Allantoin
Vitamin C
Gold
Orchid Extract
Helianthus Annus Seed Oil
Glycerin
Vitamin E
Cucumber Fruit
Aloe Vera Leaf Juice
Dimethicone
Hydrolyzed Collagen
Vitamin A
Pros
This brand may smooth fine lines and wrinkles.
It could balance skin tone and eliminate hyperpigmentation.
Dermalactives might repair damage to the skin barrier.
It offers a line of red light therapy devices for the complexion.
It could offer hydrating benefits to the skin.
Cons
The Dermalactives prices are very high, and some outrageously so.
There are ingredients which could lead to skin irritation in some users.
The results will vary for different individuals.
---
Dermalactives 7 In 1 Led Light Therapy Mask
Enrich and Rejuvenate Your Complexion
Price: $299
What It Does: Boosts Collagen, Tightens Skin, Improves Elasticity, Smooths Lines and Wrinkles, Decreases Inflammation, Reduces Scars and Blemishes, Heals Acne, Treats Skin Conditions
---

Dermalactives Purifying Day Cream
Nourishes and Hydrates
Key Ingredients: Vitamin E, Hydrolyzed Wheat Protein, Algae Extract, Green Tea Extract, Grape Seed Extract, Apricot Kernel Oil
Price: $160
What It Does: Hydrates, Fights Dryness, Protects From Environmental Damages, Repairs
---
Dermalactives Facial Peel
For Youthfulness and Rejuvenation
Key Ingredients: Sesame Oil, Acetyl Hexapeptide 3, Collagen, Aloe Vera, Vitamin A, Sodium Hyaluronate, Elastin, Glycerin
Price: $150
What It Does: Removes Dark Spots and Hyperpigmentation, Tightens, Boosts Elasticity, Unclogs Pores, Rejuvenates
---
Dermalactives 24k Golden Peel Mask
The Royal Treatment
Key Ingredients: Iron Oxides, Tin Oxide, Silica, Mica, Glycerin
Price: $155
What It Does: Eliminates Signs of Age Like Wrinkles and Fine Lines, Rejuvenates and Reenergizes Skin Cells, Brightens, Firms
---
How Does It Work?
There are a range of products, but many of them boost production of collagen and elastin to tighten the skin, improve elasticity, and smooth wrinkles and fine lines. They also have hydration which moisturizes, gets rid of dryness, and plumps to further smooth lines and wrinkles.
A study in Nutrients concluded that collagen supplementation improved skin elasticity and hydration, and offered anti-aging benefits [1].
The products are rich in anti-inflammatory agents which decrease redness and swelling and could help treat some skin conditions. They also have antioxidants which eliminate free radicals and lower oxidative stress, for repair and protection of the complexion.
The Red Light Therapy device sends photons via different light wavelengths into the skin, stimulating the production of ATP (adenosine 5?-triphosphate) in the mitochondria of the cells to boost collagen production for anti-aging benefits.
The devices may also repair damage, decrease inflammation, and heal acne, blemishes, and wounds. An article in the Indian Dermatology Online Journal discussed the use of light therapy in acne treatment [2].
What Are the Ingredients?
These are some of the primary active ingredients in Dermalactives products:
Helianthus Annus Seed Oil
This oil is rich in fatty acids which provide hydration, moisturize, and eliminate dryness. It also plumps the complexion to smooth fine lines and wrinkles. It contains antioxidants like Vitamins C and E, which repair the skin and protect from UV rays.
The Vitamin C lightens the skin and eliminates hyperpigmentation, as well as helping to even out skin tone. A study in the International Journal of Pharmacy and Pharmaceutical Sciences concluded that sunflower seed oil was effective in treating mild dermatitis in children [3].
Hydrolyzed Collagen
Collagen exists naturally in the skin, and its amount diminishes with age. Hydrolyzed collagen is in very small parts which can easily penetrate the skin, lifting and tightening to smooth wrinkles and fine lines.
Collagen strengthens the structure of the skin barrier, and provides some hydration. A review in Antioxidants discussed collagen hydrolysates for skin protection, both oral and topical [4].
Vitamin A
This powerful antioxidant also goes under the name retinol, and it's a common skin care ingredient. It repairs skin barrier damage, protects from UV rays and other harmful agents, and provides anti-aging benefits like decreasing wrinkles and lines.
It also boosts collagen and elastin levels to tighten and lift the skin. A study in JAMA Dermatology concluded that Vitamin A improved naturally aged skin, boosting collagen and smoothing wrinkles and fine lines [5].
---
Frequently Asked Questions
Q: How Do You Apply It?
A: There are numerous products in this line, both skin care and devices for red light therapy. Each have their own set of directions either included or on the label. It's important that you read them carefully before using the product.
Q: What is the Return Policy?
A: There's a 30-day return policy, but only for items purchases on the manufacturer's official site. They must be in new condition. If you're not happy with your purchase, contact customer service for instructions and send back the items within 30 days.
Q: Is It Cruelty-Free?
A: Yes, the brand is proud to be100% cruelty free. They will ever test on animals, nor work with associates or suppliers who do.
Q: Where to Buy Dermalactives?
A: You can purchase Dermalactives on the official site, as well as from other online and offline retailers like Amazon and Walmart. This line is sometimes sold in booths in malls in the US.
On the official site, they offer free shipping for purchases over $75. Here are the prices of some of the top products:
Dermalactives Body Butter – $70
Deep Collagen Set – $2350
Face-Lifting Therapy Device – $99.99
Dermalactives Light Therapy LED Mask 7 in 1 – $299
Thermal X Collection – $4500
Advanced Non-Surgical Collagen Solution – $750
Nano-Liquify Powder – $5750
Dermalactives Collagen Facial Peel – $160
Dermalactives Facial Peel – $150
Q: What Sets It Apart From the Competition?
A: There are some unique ingredients such as gold, however, the uniqueness often comes at a price tag which is far too high for the majority of consumers.
There are a few selections in a more reasonable range. The fact that they also sell red light therapy devices for skin health along with skin care products is also different.
What Do the Reviews Say?
The Dermalactives reviews had a range of different opinions, some positive and others less so. There were a number of users who praised the great anti-aging benefits of this brand, and in general loved the Dermalactives before and after.
However, others said the benefits were not worth the high cost of some of these items, and there were customers who mentioned skin irritation or rash. Here are a few of the comments:
It Works For Me
I have old, wrinkled, sun damaged skin, and this product has worked so much better than all the others I have tried. It's not a miracle worker, I still have wrinkles, but at least my skin appears much better and healthier. – S. Broussard
Gets Stuck on Skin!
Be highly cautious of this brand. Drugstore brands are better than this. Feels like glue on the face, followed directions exactly.

High pressure sales in malls: crafty sales to get you to come back for a 'free facial' where they convince you to buy more products and light therapy treatments. Buyer beware. – Kimberly A.
Is It Worth the Price?
I think it works great on my oily skin. However, I'm still trying to figure out if it's worth the price. Also, the sales tactics are super aggressive and as a marketer it makes me question the need for such gorilla marketing if the product speaks for itself. – Customer
Conclusion
Dermalactives is a well-known skin care brand which offers a number of anti-aging products for tightening, smoothing wrinkles and lines, decreasing hyperpigmentation, boosting tone and texture, and other benefits for the complexion. It's a luxury brand and many of the products are outrageously expensive.
The Dermalactives products got a mix of review postings, depending on the user and product. Some customers swear by the anti-aging benefits of the brand, while others said it wasn't worth the cost. There were some people who did mention getting a skin rash or irritation.
While the ingredients are primarily safe and high quality it is possible to have a reaction. If you have symptoms like rash or bumps, stop applying these products and see a dermatologist if necessary.
As we age the composition, texture and appearance of our skin changes. Signs of skin aging include wrinkles, fine lines, loss of moisture, uneven tone and dull, tired-looking skin. There are countless anti-wrinkle creams on the market promising to make skin look and feel younger. Many anti-wrinkle creams promise everything short of a facelift or to provide the much sought after "fountain of youth". In reality most are just moisturizers marketed as anti-aging products.
Below you'll find some of the most effective wrinkle serum/cream formulations on the market today, in our opinion.
Our Top Anti Aging Choices
Verdict on Claimed Benefits: Below is our summary of the available evidence for the claimed benefits of below mentioned anti-aging products and anti-wrinkle creams based on the available research:
Beverly Hills MD - Best #1 Rated Skincare Brand
Innovative Science-Backed Skincare Products*
Gold Star Evidence
Range of Products for Specific Skin Concerns*
Gold Star Evidence
Cruelty-Free, Premium Quality Ingredients*
Gold Star Evidence
Visibly Lifts Skin From The Inside, Out*
Gold Star Evidence
Beverly Hills MD Dermal Repair Complex | Best Anti-Aging Supplement

Diminishes Wrinkles & Dullness*
Gold Star Evidence
Reduces Sagging or Drooping*
Gold Star Evidence
Improves Hair & Nails Strength*
Strong Evidence
Enhances Skin Elasticity*
Gold Star Evidence
Deep Wrinkle Filler | Anti-aging Skin Care Formula
Erase The Appearance Of Fine Lines*
Gold Star Evidence
Fill in Deep Wrinkles*
Gold Star Evidence
Give Skin a Smoother, More Flawless Appearance*
Strong Evidence
Nourishes Skin For Lasting Results*
Strong Evidence
XYZ Smart Collagen | The Best Anti-aging Cream
Wrinkles Reduction*
Gold Star Evidence
Improves Skin Firmness*
Gold Star Evidence
Improves Skin Texture*
Strong Evidence
Smart Collagen Management*
Strong Evidence
Hydrossential Serum | All-Natural Skin Care Product
Support Skin Health*
Gold Star Evidence
Helps Eliminate Acne, Dark Spots, Fine Lines*
Strong Evidence
Improves Resistance to Inflammation*
Gold Star Evidence
Repair and Restore Damaged Skin Cells*
Strong Evidence