In This Review
What is DermaCare Complex?
DermaCare Complex Skin is an anti-aging cream meant to reduce signs of aging by restoring hydration and supporting collagen production. It's even supposed to work like an eye cream, reducing dark circles. The product is rather expensive at $92.19 plus $4.95 for shipping. However, there is a free trial available.
Be aware, though, that the trial is only 14 days and signs you up for an auto-delivery program that charges your card for a new jar every month if not canceled.
How Does DermaCare Complex Rate?
Overall Rating: 3.8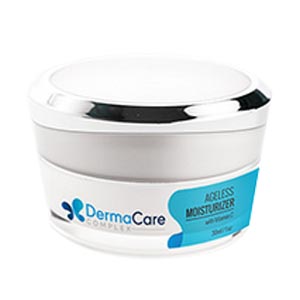 DermaCare Complex
Brand Highlights
The brand has an imposing line of sports nutrition products.
DermaCare Complex uses clinically proven ingredients in its formulations.
They are committed to being a source of top-notch, original goods.
It is known for developing and releasing the most cutting-edge products.
Pros
It may reduce fine lines and wrinkles.
Fight against free radicals that cause aging.
Free trial available.
Cons
No clinical studies or scientific tests are mentioned that could back the claims made by the manufacturer.
You will be automatically signed up for an auto-delivery that charges your card each month.
The product price is expensive.
Trial only lasts for 14 days.
---
How Does DermaCare Complex Work?
The manufacturer claims the formula contains ingredients that can boost skin's natural collagen production, which diminishes as you age. More collagen[1] means more elasticity, firming skin and filling in wrinkles.
The company also claims the formula contains ingredients that brighten dark circles and protect against free radicals like UV rays and pollutants. Lastly, this product seeks to hydrate the skin for a smooth, soft look and feel.
DermaCare Complex is a topical cream applied to the face daily.
DermaCare Complex Ingredients – Are they Safe & Effective?
Unfortunately, the ingredient list is not provided on the site.

FAQ's
Q: How does the free trial of DermaCare Complex work?
A: The trial is only 14 days, and it begins on the date you place the order. You must pay $4.95 shipping to get the trial. If you don't cancel the trial within 14 days, you will be charged the full amount of $92.19. Then, if you still do not cancel, your card will be automatically charged that amount for a new jar every month.
Q: Can I return the product after the trial for a refund?
A: If you cancel the trial within 14 days, you will be refunded for the shipping costs. If you don't cancel in the time period and are charged the full amount for the trial jar, you can cancel the monthly subscription, but you won't receive a refund on any product already sent to you.
Q: What are the Important Features of DermaCare Complex?
A: One jar of DermaCare Complex is meant to last for 30 days.
You can only purchase this product directly through the manufacturer and only by signing up for the free trial.
Read Next – Radiant Beauty
What Do the Reviews Say?
It actually doesn't accomplish anything. It might give you some short-term skin comfort for a few hours, but the expense is not justified. I haven't noticed any notable advantages as a result of using it.
~ Tammy
Conclusion
DermaCare Complex has an official website, but it isn't at all informative. The manufacturer doesn't give any detail about themselves, which affects the overall trust of consumers to the product.
DermaCare Complex is meant to reduce wrinkles, fine lines, and dark eye circles by boosting collagen, hydrating deeply, and providing protective antioxidants. However, with no ingredient list provided, it is impossible to verify that the formula can do any of this.
This product is only available through the manufacturer, and you can only get the product through the free trial that is available. Just keep in mind that the trial signs you up for a very short trial program that includes an auto-delivery program that doesn't provide refunds.
There are many anti-aging creams available on the market, so please consider all options before making a purchase.
As we age the composition, texture and appearance of our skin changes. Signs of skin aging include wrinkles, fine lines, loss of moisture, uneven tone and dull, tired-looking skin. There are countless anti-wrinkle creams on the market promising to make skin look and feel younger. Many anti-wrinkle creams promise everything short of a facelift or to provide the much sought after "fountain of youth". In reality most are just moisturizers marketed as anti-aging products.
Below you'll find some of the most effective wrinkle serum/cream formulations on the market today, in our opinion.
Our Top Anti Aging Choices
Verdict on Claimed Benefits: Below is our summary of the available evidence for the claimed benefits of below mentioned anti-aging products and anti-wrinkle creams based on the available research:
Beverly Hills MD - Best #1 Rated Skincare Brand
Innovative Science-Backed Skincare Products*
Gold Star Evidence
Range of Products for Specific Skin Concerns*
Gold Star Evidence
Cruelty-Free, Premium Quality Ingredients*
Gold Star Evidence
Visibly Lifts Skin From The Inside, Out*
Gold Star Evidence
Beverly Hills MD Dermal Repair Complex | Best Anti-Aging Supplement

Diminishes Wrinkles & Dullness*
Gold Star Evidence
Reduces Sagging or Drooping*
Gold Star Evidence
Improves Hair & Nails Strength*
Strong Evidence
Enhances Skin Elasticity*
Gold Star Evidence
Deep Wrinkle Filler | Anti-aging Skin Care Formula
Erase The Appearance Of Fine Lines*
Gold Star Evidence
Fill in Deep Wrinkles*
Gold Star Evidence
Give Skin a Smoother, More Flawless Appearance*
Strong Evidence
Nourishes Skin For Lasting Results*
Strong Evidence
XYZ Smart Collagen | The Best Anti-aging Cream
Wrinkles Reduction*
Gold Star Evidence
Improves Skin Firmness*
Gold Star Evidence
Improves Skin Texture*
Strong Evidence
Smart Collagen Management*
Strong Evidence
Hydrossential Serum | All-Natural Skin Care Product
Support Skin Health*
Gold Star Evidence
Helps Eliminate Acne, Dark Spots, Fine Lines*
Strong Evidence
Improves Resistance to Inflammation*
Gold Star Evidence
Repair and Restore Damaged Skin Cells*
Strong Evidence