In This Review
Deep Wrinkle Filler Overview
Deep Wrinkle Filler by RoC Retinol Correction is an anti-aging product that works with hyaluronic acid and retinol to make wrinkles start to disappear in as little as four weeks. It is made by RoC and is a pretty well-known brand of cosmetics.
RoC Retinol Correction Deep Wrinkle Filler is available in many brick-and-mortar stores as well as all major online stores like Third-Party Retail Website. A one-ounce bottle of the wrinkle filler product is around $15.
How Does It Rate?
Overall Rating: 3.7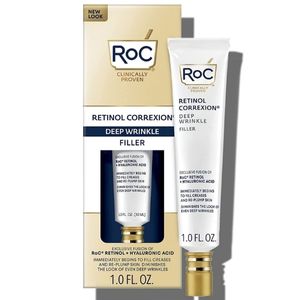 Deep Wrinkle Filler
Brand Highlights
Anti-wrinkle retinol night cream to reduce the look of lines and deep wrinkles while you sleep
It contains an essential mineral complex and fights deep wrinkles while leaving the skin feeling smooth and healthy
Oil-free and non-comedogenic formula has been tested by dermatologists and is clinically proven to visibly reduce fine lines and deep wrinkles within 12 weeks
Pros
All natural ingredients
Is a well-known brand
Lists ingredients
Available at most stores and online retailers
Has unbiased reviews
Price point is inexpensive
Cons
Some people may be sensitive to retinol, which is one of the ingredients
May cause redness or the skin to feel tingly
Takes a while to work
---
Deep Wrinkle Filler Ingredients
Hyaluronic Acid – This ingredient works to make the skin plumper and works as a moisturizer and hydration tool.
Retinol – In this product, RoC uses its own blend of 1% retinol, which is a known anti-aging and wrinkle-fighting ingredient. Their retinol is claimed to be pure and free from other additives.
Advertisement
*All individuals are unique. Your results can and will vary.
How Does It Work?
This product uses the two simple (but effective) ingredients to hydrate the skin as well as make it more plump in order to give a more youthful appearance. The hyaluronic acid and retinol are two fine ingredients that specifically target hydration and aging issues in the skin.
Deep Wrinkle Filler FAQ's
Q: What are the directions for Use of Deep Wrinkle Filler?
A: Use to target areas where wrinkles are showing up. Use up to twice a day and can be worn under your regular moisturizer or makeup. If you do experience redness or tingling, use an additional moisturizer to combat the retinol effects. You are supposed to start out slow for the first couple of weeks of use then add more of the product as your skin adjusts to using it.
Q : What will be the warnings for Deep Wrinkle Filler?
A: The only warning is that some people find that retinol does cause tingling and/or redness in their skin. This is not harmful but you can add an additional moisturizer if you experience this and reduce the amount you are using. Once your skin adjusts, you can go back to the amount you want to use to target wrinkles.
Q : What Kind of Reviews are Out there for Deep Wrinkle Filler?s
A: Over half of the reviews found for this product are five out of five stars and the rest are mostly positive. Just 11% did not enjoy the product or find it to work. Many stated that they use it every day and found that it really made a difference while the negative remarks were that they could not see a change in their skin even after more than the four weeks or so of use – some stated after 12 weeks even. However, the majority loves the product and would buy it again.
Read Next – Complete Derma
Deep Wrinkle Filler – Final Verdict
This is a product we can recommend. It has a fair price point, natural ingredients, unbiased reviews that mostly love the product, it is a well-known brand, and it is easy to find and purchase.
As we age the composition, texture and appearance of our skin changes. Signs of skin aging include wrinkles, fine lines, loss of moisture, uneven tone and dull, tired-looking skin. There are countless anti-wrinkle creams on the market promising to make skin look and feel younger. Many anti-wrinkle creams promise everything short of a facelift or to provide the much sought after "fountain of youth". In reality most are just moisturizers marketed as anti-aging products.
Below you'll find some of the most effective wrinkle serum/cream formulations on the market today, in our opinion.
Our Top Anti Aging Choices
Verdict on Claimed Benefits: Below is our summary of the available evidence for the claimed benefits of below mentioned anti-aging products and anti-wrinkle creams based on the available research: