Introduction
Collagenix is a new anti-aging product which bills itself as "the world's greatest wrinkle cream." It is intended to provide your skin with nourishment and support to promote a healthy appearance and nourish your connective tissues, as well as protecting from sun exposure. The product is sold through a "risk free trial" which allows you to receive a one-ounce jar of the product for $1.99 USD, and to use it for a month. If you do not cancel within that one-month period, you will be billed $69.95 USD for the trial product, and also charged $139.90 (plus shipping and handling) for an additional two months' supply, as well as another $139.90 every two months thereafter.
How Collagenix Works?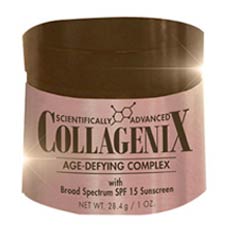 This product is provided in a cream form which is intended for application to your face, where the ingredients will permeate your skin and nourish the cells directly.
Collagenix Ingredients
Unfortunately, we could find very little information on the exact ingredients of Collagenix, other than a proprietary product called "Matrixyl 3000," which is described as promoting the health of your skin's cells and connective tissues. There is no clinical support listed for the benefits of this product, nor is the way in which it works explained.
No information is provided on the sun protective compounds listed, either, although SPF 15 would provide significant benefits from incidental sun exposure.
Advantages
No known side effects.
Includes sun protection.
Easy to use
Home delivery can be convenient
Disadvantages
No clinical research or detailed information on the active ingredients is available
Outside of the free trial, price is extremely high and "frontloaded"
Important Features
This product is intended for daily use as a skin treatment.
It is not a substitute for rest, a healthy diet, or as a way to treat any medical problem.
It can be administered to people of any age.
Collagenix Side Effects
There are no known side effects of this product when it is administered correctly.
Dosage
The manufacturers' website does not discuss an appropriate usage, but similar products suggest that you cleanse and dry your skin, collect several fingertips' worth of the product, and massage it into your facial skin – taking special care to rub it into areas such as the edges of the eyes – until it is fully absorbed.
FAQs
1. Is this product hypoallergenic?
Given the lack of information available, it is impossible to say one way or another, although no allergens are specifically mentioned as active ingredients.
2. Does this product have any money-back guarantees?
You can return your trial sample and incur no additional fees in the first thirty days, or cancel your autoshipment outside of that deadline. Other than this, no customer guarantees are provided.
Read Next – Silqueskin
Final Verdict
Collagenix presents itself as an attractive anti-aging supplement, but between the eye-popping prices for the product if you do not return it during the full trial period (over $200 plus shipping and handling for three months' worth, in total) and the lack of clear information on the nature of its active ingredients, it is difficult to say that it is worth your money.
Advertisement
*All individuals are unique. Your results can and will vary.
There are beauty products available for every budget, and price and quality don't always connect. Make sure you choose what's right for you and shop around before you commit to a purchase.
As we age the composition, texture and appearance of our skin changes. Signs of skin aging include wrinkles, fine lines, loss of moisture, uneven tone and dull, tired-looking skin. There are countless anti-wrinkle creams on the market promising to make skin look and feel younger. Many anti-wrinkle creams promise everything short of a facelift or to provide the much sought after "fountain of youth". In reality most are just moisturizers marketed as anti-aging products.
Below you'll find some of the most effective wrinkle serum/cream formulations on the market today, in our opinion.
Our Top Anti Aging Choices
Verdict on Claimed Benefits: Below is our summary of the available evidence for the claimed benefits of below mentioned anti-aging products and anti-wrinkle creams based on the available research: