What is Borealis Face Cream?
Borealis Face Cream is a skincare solution that gets rid of age spots, wrinkles and fine lines that appear on the face. This product ensures your skin gets the required nutrients it deserves in order to keep it healthy and in good shape. This solution has the capacity to gradually restore the skin cells structure through stimulating the production of elastin and collagen. These two crucial components work on improving the skin's surface, hence allowing you enjoy a flawless, ageless and smooth skin.
How Borealis Face Cream Works?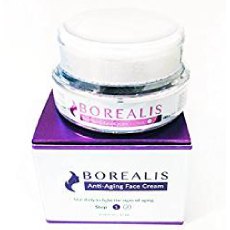 This age-defying cream works towards vanishing the horrible look that comes as a result of premature aging. The aging signs include puffiness, under-eye dark circles, wrinkles, crow's feet and fine line. Furthermore, it ensures that your skin stays properly hydrated and moisturized the whole day.
Borealis Face Cream Ingredients – Are they Safe & Effective?
There exist many qualities surrounding this cream, however, the most crucial one is that the cream doesn't have any chemical component that may pose harm to the users. Instead, the solution provides a fusion of safe ingredients that are active, natural and of great quality, which can be fully trusted. These ingredients include:
Purified Water – It helps in dissolving other ingredients.
Isopropyl Myristate – It is used as a thickening agent, lubricant and emollient.
Glycerin – It is a moisturizer and it prevents the skin from dryness and itchiness.
Cetyl Alcohol – It is used as a stabilizer.
Dimethicone – It acts as a barrier to prevent loss of moisture.
Glyceryl Stearate – It conditions the skin and keeps it hydrated.
Palmitoyl Oligopeptide – It boosts the synthesis of collagen and helps to fight aging signs.
Sodium Hyaluronate – It increases moisture levels and maintains a healthy glow.
Sodium Benzoate – It acts as a preservative.
What are the Advantages of Borealis Face Cream?
It improves the skin smoothness and firmness
It may boost the skin hydration levels
It may get rid of aging signs and promote a radiant and youthful look
It protects the skin against damages
What are the Disadvantages of Borealis Face Cream?
Results are different from one person to the other
It contains alcohol and other harsh ingredients that can cause skin irritation
It may trigger allergic reactions
Dosage Instructions
All you need to do is incorporate the product into your regular skincare regimen by using the product twice in a day. First, clear the makeup on your face, wash the face with warm water and a gentle soap. Dap your face with a clean cloth then apply the cream to the face and massage gently. Do the same procedure in the morning and you will begin to see the changes within less than two weeks of use.
Read Next – ReViv
Borealis Face Cream Review – Final Verdict
This cream will help to improve your skin structure and overall complexion. It contains ingredients that might increase skin firmness, hydration levels and reduce the visibility of aging signs. It may also protect the skin from damages. However, it contains ingredients that can cause irritation and other allergic reactions and you should be the first test how it will behave on your skin before making it part of daily routine.
As we age the composition, texture and appearance of our skin changes. Signs of skin aging include wrinkles, fine lines, loss of moisture, uneven tone and dull, tired-looking skin. There are countless anti-wrinkle creams on the market promising to make skin look and feel younger. Many anti-wrinkle creams promise everything short of a facelift or to provide the much sought after "fountain of youth". In reality most are just moisturizers marketed as anti-aging products.
Below you'll find some of the most effective wrinkle serum/cream formulations on the market today, in our opinion.
Our Top Anti Aging Choices
Verdict on Claimed Benefits: Below is our summary of the available evidence for the claimed benefits of below mentioned anti-aging products and anti-wrinkle creams based on the available research: