In This Review
Overview of Bioclear Face Lotion
Bioclear Face Lotion is a product which takes advantage of exfoliating ingredients known to renew the overall complexion without causing any significant irritation. The formula behind the product is quite advanced and it's designed to reduce the appearance of dark spots, fine lines. It is also supposedly going to help you soften the roughness of your skin and to ensure that you have a more radiant and youthful appeal.
It does that through the introduction of different and powerful substances, which are something that you want to take into account. As we grow older and we keep exposing our skin to different weather elements such as sun, rain, snow, wind and whatnot, it's going to keep experiencing the harmful impacts. This is something quite damaging and leads to a lot of negative consequences that one needs to consider. This is definitely why you might want to consider using additional beauty care products.
How Does It Rate?
Overall Rating: 3.7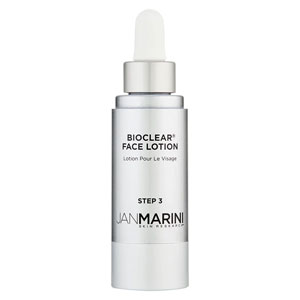 Bioclear Face Lotion
Brand Highlights
The company behind a certain product is one of the considerations that you have to be perfectly well aware of.
When it comes to this particular brand – Jan Marini, a company which brings quite a lot of reputation on the table.
It's going to clear the blemishes and prevent them from resurfacing again
However, whether or not they are actually true is something that we can only determine once we've taken a look at the working process as well as the overall ingredient list of the product. So, let's do just that.
Key Ingredients
Water
Salicylic Acid
Azelaic Acid
Sodium Hyaluronate
Pros
Strong exfoliating capabilities
Minimizing the appearance of fine lines and of wrinkles
Hydrates and softens your skin in general
Cons
A lot of important ingredients are not included
There is a lack of authority approval
---
How Does Bioclear Face Lotion Work?
Bioclear Face Lotion promises to resurface the rough texture on your skin and also going to help you with dark spots, wrinkles and sun damage. It's going to clear the blemishes and prevent them from resurfacing again.
Bioclear Face Lotion Ingredients – Are they Safe & Effective?
The product relies on glycolic acid as a featured ingredient to incentivize the overly beneficial working process. This is an alpha hydroxyl acid which is designated to properly exfoliate dead skin cells as well as to remove the harmful, acne-causing bacteria. This is definitely something that you might want to take into consideration. Going further, the product has a lot of other ingredients which are worth taking a look at.
Advertisement
*All individuals are unique. Your results can and will vary.
Some of them include:
Water
– As you may know, water is a presence in all beauty care products, mainly because it's used as a solvent for the other ingredients.
– This is a beta hydroxyl acid which is designed to exfoliate and to prevent irritations to your skin[1].
– It's an agent derived from wheat which has the purpose of providing you with a lighter skin complexion[2].
– This is pretty much the salt from the hyaluronic acid which is going to boost the strength of your skin
Bioclear Face Lotion FAQs
Q: How do I use Bioclear Face Lotion?
A: The product is used as a regular topical gel. With the tips of your fingers, apply it around your eyes and make sure to be very careful. Apply a modest amount to prevent any irritations.
Q: What are the precautions when using this Lotion?
A: The product could be potentially dangerous if digested accidentally so keep it away from toddlers and children. Apart from that, just make sure that you are not putting it in your eyes.
Possible Side Effects
There are no noted adverse side effects.
Read Next – Nouveau Serum Reviews.
Bioclear Face Lotion Review – Final Verdict
The product is particularly beneficial and it's going to help you enhance the overall appeal of your skin – there is absolutely no doubt about this. However, when it comes to additional and more powerful properties, you can be sure that they would be hardly achieved. The expressed lack of different yet powerful ingredients is something that you need to take into consideration. This will prevent you from experiencing potent effects. There are better products on the market which are specifically designed to promote all of that which lacks when you use this product.
Advertisement
*All individuals are unique. Your results can and will vary.
As we age the composition, texture and appearance of our skin changes. Signs of skin aging include wrinkles, fine lines, loss of moisture, uneven tone and dull, tired-looking skin. There are countless anti-wrinkle creams on the market promising to make skin look and feel younger. Many anti-wrinkle creams promise everything short of a facelift or to provide the much sought after "fountain of youth". In reality most are just moisturizers marketed as anti-aging products.
Below you'll find some of the most effective wrinkle serum/cream formulations on the market today, in our opinion.
Our Top Anti Aging Choices
Verdict on Claimed Benefits: Below is our summary of the available evidence for the claimed benefits of below mentioned anti-aging products and anti-wrinkle creams based on the available research: