In This Review
AnteAGE MD Overview
AnteAGE MD is an anti-aging skin care product line that harnesses the power of stem cells to reverse cell damage and leave your skin much younger looking.
The stem cells used are said to be the "real thing," as they are actual human stem cells and not plant or discarded fat stem cells that other products use.
AnteAGE® MD Serum is the only skin rejuvenator scientifically proven to reduce the appearance of fine lines and wrinkles, improve elasticity, and restore luster to dull, dry skin.
How Does It Rate?
Overall Rating: 3.8
AnteAGE MD
Brand Highlights
Initiates a pro-healing and anti-inflammatory response
Reduces the appearance of fine lines and wrinkles
Reduction in skin redness and sensitivity
Protects from environmental assault
Key Ingredients
Human Bone Marrow Stem Cell Conditioned Media
Hydrolyzed Myrtus Communis Leaf Extract
Glycerin
Niacinamide
Pros
It is free of paraben, fragrance, and other artificial ingredients that may irritate the skin[3].
It uses actual human stem cells derived from the body[4].
It may replenish the body's supply of stem cells.
It has anti-aging and anti-inflammatory effects.
It is suitable for all skin types, even in sensitive and acne-prone skin.
Cons
It is much more expensive – in set or individually – than most anti-aging skin care products.
It offers better results when both products are used together.
It does not offer any money-back or satisfaction guarantee.
---
AnteAGE MD Ingredients – Are they Safe & Effective?
AnteAGE MD
– The main active ingredient of AnteAGE MD are the chemicals with which cells can communicate to repel invading microbes, fight off infection, and stimulate damage repair; in the skin, it induces skin growth and damage repair.
Human Bone Marrow Stem Cell Conditioned Media :

– Stem cells are capable of creating a growth-promoting microenvironment, including chemokines and cytokines. This promotes faster wound healing, which stimulates new, fresher skin cells.[1]

Hydrolyzed Myrtus Communis Leaf Extract :

– Myrtus communis originates in the Mediterranean Basin. The extract is rich in antioxidant properties, which attack free radicals in the skin that cause cellular damage, protecting the integrity.[2]

Glycerin :

– Glycerin is a compound that's capable of providing hydration. Proper hydration is a good indicator for the maintenance of proper skin barrier activities. The Clinical, Cosmetic, and Investigation Dermatology shows the lasting effects of glycerin in hydration levels.[3]

Niacinamide :

– Myrtus communis originates in the Mediterranean Basin. The extract is rich in antioxidant properties, which attack free radicals in the skin that cause cellular damage, protecting the integrity.[4]
AnteAGE MD Serum Ingredients
– AnteAGE® regenerating serum restores th4e skin's ability to heal itself. The formula absorbs quickly into the skin. It contains physiologically balanced Stem Cytokines™, potent peptides, and protective Antioxidants. By using nanotechnology, the blend of these ingredients delivers powerful results at the cellular level.
Growth Factors & Cytokines
Niacinamide
Carnosine
Palmitoyl Oligopeptide & Palmitoyl Tetrapeptide-7
Catechins & Flavonoids
AnteAGE MD Accelerator Ingredients
– The AnteAGE Accelerator is a high-performance treatment with hydrating and rejuvenating ingredients. Two research-backed ingredients (a defensin peptide and retinoid-like substance) improve the AnteAGE system's pro-healing, regenerative, and anti-inflammatory capacity, while Stem CytokinesTM, vitamins, and targeted antioxidants work to deeply hydrate and nourish the skin.
Ceramides & Phospholipids
Growth Factors & Cytokines
Bakuchiol (derived from bakuchiol seed) has been compared to Retinol (a Vitamin A derivative) for improving wrinkles and ageing skin.
Human Beta-Defensin 3
Iris Isoflavones
Tetrahexyldecyl Ascorbate (Vitamin C)
Tocopheryl Acetate (Vitamin E)
Panthenol (Vitamin B5)
Coenzyme Q10
Grape Seed Extract
---
AnteAGE MD Questions and Answers
Q: How Should You Apply AnteAGE MD Serum?
A: AnteAGE MD must be applied on a properly cleaned and dried face. Use the serum first followed by the accelerator. Dispense a small amount of the product and gently massage it all over your face and neck.
You may use your other skincare products after. The manufacturer highly recommends using the serum and accelerator together twice daily for best results.
Q: From where do the stem cells come?
A: Stem cells originate from two main sources: adult body tissues and embryos. Scientists are also working on ways to develop stem cells from other cells, using genetic "reprogramming" techniques.
Q: How much does AnteAGE MD Cost?
A: AnteAGE MD is sold online at Cellese's official website as a two-step skincare set consisting of a serum and an accelerator.
Both are supplied in a 30-ml bottle and priced at $220 for a set. It can also be purchased individually at $150 and $95 for the serum and accelerator, respectively.
The manufacturer must have realized that the price is way more expensive than other anti-aging products, so they decided to offer a trial-sized kit for $37.50 and individual sample sachets for $5 each.
Their website did not mention any money-back guarantee.
Q: Where to Buy AnteAGE MD serum?
A: AnteAGE MD serum can be purchased through Amazon and Walmart.
AnteAGE MD Side Effects
AnteAGE MD contains human stem cells, and this contributes greatly not just to the products' effectiveness but safety as well[5].
Also, the fact that it is free of skin-irritating ingredients is a great plus. However, as we always tell you in all of our reviews, trying the product first is a must to determine if it is right for you.
AnteAGE MD is expensive and has no free trial offers, but you can avail of their sample sachets for a much cheaper price.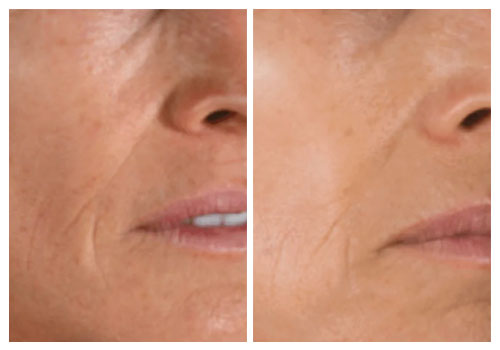 AnteAGE MD Customer Reviews
AnteAGE MD makes use of the so-called mesenchymal stem cells. These cells are the reservoir of cytokines, which are the body's natural beautifying chemicals.
Cytokines are chemicals that signal other cells to repair damaged tissues. As we age, the number of stem cells declines, and this results in our body's reduced self-healing capacity.
What AnteAGE MD does is replenish the stem cell supplies, thereby reducing inflammation and providing tissues – in this case, the skin – with the enhanced ability to heal itself.
In fact, it is a perfect adjunct to laser therapy, dermabrasion, micro-needling, and other cosmetic procedures that may induce some form of damage.
See Also – Boots No7 Serum

Final Verdict
AnteAGE MD has lots of positive reviews online. Even celebrities love using it and many dermatologists recommend it. Then again, the products can be very expensive for most people, but the results are said to be definitely worth it. In fact, the skin improvements are so impressive that it even exceeds patient expectations for many.
According to the manufacturers, patient satisfaction with their product is literally at 100% to date. If you believe that AnteAGE MD products work wonders but still don't have the money to splurge on them, might as well check out our other product suggestions below.
You can take a look at anti aging cream reviews before buying any other anti-aging products such as Natura Beaute, Alvera Tone, and Beverly Hills MD Dermal Repair Complex.
As we age the composition, texture and appearance of our skin changes. Signs of skin aging include wrinkles, fine lines, loss of moisture, uneven tone and dull, tired-looking skin. There are countless anti-wrinkle creams on the market promising to make skin look and feel younger. Many anti-wrinkle creams promise everything short of a facelift or to provide the much sought after "fountain of youth". In reality most are just moisturizers marketed as anti-aging products.
Below you'll find some of the most effective wrinkle serum/cream formulations on the market today, in our opinion.
Our Top Anti Aging Choices
Verdict on Claimed Benefits: Below is our summary of the available evidence for the claimed benefits of below mentioned anti-aging products and anti-wrinkle creams based on the available research:
Beverly Hills MD - Best #1 Rated Skincare Brand
Innovative Science-Backed Skincare Products*
Gold Star Evidence
Range of Products for Specific Skin Concerns*
Gold Star Evidence
Cruelty-Free, Premium Quality Ingredients*
Gold Star Evidence
Visibly Lifts Skin From The Inside, Out*
Gold Star Evidence
Beverly Hills MD Dermal Repair Complex | Best Anti-Aging Supplement

Diminishes Wrinkles & Dullness*
Gold Star Evidence
Reduces Sagging or Drooping*
Gold Star Evidence
Improves Hair & Nails Strength*
Strong Evidence
Enhances Skin Elasticity*
Gold Star Evidence
Deep Wrinkle Filler | Anti-aging Skin Care Formula
Erase The Appearance Of Fine Lines*
Gold Star Evidence
Fill in Deep Wrinkles*
Gold Star Evidence
Give Skin a Smoother, More Flawless Appearance*
Strong Evidence
Nourishes Skin For Lasting Results*
Strong Evidence
XYZ Smart Collagen | The Best Anti-aging Cream
Wrinkles Reduction*
Gold Star Evidence
Improves Skin Firmness*
Gold Star Evidence
Improves Skin Texture*
Strong Evidence
Smart Collagen Management*
Strong Evidence
Hydrossential Serum | All-Natural Skin Care Product
Support Skin Health*
Gold Star Evidence
Helps Eliminate Acne, Dark Spots, Fine Lines*
Strong Evidence
Improves Resistance to Inflammation*
Gold Star Evidence
Repair and Restore Damaged Skin Cells*
Strong Evidence