Abella Mayfair is a skin cream which is designed to provide rapid wrinkle control, smoothing stubborn fine lines and brightening the appearance of the skin. It is said to provide almost instant results by delivering collagen directly into the skin to rebuild the cells, for younger looking skin. It is available for approximately $99 for a month's supply.
Manufacturer Information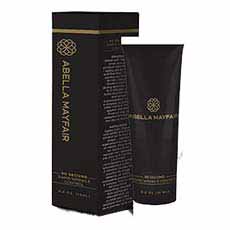 Abella Mayfair is manufactured and sold by an Ontario based company of the same name. The company lists an Ontario post office box mailing address, but also provides a telephone number and email address for any customer service issues. In addition to wrinkle control cream, the company also offers a night cream, eye serum, and exfoliator gel.
Abella Mayfair is offered with a free trial, which acts as a money back guarantee. You can receive a thirty day supply by paying a small shipping and handling fee. This enables you to try the product for fourteen days. Should you like the product, you need to do nothing as you will continue to receive a regular supply through the company's automated shipping program. However, if you are not completely satisfied, you only need to contact the customer service department to cancel any further shipments.
How Abella Mayfair Works?
This product works in two different ways. Ingredients such as sodium silicate smooth out the skin, hiding the appearance of any fine lines or wrinkles. Secondly, the natural botanical ingredients such as plant extracts and oils help to moisturize the skin, improving the tone and texture.
Ingredients
Abella Mayfair is a peptide rich formula with a number of active ingredients. The company does provide a full ingredient list which includes:
Sodium Silicate: Inorganic salts to control the overall PH level of the product
Butylene Glycol: Solvent and skin conditioner
Magnesium Aluminum: A thickening agent, which allows for a lighter feeling product
Silicate: Mineral based anti caking ingredient
Acetyl Hexapeptide: A peptide to relax the facial muscles which cause fine lines from repeated movement
Phenoxyethanol: Synthetic preservative and stabilizer
Potassium Sorbate: Preservative against bacteria
Ethylhexylglycerin: Glycerin based skin conditioning agent and deodorizer.
Cellulose Gum: Moisture retaining agent without creating an oily residue
Dimethicone: Forms a protective barrier for the skin, filling in any wrinkles and fine lines.
Disodium Stearoyl Glutamate: Derived from amino acids, this is a moisturizer and consistency regulator
Aluminum Hydroxide: Skin protectant which can also provide protection against UV
Aloe Barbadensis: Aloe leaf extract, which is naturally antibacterial, antimicrobial, antiviral, and antifungal.
Vitis Vinifera: Grape seed oil
Iron Oxide: A mineral based colorant
Also Read – 3D HIFU Machine
Advantages of Abella Mayfair
This product is designed to offer a number of anti aging benefits including:
Elimination of dark circles: This product nourishes the skin in the under eye area, improving the tone and texture, eliminating the appearance of any dark circles.
Reduction in Wrinkles: Abella Mayfair is designed to boost the skin's natural production of elastin and collagen. This improves the skin's elasticity, restoring a more youthful appearance with a reduction in wrinkles and fine lines.
Enhanced Skin Hydration: The product contains active ingredients which facilitate trapping moisture within the skin. This enhances skin hydration which plumps up the appearance and smooths out any imperfections.
Improved Skin Immunity: The active ingredients reduce free radical and UV damage to the skin, boosting immunity and countering the effects of stress and aging.
Disadvantages of Abella Mayfair
Online Ordering Only: Unfortunately the product is limited to online ordering only. This means that you need to provide valid credit card details in order to receive the free trial and purchase a regular supply.
Automated Shipping: Some consumers may also find the automated shipping program to be a disadvantage. Since you will be automatically billed for a regular supply, you may be worried about credit card charges. However, the company does provide full customer care details for cancellation at any point.
Read Next – Nuvolexa
Conclusion
Abella Mayfair is considered to be a very effective anti aging product range. The product has received excellent reviews, but the lack of retailers and the automated shipping may make some consumers a little hesitant. It is also worth remembering that there may be other products more readily available which could offer similar results.
Advertisement
*All individuals are unique. Your results can and will vary.
As we age the composition, texture and appearance of our skin changes. Signs of skin aging include wrinkles, fine lines, loss of moisture, uneven tone and dull, tired-looking skin. There are countless anti-wrinkle creams on the market promising to make skin look and feel younger. Many anti-wrinkle creams promise everything short of a facelift or to provide the much sought after "fountain of youth". In reality most are just moisturizers marketed as anti-aging products.
Below you'll find some of the most effective wrinkle serum/cream formulations on the market today, in our opinion.
Our Top Anti Aging Choices
Verdict on Claimed Benefits: Below is our summary of the available evidence for the claimed benefits of below mentioned anti-aging products and anti-wrinkle creams based on the available research: