What is Zeroblem?
Zeroblem is an acne treatment serum made by the renowned company Solvaderm. This company produces a number of professional-strength treatments that are all sold directly to consumers from their official website.
While many of their products are for aging and mature skin types, they also produce a range specifically for people with oily, blemished skin including Zeroblem.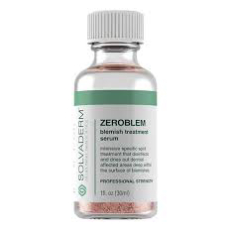 The Zeroblem formula targets problem areas in the skin to produce fast results while simultaneously preventing further breakouts from occurring.
What is the Science Behind Zeroblem?
The Zeroblem formula was developed by scientists and dermatologists and uses only high-quality ingredients that have undergone strictly controlled laboratory testing.
Solvaderm is known for producing revolutionary treatments that are said to be used by skincare professionals worldwide and aim to give their customers that most up-to-date formulas for superior results. The purpose of Zeroblem is to provide clear, acne-free skin that is PH-balanced, free of irritation and not stripped of its natural oils.
What are the Active Ingredients in Zeroblem?
Zeroblem's formula consists of a few carefully selected ingredients that are said to work quickly, eliminating excess oil and reducing the appearance of blemishes and acne. They include:
Zinc Oxide – A natural mineral that promotes optimal balance in the skin while reducing swelling and irritation associated with problem skin[1].
Colloidal Sulfur – Encourages the removal of pore-clogging oils in the skin and promotes a healthy PH balance. This ingredient also actively helps discourage bacteria from forming on the skin, reducing acne breakouts and other infections[2].
Salicylic Acid – Penetrates deep into the skin to keep pores free of blemish-causing oils and bacteria. This oil-soluble ingredient also helps to soothe red and irritated blemished skin while controlling levels of natural oils and moisture[3].
Guaranteed?
Zeroblem has a 60-day money-back guarantee which allows the user adequate time to see if the serum works well for their skin type.
Should I Purchase It?
Individuals suffering from acne and blemished skin want a solution that is fast and effective while also being safe for regular use.
Because Zeroblem is made by Solvaderm, consumers can feel confident that they are getting a high quality product that uses concentrated, yet completely safe ingredients to target the problem areas on their skin.
Dermatologists have developed this product to target the problem, providing fast results without upsetting the delicate PH-balance of the skin. The fact that Zeroblem has a 60-day refund term lets the consumer see if it lives up to its claims without any financial risk.
If you suffer from acne and breakouts and you haven't been using an acne product, this could be an excellent time to begin. A product like this can unblock and clear your pores and get rid of any excess oils on the skin's surface. These products dry out existing acne on the skin and prevent future blemishes from forming.
Below are some of the best acne products on the market today, in our opinion.
Our Top Acne Products Choices
Clear Pores Acne Treatment

Reduces Skin Redness and Inflammation*
Suitable for All Skin Type*
Removes Dead Skin Cells and Reduce Oil Production *
Reduces Skin Redness and Inflammation*
Suitable for All Skin Type*
Removes Dead Skin Cells and Reduce Oil Production*
Skinception Dermefface FX7
Reduces Skin Redness and Inflammation*
Suitable for All Skin Type*
Removes Dead Skin Cells and Reduce Oil Production*