NeoStrata Oily Skin Solution Overview
NeoStrata Oily Skin Solution is a skin care solution designed for oily and acne prone skins. It works by clearing the clogged skin pores, removes excess amount of skin oils and sebum from oily skin as well as improving your skin tone complexion. It is made from a list of potent ingredients in enhancing skin exfoliation and cleansing. It is composed of 8% glycolic acid which plays a role in cleansing, and it leaves your skin looking plump, hydrated, and smooth and with few wrinkles and fine lines.
Manufacturer Information and Claims about NeoStrata Oily Skin Solution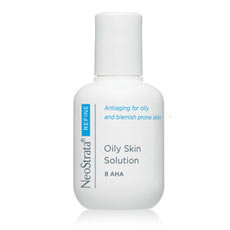 This formula is manufactured by a company known as NeoStrata. It is a company dedicated at developing and marketing a wide range of clinically proven and dermatologist developed skincare products. The company is situated at Princeton.
The manufacturer claims that this is skin exfoliating formula which aims at clearing skin pores by getting rid of excess oils, dirt and debris from makeups. It also helps to improve your skin complexion by eliminating ski blemishes thus making your skin to be smooth, soft and youthful at all times.
Working Process and the Ingredients List
This formula is made from a blend of natural ingredients, which help in skin cleansing and in improving your skin appearance. Glycolic is the main ingredient that assists in skin exfoliation as well as enhancing healthy skin cells renewal.
The ingredients used include:
Glycolic Acid – This is the main component in this formula. It plays a role in enhancing exfoliation of dead skin cells as well as assisting in the elimination of bacteria that causes acne.
Aqua – This is water component, which helps in dissolving of other skincare ingredients as well as enhancing skin hydration.
Propylene Glycol – It's a hydrating component that is used in a wide range of cosmetics ingredients. It also plays a role in assisting the active ingredients to penetrate into the skin.
Polyquaternium-10 – It has anti-static and skin moisturizing properties.
Tetrasodium EDTA – It is used to make skin cleansing products as it helps in cleansing when using water.
The Advantages of NeoStrata Oily Skin Solution
It is a good product for oily and acne prone skin as it helps to restore skin complexion.
It helps in skin exfoliation thus unclog skin pores and eliminates dead skin cells thus assisting the skin to regenerate and renew its self for attractive complexion.
The Cons of NeoStrata Oily Skin Solution
There are very few customers' reviews and comment about this product.
FAQs
What are The Directions For Use of This Formula?
Apply this product to your face, back, chest and other affected body parts using your fingertips or cotton ball on daily basis for optimal results.
Possible Side Effects
There is no any record of side effect.
Final Verdict
NeoStrata Oily Skin Solution is a skin care solution that is designed to assist you to improve your skin appearance through exfoliation. It assists in the process of elimination of skin dirt, dead cells, debris, oil and sebum that clog your skin pores. It is made from ingredients which are able to penetrate into your skin and enhance the treatment of acne, elimination of skin aging signs such as wrinkles as well as improving your skin tone. It has very few customers' comments and one should consult a dermatologist before embarking on any skincare product. Therefore, there is need to conduct a thorough research of the ingredients used and similar products in the market.
In our opinion, below you can discover the most effective acne products that are available on the market. Each and every one of these products has been rated in accordance with these five key factors: quality of active ingredients, breakout prevention, effectiveness on moderate-to-severe acne, prevention of clogged pores and removal of excess oil and dead skin cells accumulated on the surface.
Our Top Acne Choices
Zeroblem

Reduces Skin Redness and Inflammation*
Suitable for All Skin Type*
Removes Dead Skin Cells and Reduce Oil Production *
Reduces Skin Redness and Inflammation*
Suitable for All Skin Type*
Removes Dead Skin Cells and Reduce Oil Production*